Evangelical Leaders Endorse Rick Santorum in Iowa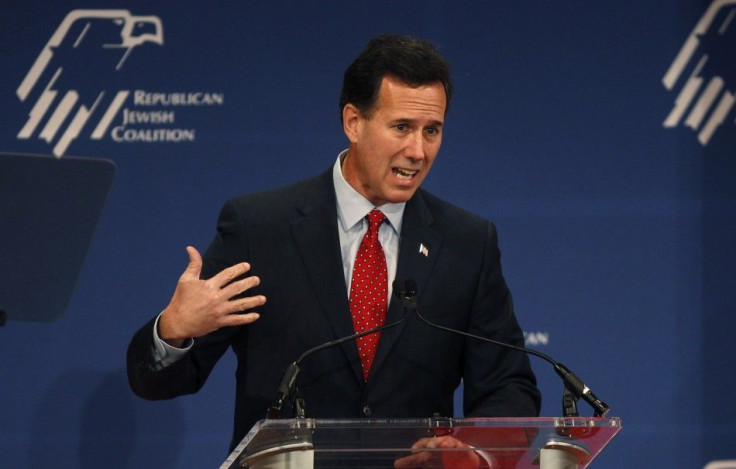 The Family Leader, an influential Christian conservative group in Iowa, declined to endorse a candidate for the Republican presidential nomination on Tuesday, but its top officials personally endorsed Rick Santorum.
Bob Vander Plaats, president and CEO of The Family Leader, and Chuck Hurley, a board member and president of the group's Iowa Family Policy Center division, praised Santorum at a press conference Tuesday morning, calling him a stalwart social conservative on issues like abortion and same-sex marriage.
The four contenders for the group's endorsement were Santorum, Michele Bachmann, Newt Gingrich and Rick Perry. Members had previously ruled out Jon Huntsman, Ron Paul and Mitt Romney because of their more moderate positions on certain issues.
Santorum, a former U.S. senator from Pennsylvania, is probably the most socially conservative candidate of the bunch. While all four contenders are vocal opponents of abortion and same-sex marriage, Santorum's rhetoric is more fiery, and his positions are more absolute: for example, he opposes birth control as well as abortion.
Hurley called Santorum the one candidate who has not caught his wave yet, referring to the series of quick rises and falls for anti-Romney candidates: first Bachmann, then Perry, then Herman Cain, then Gingrich. He said he hoped his and Vander Plaats's endorsements would help Santorum catch his wave at the last minute.
Santorum is hoping the same thing. It'd be a great boost for us, he told Fox News earlier on Tuesday. Whoever gets this endorsement is clearly going to have the edge.
Normally, Vander Plaats said, an endorsement made just two weeks before the Iowa caucuses would be meaningless, but this year the field has been remarkably volatile, with voters changing their minds every 10 minutes.
Santorum's low poll numbers in Iowa are somewhat surprising, given that his social conservatism is in line with the views of the state's large evangelical population, and that he is the only candidate who has campaigned in all 99 counties. But he did increase his support to 10 percent in a recent poll, moving into a three-way tie for fourth place with Bachmann and Perry, and he is gunning for an upset.
You've got to work Iowa, he said. We've done all 99 counties, some more than once. We're building up momentum.
Hurley's and Vander Plaats's endorsements may not be enough to propel Santorum into the first tier of candidates, but they will surely give him a leg up.
The Family Leader gained notoriety in July for its marriage vow, which, in addition to standard conservative disavowals of same-sex marriage, included a passage implying that black children were better off under slavery than they are under the Obama administration.
The group deleted the passage -- which read, Slavery had a disastrous impact on African-American families, yet sadly a child born into slavery in 1860 was more likely to be raised by his mother and father in a two-parent household than was an African-American baby born after the election of the USA's first African-American president -- in response to public backlash.
The four candidates who signed the pledge were the four candidates in contention for The Family Leader's endorsement: Bachmann, Gingrich, Perry and Santorum. But Vander Plaats said at a press conference on Tuesday that the group would fully get behind defeating Barack Obama next November, regardless of who the Republican nominee is.
© Copyright IBTimes 2023. All rights reserved.