Ex-McCain Aide Wallace Hopes GOP Will Consider A Woman For VP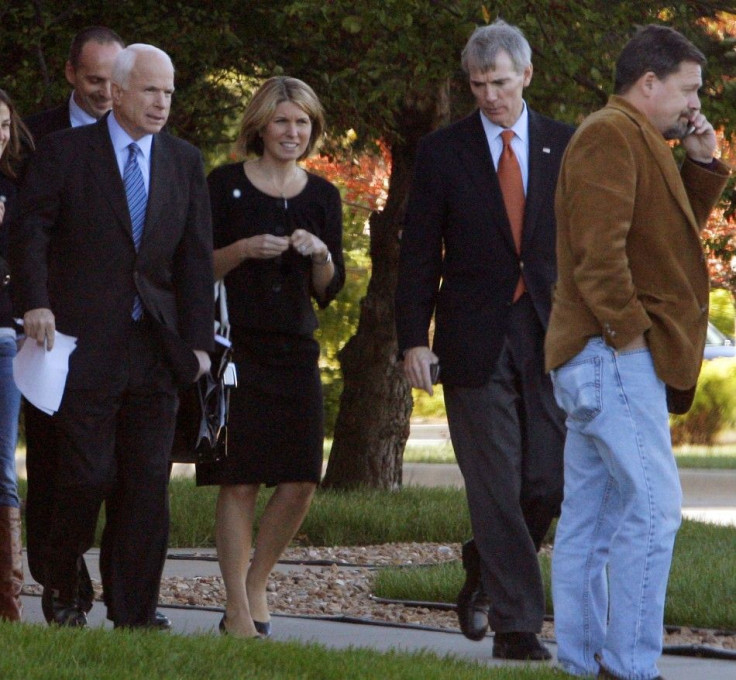 Nicolle Wallace, the strategist for John McCain's 2008 White House bid who famously clashed with vice presidential nominee Sarah Palin, hopes this year's Republican pick will seriously consider a woman running mate.
After a panel discussion on women in politics Wednesday evening at the 92nd Street Y in New York, Wallace gave the International Business Times a short list of women she would like Mitt Romney, if nominated to face President Barack Obama in November, to mull over for the ticket.
There are a lot of good, smart Republican women out there, said the aide-turned-author, who is portrayed in the HBO movie Game Change.
I've been out of politics now for four years, so I don't know who all the rising stars are, but Nikki Haley is a tremendous surrogate for the Romney campaign, Wallace said, referring to South Carolina's governor.
Other possibilities include Meg Whitman and Carly Fiorina, who, respectively, ran for California governor and the U.S. Senate and were chief executives of major technology companies.
They have been toughened by their own campaigns in California, Wallace said. Fiorina lost to incumbent Barbara Boxer and Whitman to Jerry Brown in 2010. There are women who are seasoned in the tough business of politics.
Standing up to harsh, personal criticism in the male-dominated field of government was one of the themes of Wednesday's Glamour magazine-sponsored event, Running in Heels: Where Are the Women Candidates for 2012 -- And How Can We Get More of Them?
The panel was moderated by Chelsea Clinton and featured law student Sandra Fluke, an advocate of affordable birth control; Amy Holmes, anchor for Glenn Beck's GBTV; Abby Huntsman Livingston, daughter of former presidential hopeful Jon Huntsman; New York City Council Speaker Christine Quinn; and Stephanie Schriock, president of Emily's List, which helps elect candidates who support abortion rights.
Sidelined During '08 Campaign
Definitely not on Wallace's short list is Palin. Game Change, the book about the 2008 campaign that was adapted for HBO, details the ex-operative's tussles with the former Alaska governor after she was tapped as McCain's running mate. Wallace recently told MSNBC's Rachel Maddow that she is still traumatized over how unfit McCain's pick was for the job and that both parties will forever avoid a Palin choice.
Wallace touched on the fallout as she described what it was like to balance motherhood and a career in politics. Since she parted ways with McCain and became a vocal critic of Palin, she wrote Eighteen Acres, a best-selling novel about the first female U.S. president.
I was so scarred by 2008 I made up an imaginary world, she joked.
Having served as a top communications aide in what she called the female-dominated White House of George W. Bush, Wallace was surprised by the lack of women at the table in McCain campaign meetings.
I had a seven-year professional political experience that wasn't normal, she said. The 2008 campaign was the first time in my career being left on the sidelines.
Wallace chided the Republican Party for not recruiting as many women as Democrats do.
It is the pro-life women in Washington who are the most offended at this conversation, she said.
It's not all about politicians, however. The GOP veteran also charged the media with enabling sexism. As much as she disagrees with Palin, said she and the McCain campaign were flabbergasted by reporters who continually asked how the ex-governor could handle being a mother and a vice presidential candidate.
Clinton Sympathizes With Fluke Over Limbaugh Insults
Fluke was a standout panelist on Wednesday. The Georgetown University law student received thunderous applause as she came on stage and throughout the discussion.
Clinton in her introduction said she sympathized with Fluke because she, too, had been publicly humiliated by the same conservative radio host.
Sandra and I have something in common, we've both been attacked by Rush Limbaugh, said Clinton, referring to Limbaugh's calling Fluke a slut after she publicly advocated access to free contraceptives through health insurance.
Clinton, as a 12-year-old in 1993 who had just moved into the White House after the election of her father, President Bill Clinton, was described by Limbaugh as the first family's dog.
© Copyright IBTimes 2023. All rights reserved.