Excited About Myanmar? Read This First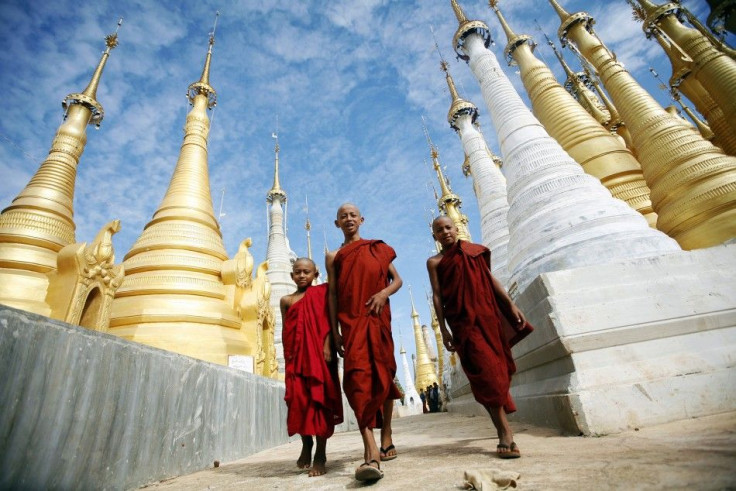 Creased dollar bills are worthless and credit cards are rarely accepted. Flights in are overbooked and even if you find a place to sleep, the hotels are mind-bogglingly expensive. Introducing Myanmar, the world's next big destination that's struggling to figure out what exactly that means.
Myanmar (formerly Burma) has been shrouded in secrecy ever since its leaders virtually -- though not completely -- closed off much of the nation for 50 years during military rule. Burmese opposition leader Aung San Suu Kyi further validated the isolation with her support of the National League for Democracy's 15-year travel boycott. The NLD, however, dropped the voluntary tourist ban nearly two years ago and Myanmar is now crawling closer to democracy while simultaneously barreling down a road toward destination unknown.
Eager businessmen, well-meaning politicians and the watchful media have all been quick to hype Myanmar's dramatic rise from the fog of obscurity, lauding its progress toward democracy and praising foreign governments for lifting crippling sanctions. All the while, the human rights community has stood back with mouths aghast.
Could global leaders, the media and everyday citizens of the world really be blind enough to think Myanmar had changed in the blink of an eye, they asked? And when you begin to pour millions of dollars into tourism and other industries like oil and gas in this troubled nation, who will be the one to benefit?
Organizations like the U.S. Campaign for Burma, a leading advocacy group devoted to human rights, freedom and democracy in Myanmar, say the idea that Myanmar has changed overnight is a myth.
In reality, the scope of change right now is minimal, said Jennifer Quigley, the Campaign's advocacy director. It appears to be so huge to the international community, but there is no sort of reckless optimism on the part of the Burmese people.
This is not to say that visiting Myanmar is bad (it's not), or that the country should be chided (it's certainly taking steps in the right direction), but Quigley says you need to view the state of Myanmar with a grain of salt.
Like a rising Hollywood star, Myanmar and its endearing opposition leader Suu Kyi have become media darlings, capturing headlines at every turn. Charming the world with her quiet wisdom, Suu Kyi has (rather unwillingly) motivated thousands to book a ticket to the once-reclusive nation.
But Suu Kyi does not rule Myanmar.
Largely overlooked in the recent frenzy are the problems brewing underneath the surface, problems that threaten to undermine everything that got people so excited about Myanmar in the first place.
Suu Kyi and the Tourism Debate
For years, governments around the world discouraged their citizens from visiting Myanmar -- in part, because Suu Kyi asked them to. It may seem like an uncharacteristic statement for a woman who's embraced the democratic ideals of the West, but the Nobel Laureate had good reason.
For decades, foreigners entering Myanmar were issued Foreign Exchange Certificates, or FEC, upon arrival. This manufactured currency, which Quigley likened to monopoly money, was only valid at approved businesses controlled by the regime. When these businesses cashed in their FEC for kyat, the local currency, they received less money than the bills were worth.
Under this system, the regime captured foreign revenue while tourism lined cronies' pockets. When the regime declared 1996 the Year of Tourism (and expelled roughly 1 million inhabitants from their dwellings to make way for the anticipated influx of visitors), Suu Kyi had seen enough and supported a boycott on foreign aid and tourism.
Burma will be here for many years, so tell your friends to visit us later, Suu Kyi said at the time. Visiting now is tantamount to condoning the regime.
She didn't change her mind until November of 2010, when the NLD urged tourists to try and find ways around the FEC system.
We want people to come to Burma, not to help the junta, but to help the people by understanding the situation: political, economic, moral -- everything, said Win Tin, co-founder of the NLD and close friend of Suu Kyi. For the outside world to see, to know our situation, that can help our cause a lot, we think. It's rather difficult for us, but very recently Mr. Tin Oo [the NLD's deputy leader] and myself decided that we really can't ask people not to come to Burma anymore.
The tourism boycott had been one of the central planks of the international campaign for democracy in Myanmar, but the influx of tourists in 2011 brought about a black market based on U.S. dollars that weakened the official FEC system enough that the Central Bank of Myanmar instituted a managed float currency in April of this year, creating an official exchange rate for the kyat.
For the first time, tourists could choose where to spend their money and with whom they wanted to do business.
What Are You Investing In?
Myanmar's main attraction is its time-warped atmosphere and the nation's largest city and former capital, Yangon (formerly Rangoon), is one of the last cities in Asia that has its 19th- and 20th-century architecture intact with buildings unblemished by the rapid development seen elsewhere in Southeast Asia. Indeed the entire nation is an architectural museum of colonial buildings, towering pagodas and timeless towns populated by devout Buddhists.
There are no McDonald's or Starbucks and no name-brand Western hotels. But much of that is about to change.
Before mid-June when a new four-story mid-range hotel opened up, there had been virtually no new hotels added in Yangon for more than a decade. Now, Hoteliers like Accor, Starwood and Marriott International are looking and ready to pounce.
And why wouldn't they be? Occupancy rates have reached 90 percent, and ratty old hotels that once charged $60 per night are now demanding more than three-times that amount. Moreover, less than half of the estimated 8,053 hotel rooms in Yangon have facilities like air conditioning and access to potable water and are considered unsuitable for foreign visitors. Beyond the city limits, the percentage is even lower.
From the 1960s onward, tourism was limited by the government -- like many military or one-party states -- to selected destinations in the center of the country, explained Martin Smith, a leading authority on Burmese politics and author of the book Burma: Insurgency and the Politics of Ethnicity. Meanwhile, the borderlands remained closed to outside visitors and continued to be afflicted by ethnic and political conflict.
Smith said the distinctive cultures, history and geography of the country provide a great diversity of potential attractions, but cautioned: The tourism infrastructure is very undeveloped by international standards.
The government hopes to change that and is drafting new laws to make it easier and more tax-friendly for foreign hotel chains to do business. Meanwhile, the tourism board has encouraged entrepreneurs, domestic and foreign, to open up more restaurants that cater to international tastes and provide more transport options, more everything.
But all this investment has human rights campaigners worried.
The company is not necessarily the direct problem, Quigley explains. It's what the Burmese military will do on behalf of that company. Right now, the Burmese require joint ventures. So what can foreign companies do to prevent their business partner from committing human rights abuses?
The military, after all, has a reputation for confiscating land, forcing locals into labor and intimidating villagers, among an array of odious offenses.
As foreign governments lift sanctions and declare Myanmar open for business, the U.S. Campaign for Burma, Human Rights Watch and others looking out for the Burmese people, have grave concerns about what safeguards will be put in place. The nation, people are quick to forget, tied with Afghanistan last year as the second-most-corrupt country in the world, according to the corruption-tracking group Transparency International.
Nevertheless, U.S. Secretary of State Hillary Clinton told reporters in May that the U.S. would suspend sanctions. She qualified her remarks, however, by adding that it would not lift them altogether.
We will be keeping relevant laws on the books as an insurance policy, Clinton noted. But our goal and our commitment is to move as rapidly as we can to expand business and investment opportunities.
Clinton stressed the emphasis would be on responsible investment and that U.S.-based companies would not invest in entities owned by the regime and would be held to best practice standards, but senior administration officials admit they're still hashing out those standards and acknowledge they'll not be legally enforceable by U.S. law. Moreover, rapidly has never been a word anyone associated with Myanmar.
They need to slow down the process and make sure they do it right, Quigley cautioned.
Daw Kyi Kyi Aye, senior adviser of the Myanmar Tourism Federation, echoed that sentiment at the Mekong Tourism Forum last month, saying We are aware that prevention is better than cure.
But the ball is already rolling and, effective July 11, the U.S. Office of Foreign Assets Control, or OFAC, authorized both new investment in and the exportation of financial services to Myanmar.
The world, it seems, wants Myanmar to be the hare, but the hermetic nation has always seen itself as more of a tortoise.
'The Next Big Tourist Destination'
It's easy to forget that all of this excitement is only a few months old, but in that time period real estate in Yangon has nearly doubled. Tourists eager to explore the once-taboo travel destination are struggling to find rooms at booked-out hotels and getting seats on flights is difficult.
Events have moved so quickly since Dec. 1, when Hillary Clinton first visited the country, said Marilyn Downing Staff, founder and president of Asia Transpacific Journeys. We call it the 'Hillary blessing'.
Downing Staff operates tours and is considered an expert on the region, having made her first visit to Myanmar in 1987. She said the gates creaked open late in 2010, but it wasn't until a year later that Myanmar became the next it destination.
Before then, the non-in-the-know average person thought you'd be shot in the street if you went to Burma, she said. Of course it couldn't have been further from the truth, and with more of a world eye on Burma there's been a huge shift in thinking and demand.
Huge is right. Roughly 424,000 people visited Myanmar during the fiscal year 2010-2011, according to official data. The nation's 570 hotels and 160 guesthouses were stretched to the limit, with a total capacity of just 24,692 rooms.
In the first quarter of 2012, Myanmar saw a 36 percent year-on-year jump in Yangon Airport arrivals, according to Deputy Tourism Minister U Htay Aung, and this was before major developments in the second quarter like the ease of travel restrictions, a business visa on arrival program and new kiosks selling kyat at an official rate.
With tourists struggling to find seats on overbooked planes, ANA, Korean Air, Condor and Qatar Airways, among a host of other airlines, hope to ease the backlog by adding new flights into Yangon beginning this fall. The local carrier, Myanmar Airways International, will also expand its capacity, adding two brand-new Airbus A320 to its fleet in the coming months.
With all these new flights, officials have called on local and foreign investors to fund the construction of a second airport near Yangon. The planned Hanthawaddy International Airport, set to open in 2016 in Bago, will cover 9,000 acres (3,642 hectares), an area Tin Naing Tun, the head of the Civil Aviation Department, claims is nine times the size of Yangon International Airport.
The wheels are turning in subtle ways on the streets of Yangon and Mandalay too. You can now find international news at Internet cafés, posters of Suu Kyi on walls and a relaxed comfort level among the Burmese people -- all things that would have been unthinkable just months ago. But outside these urban centers little has changed and there remain regions of Myanmar off the typical route from Yangon up to Inle Lake, Kalaw, Mandalay, Bagan, Mt. Victoria and back where foreigners are prohibited and corruption is the name of the game.
But that hasn't put a damper on the excitement. Roughly 1,500 people now arrive each day by air and, if early indications pan out, the 2012 numbers will be unlike anything the nation has ever seen. Change, if only in the air, is creeping down to the ground. It's the start of something big, but what exactly that is remains to be seen.
© Copyright IBTimes 2023. All rights reserved.