Myanmar Opens up to Travelers and Hoteliers see Prospects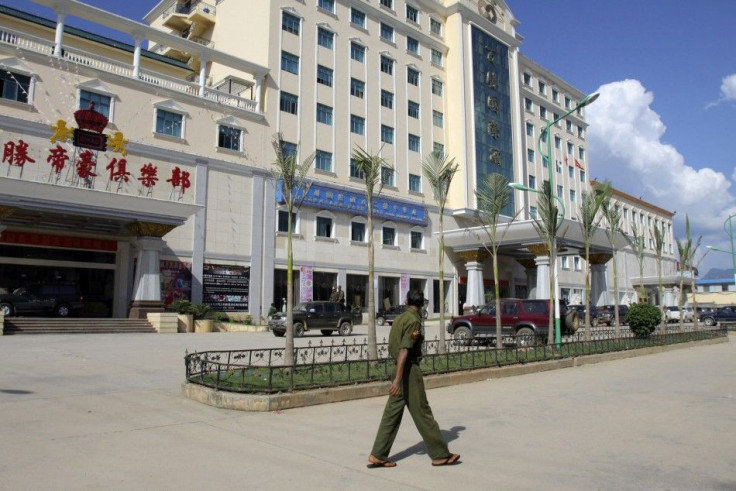 (REUTERS) -- Travelers hoping to catch a glimpse of the glittering Shwedagon Pagoda or hear the tinkly temple-bells of Kipling's Road to Mandalay might one day be able to book into a Westin or a Marriott, thanks to Myanmar's emergence from political isolation.
Starwood Hotels & Resorts -- which runs chains such as Westin, Sheraton and Le Meridien -- and Marriott International both said during the World Economic Forum in Davos they wanted to start running hotels in Myanmar, a country tightly controlled by the military for five decades until last year.
The former Burma, one of the most isolated countries in Asia, is being welcomed back into the international fold after two decades of sanctions, thanks to democratic reforms including the release of political prisoners by President Thein Sein.
Marriott would love to be there if conditions are right, said Arne Sorenson, president and CEO-elect of Marriott International. Burma has captured people's imagination for decades.
Myanmar has a huge amount to offer travellers seeking an exotic destination, with deserted islands, golden temples and cultural sites unblemished by the rapid development seen elsewhere in Southeast Asia.
English-speaking schoolchildren grew up with Rudyard Kipling's wistful poem of mist on the rice-fields, the old pagoda looking lazy at the sea, and a neater, sweeter maiden in a cleaner, greener land.
The hotel chains in Myanmar now are Asian-based companies such as Shangri-la Hotels & Resorts, which runs Traders Hotel, Singapore's Sedona Hotels International, and GHM Luxury Hotels, a Burmese company that owns the Strand in the commercial capital, Yangon, formerly Rangoon.
The few five-star hotels outside of Yangon are mostly in beach resorts or tourist centres such as Mandalay and Bagan.
Myanmar is hugely underdeveloped, with an economy in tatters and infrastructure that is rudimentary at best.
Years of economic mismanagement by the military, coupled with U.S. and European sanctions imposed due to the regime's human rights abuses, have left Myanmar in poverty. A third of its estimated 60 million people live on a dollar a day.
But despite the sanctions, most of which remain in place for now, the number of tourists visiting Myanmar is surging. The government expects the trend to continue but admits it has a dire shortage of accommodation.
During the fiscal 2010-2011 (April-March), 424,000 people visited Myanmar, according to official data, and its 570 hotels and 160 guesthouses are stretched to the limit, with a total capacity of just 24,692 rooms.
Compare neighbouring Thailand, which has a similar climate and landscape to Myanmar but more than 4,000 hotels and resorts. It attracted 19 million visitors last year.
CAPACITY CHALLENGES
Western chains sense an opportunity.
I think it's time for people like us to look at Burma, said Vasant Prabhu, vice chairman and chief financial officer of Starwood Hotels & Resorts.
I think Burma is the interesting new opportunity -- a little bit like Vietnam might have been 20 years ago. We have a decent presence in Vietnam right now.
Jalil Mekouar, managing director for the Middle East and Africa for Jones Lang LaSalle Hotels, a hotel investment services firm, said Myanmar's potential for tourism and hotels was gigantic given its landscape, islands and rich history.
As they open I see a huge potential not only in the tourism and hotel sphere, but also industrial, Mekouar said at the Americas Lodging Investment Summit in Los Angeles.
Nancy Johnson, executive vice president of development for Carlson Hotels in the Americas, suggested her company, whose brands include Radisson and Country Inns & Suites, would also be interested in going into Myanmar.
It's a beautiful country, Johnson said. If there's an opportunity to go there, we will be there.
But it is too early to talk of a flood of foreign business. Asia-focused bank Standard Chartered, which operates in every Asian country apart from North Korea and Myanmar, said it would consider opening in Myanmar if sanctions were lifted but it was premature to make concrete moves.
We're looking at the changes very closely, but it isn't clear yet, said StanChart Chief Executive Peter Sands.
Hotel chains operating in Thailand see big potential in Myanmar, but are not in any rush to set up there, aware of the risks attached to investing in a country with a long history of corruption and unclear legislation.
We are looking for ways to expand in Myanmar. What we want to do is get in there by managing local hotels, said Ronnachit Mahattanapreut, a senior vice-president at Central Plaza Hotel, Thailand's fourth-largest listed hotel firm.
I don't think we need to hurry because rules and restrictions are not really settled.
Prakit Chinamourphong, head of the Thai Hotels Association, which represents about 800 hotels, including the Mandarin Oriental, the Four Seasons, owned by Minor International Pcl and Dusit Thani, said it would be at least two years before Thai chains made a move.
No one has really talked about going there yet. Yes, Myanmar is opening up but it's a bit too early for us to get in now, he told Reuters.
There are still high risks to make a move there. Politics, for one thing, is very uncertain. Having said that, we see a very good opportunity.
(Additional reporting by Kelvin Soh in Davos and Karen Jacobs in Los Angeles; Editing by Peter Graff, Martin Petty and Alex Richardson)
© Copyright Thomson Reuters 2023. All rights reserved.