EXCLUSIVE: An American's Account Of North Korea's First Ever Charity Fun Run [PHOTOS]
"The finish line was at the base of the Kim Il Sung Square, along the river, across from the Juche Tower … Once everyone had finished, we all took a 'victory lap' around Kim Il Sung Square."
Not exactly a common sentence for many people -- let alone an American citizen.
Barbara Carletta Chen is a self-proclaimed 5K fun-run junkie. She says she participates in races regularly for the free T-shirt and Facebook bragging rights. But on May 1, Chen flew 500 miles from Beijing, where she and her family live, to participate in one of the most memorable races of her life.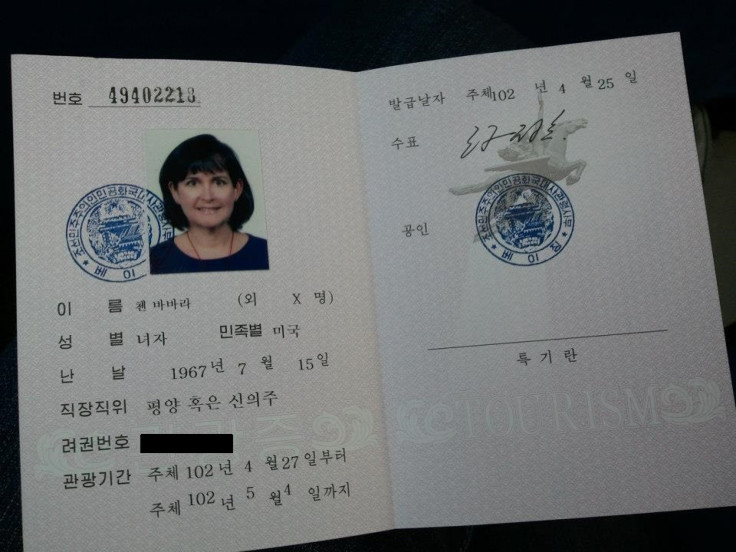 This time, she was running in a 5K charity fun run in Pyongyang, North Korea.
Chen, an American citizen, flew to North Korea with a group of almost 50 other runners and additional staff members from Beijing-based North Korea tourism group and the event organizer Koryo Tours.
Koryo Tours is the first company to hold a charity run in North Korea. And while the event was successful, it wasn't easy. According to Chen, the tour company had been planning the run for 15 months. The company had been hoping to set up the charity run a few years earlier, but plans did not come together until this year.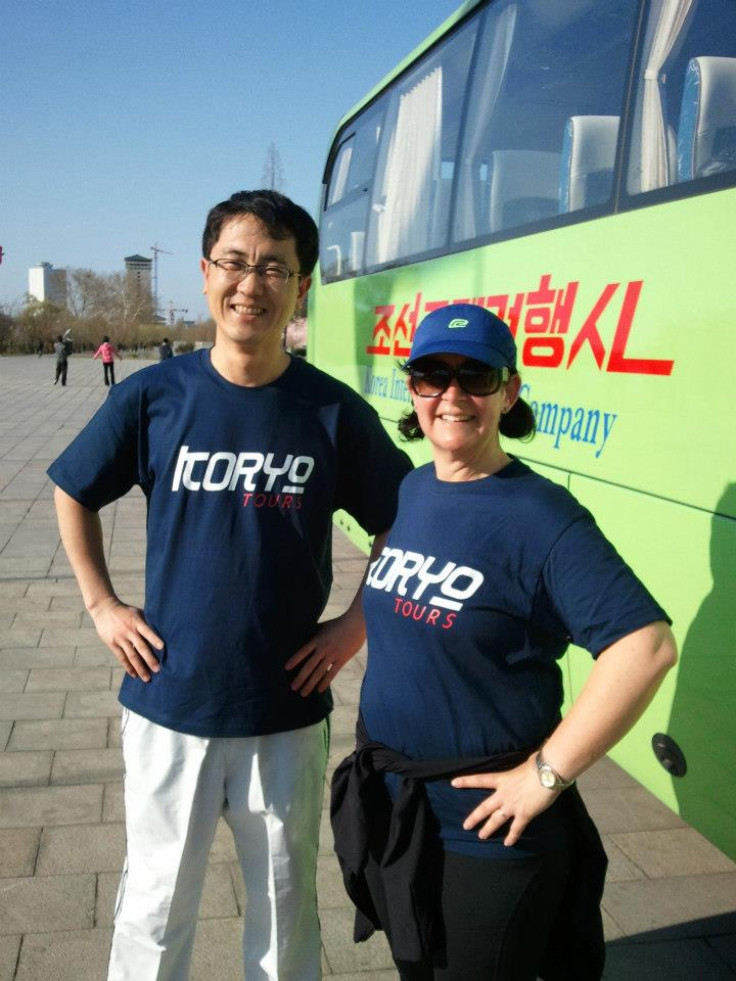 The runners' route began at the previous site of the USS Pueblo, where North Korea held an American ship it seized in the 1960s, continuing along the Taedong River and into central Pyongyang.
Chen said the run began in the early morning, around 7 a.m., on May 1, so there would be time for other activities later in the day. The group of runners was made up of foreigners, most of whom were British, Canadian or Australian, along with a handful of Western Europeans. No locals, Pyongyang-based expats or Koreans not affiliated with the tour group participated. While another American was part of the trip, Chen was the only U.S. citizen in her tour group of 12 to participate in the run.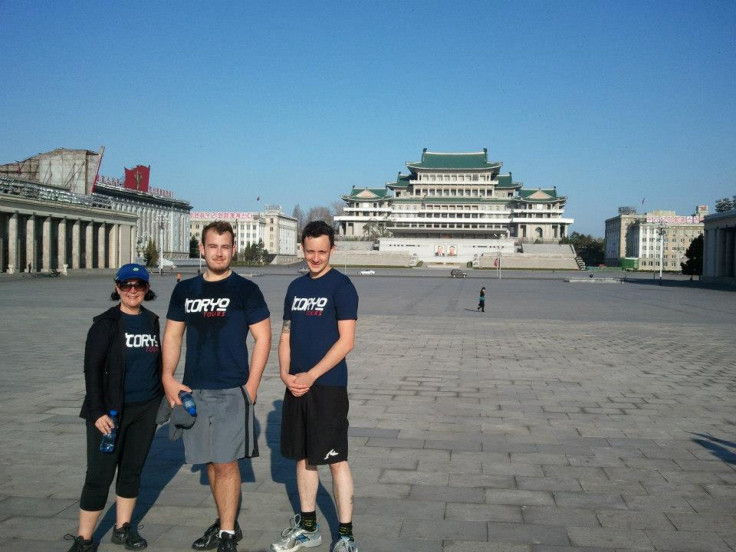 "During the actual run, there were people on bicycles going by, people walking, a few people along the river who looked confused but cheered us on," Chen described the inaugural run.
Pyongyang turned out to be more of a runner's paradise than Beijing, where she usually runs.
"Considering I typically run in Beijing, I was noticing the main differences: noticeably fewer people and significantly bluer skies!"
"There were 'Rocky' type steps that led from the river path up to the square," Chen said, describing the end of the race. "I can't be the only one who hummed [Rocky theme song] 'Gonna Fly Now.'"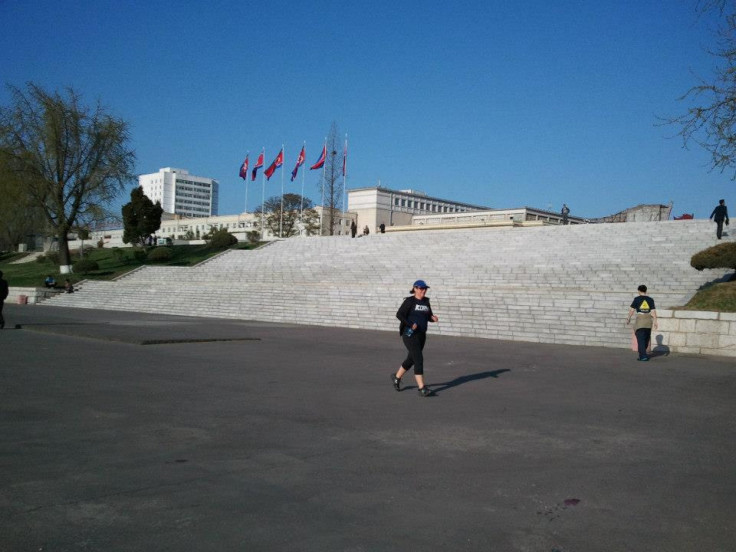 While it was a once in a lifetime experience, for now at least, the fun run also managed to raise over $2,500 to buy powdered milk for an orphanage in the seaport city of Nampo, located about 30 miles from the capital.
"All in all, it was a very normal experience. There was a bit of energy in the air, being part of an inaugural event," Chen said of her first running experience in the reclusive nation.
And while everything was relatively normal, Chen still had reminders of where she was. This was North Korea after all.
"I had my mobile phone in my pocket," Chen recalls. "I had snapped a few pictures along the way, but at one point, a man along the path told me not to take photos. "
Still, Chen insists that her group was less regulated than many may think; even saying after the race, the group was free to roam around independently for a bit.
"You'd be surprised at just how normal it was," Chen says of her overall experience.
For most Americans, even considering going to North Korea would be ludicrous, especially after the recent unrelenting threats of nuclear attack directed toward the U.S. and the current detention of U.S. citizen Kenneth Bae. However, these threats have yet to deter Chen, who says the mystery of the pariah nation keeps her interested in travel.
"I'm very well aware of the realities of the DPRK," she said. "However, if more people came to visit and see for themselves, we'd be closer to peace on the peninsula."
Chen is not oblivious to the rising tension in the Korean peninsula; in fact, she is probably more aware with what North Korea is like more than the average person. After all, this wasn't her first visit to Pyongyang.
Chen visited North Korea in 2005, and she even brought her two daughters, Elizabeth and Christie. The family attended the annual Mass Games, a breath-taking spectacle of performing arts that highlights the skill of group dynamics, instead of individual talent.
While her short trip to Pyongyang, the most accessible city in North Korea, does not come close to painting the full picture of North Korean life, the shared moments of normalcy between her and Pyongyang residents were one tiny, necessary, step for improved international understanding.
"I do believe every interaction is a step to including Koreans in a greater global engagement -- not isolation."
© Copyright IBTimes 2023. All rights reserved.