Another Week, Another North Korean Threat: This Time To Guam And Japan [VIDEO]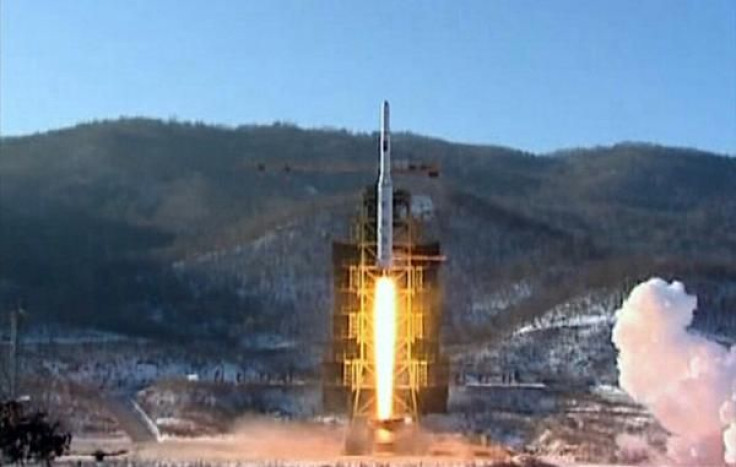 North Korea has a habit of using hostile rhetoric against the United States. If it's not in a bizarre anti-American propaganda video like the one above, or this one (see link), which depicts President Barack Obama and American soldiers burning in flames, it's threatening the renunciation of an armistice that, in the absence of a peace treaty, has kept North and South Korea from battle since 1953 (which means that the two countries are, still, technically, at war.)
Most recently, North Korea's official Korean Central News Agency announced that the country's leader, Kim Jong Un, said on Wednesday that the North will attack U.S. military bases located in the Pacific in addition to neighboring South Korea if "enemies … make even the slightest movement." U.S. military bases in the region, which include Anderson Air Force Base in Guam and naval bases in Okinawa and other Japanese islands, are the most vulnerable because of their proximity to the North.
North Korea has made new warnings and accusations almost daily since the United States and South Korea began joint military exercises earlier this month. In a piece called "U.S. Nuclear Blackmail Will Be Foiled with Stronger Military Counteraction: Spokesman," through flowery, propaganda-laced language, the DPRK claims that the military presence and exercises are designed to be intimidation tactics to counter North Korea's nuclear developments, like the country's recent third nuclear test.
"Now that the U.S. started open nuclear blackmail and threat, the DPRK, too, will move to take corresponding military actions," KCNA said.
After the U.S. flew several B-52 heavy bomber planes out of Guam over its ally nation South Korea as a warning, the North's official Korean Central News Agency took this as a sign that the U.S. was preparing a "pre-emptive nuclear strike," something Pyongyang has threatened to do in the past.
In the past, threats from North Korea were for the most part empty. After several failed missile launches and attempts, the reclusive nation's nuclear capabilities did not seem to be far-reaching. But after the most recent reportedly successful launch of a missile topped with a small satellite occurred late last year, and the nation's most recent nuclear test this February, many are left wondering if nuclear strike threats have become more plausible.
A CNN report also cites Kim as the instigator of Pyongyang's increasingly aggressive actions and reactions.
"What is not normal is that the backdrop for this is about a year of very unpredictable behavior by a new leadership, and a sequence of provocations that is more concentrated over a period of time than we have seen in the last 20 years," Victor Cha, former director of Asian affairs at the National Security Council, told CNN.
A lot of the threats, though serious, are actually thought to be directed toward their local audiences. This is why KCNA's translated stories often use flowery, nationalistic language intended for Kim's own people.
"First and foremost, it's for his domestic audience," Jasper Kim of the Asia-Pacific Global Research Group told CNN regarding the reports. "Without the support of the military, he won't be around for much longer. … He has to bolster his support with the brass."
© Copyright IBTimes 2023. All rights reserved.