Exclusive: Jesse Jackson Calls On Tech's 'Unicorns' To Join Apple, Google And Release Diversity Reports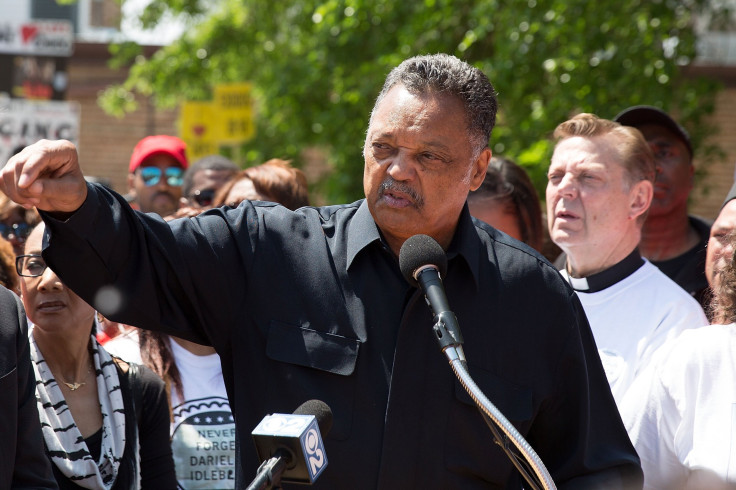 SAN FRANCISCO -- The herd of $1 billion-plus startups -- the so-called unicorns -- is growing. But the workforces at these oversized startups are raising a question now familiar to Silicon Valley: Do these mythical creatures only come white and male?
A year ago, Rev. Jesse Jackson, a vocal black rights activist, drew attention to Silicon Valley's lack of diversity and spurred Google, Facebook, Twitter, Yahoo and many others to start issuing "diversity reports" to hold themselves accountable. But now he has a new target: the unicorns, which are delaying their IPOs and, in a sense, public scrutiny, as they look to establish markets around the globe.
"These are new, young companies, with young, progressive leaders who should value fairness and equity," Jackson told International Business Times in an interview. "They should act now before disenfranchisement, exclusion and lack of diversity become ingrained and institutionalized."
Though there are currently 76 $1 billion tech startups in the U.S., very few of them have released diversity reports. And all signs point to the unicorns as being every bit as homogenous as the rest of the tech industry in Silicon Valley. Dropbox, Airbnb and Pinterest are three of the unicorns to have put out diversity reports, and their numbers are as grim as the rest of the tech industry.
At file-hosting service Dropbox, women make up 34 percent of the workforce, while Hispanic and African-Americans hold a combined 5 percent of all positions. Women hold 42 percent of the jobs at social media site Pinterest, but underrepresented minorities make up just 3 percent of the workforce. The gender breakdown at home-rental company Airbnb is better balanced, with women holding 47 percent of jobs while African-Americans and Hispanics have a combined 9 percent of the jobs.
These three tech companies are expected to be joined by another. Slack, the maker of the popular enterprise chatting software, told IBT that it will release its first diversity report Wednesday. "Building a diverse and inclusive workplace is enormously important to Slack, and we agree that work has to start very early in a company's growth," said Julia Blystone, a company spokeswoman.
Unicorns have had the luxury of flying under the radar in the past year as tech giants like Facebook, Apple and Google have publicly dealt with the issue. But now these billion-dollar companies are scrambling to address diversity as the attention turns to them.
Tech unicorns are hiring heads of diversity, working with consultants who specialize in hiring women and minorities and releasing bits of data that give some insight into the diversity of their workforces. But although many popular tech unicorns are taking baby steps to address diversity, many continue to avoid putting out a diversity report, despite calls for them to do so.
"Silicon Valley is data driven. Release your diversity and inclusion data," Jackson said. "You should have nothing to hide. If you don't release your data, you must be hiding something -- but in this new day, the truth will come out."
Scrambling To Address Diversity
Uber is the largest tech unicorn of them all, with a valuation of $50 billion. And while the company hired a "global diversity and inclusion leader" three months ago and says that "building an inclusive workplace with a diverse community of employees remains a top priority," it has done little else to indicate it cares about diversity.
The ride-hailing company, which employs more than 3,500 people, according to Forbes, has yet to release a diversity report, but several incidents show its respect for women is lacking. Numerous women around the globe have accused Uber drivers of sexual assault, indicating that the ride-hailing firm is not doing enough to protect its female customers. The firm's French wing also sexualized women last year through a promotion that promised to pair riders with attractive female drivers.
Additionally, Uber has had a couple of mishaps that show sexism is prevalent throughout the company's leadership. CEO Travis Kalanick drew ire in 2014 following a GQ feature where he said "we call that Boob-er" in reference to how his success has improved his sex life.
Earlier this year, Dropbox was embarrassed when former African-American employee Angelica Coleman spoke out about her experience with the firm, telling the International Business Times that, at one point, a colleague told her "black people get shot and killed every day -- it's not that big of a deal" following the death of Michael Brown in Ferguson, Missouri, last year. Since then, Dropbox has ramped up its diversity by beginning a job search for a head of diversity. No one has been hired yet, but the opening indicates the firm has gotten more serious about inclusiveness.
Likewise, Airbnb is currently looking for a "head of diversity and belonging."
Having a head of diversity is "a positive step forward, an indication that these companies are trying to address the problem," said Jackson. "But it must be more than window-dressing. These diversity officers must have a budget. They must have hiring power. They must have authority."
Pinterest, meanwhile, appears to be the unicorn that has done the most to address diversity. The startup, which already employs a "diversity programs specialist," drew praise in late July when it announced firm goals for its 2016 diversity initiatives, becoming one of the few tech companies to publicly list its diversity objectives.
"Putting out reports publicly says that they're dedicated to seeing those numbers improve, and at that point, it puts social and market pressure to achieve those goals," said Alaina Percival, CEO of Women Who Code.
Wanted: Diversity Reports
Other tech unicorns are kicking off their diversity efforts by appointing women to leadership and management roles. Lyft in January revealed that 14 of its 30 executives are women -- a 47 percent representation that is much higher than many larger tech companies. "Gender diversity in decision-making has helped drive our growth thus far, so it's something we're cognizant of in hiring and actively work to maintain as we grow," Lyft spokeswoman Katie Dally said. The ride-hailing service, which counts more than 200 employees, according to LinkedIn, has not released a diversity report for its total workforce.
Square, the mobile payments company, said it has a particularly strong representation of women running its departments. The company told IBT that women run more than 75 percent of the company, including its finance, engineering and business teams. By comparison, many larger tech companies have female leadership representation that stands in the range of 20 percent to 30 percent (Facebook is 23 percent, Google is 22 percent and Apple is 28 percent).
Snapchat is another young yet highly valued firm that has yet to formally do much to address diversity. The 4-year-old Los Angeles startup, which has 330 employees, according to Forbes, has yet to release a diversity report. To its credit, though, CEO Evan Spiegel has previously addressed the importance of having a diverse workforce, telling Re/code that Snapchat has "such a diverse group of people using our products and services every day, that in order for us to make absolutely great products and services for that community, we need a really, really diverse group of people."
Snapchat has also hired numerous women to head several of its key departments, including its stories curation team, its communications team and its human resources department, sources close to the company said. "As we look to hire the best talent in the world, diversity is a top priority for us," a Snapchat spokeswoman said.
For tech unicorns, diversity work has just begun. Although many have already reached impressive milestones when it comes to women in leadership, it's difficult to judge how much progress has been made when it comes to the hiring and inclusion of women in the overall workforce without the release of diversity reports. Lack of diversity reports also makes it unclear how companies like Uber, Snapchat and Square are doing when it comes to the hiring of Hispanic and African-American people, and that is why leaders like Jackson are calling on these companies to be more transparent about their diversity initiatives.
"It's the socially and morally right thing to do," Jackson said. "The virtual exclusion of Blacks and Latinos in Silicon Valley and the tech industry in the 21st century is disgraceful."
© Copyright IBTimes 2023. All rights reserved.
FOLLOW MORE IBT NEWS ON THE BELOW CHANNELS