Explosions Rock Two Nigerian Towns; More Than A Dozen Dead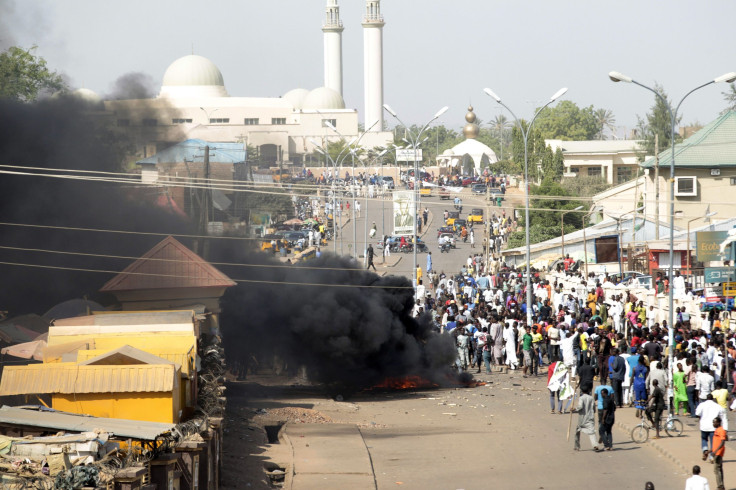 UPDATE 1:15 p.m. EST: Suicide bombings hit two northern Nigerian towns Sunday as Boko Haram militants stepped up their attack on Maiduguri, their second assault in a week on the city they hope to make their capital, Reuters reported. At least eight people were reported killed in Maidurguri.
"There is heavy gunfire going on. Everybody is panicking and trying to flee the area," said Idris Abubakar, a resident of the suburb of Polo on the southwestern outskirts of the city.
The attack was launched from pick-up trucks and motorbikes on the south end of town at three sites, an area from which militants had been pushed out in the last round of clashes.
Original post:
Suicide bombings rocked two Nigerian cities Sunday killing more than a dozen people. Two blasts occurred in Gombe, killing five people, Agence France-Presse reported, and a third bomb struck Potiskum, killing 10, Reuters reported.
No one immediately claimed responsibility for the carnage, but both communities are in northern Nigeria where Boko Haram extremists are active.
AFP said the first explosion in Gombe occurred at Tsohuwar Kasuwa market and killed two people. A few minutes later, a motorcyclist blew himself up at the Kasuwar Katako checkpoint, killing a soldier and two others.
In Potiskum a bomber targeted federal lawmaker Sabo Garbu, walking up to Garbu's house before detonating the explosives, Reuters said. Ten people were reportedly killed.
Boko Haram, which has pledged allegiance to the Islamic State group and announced a caliphate in northeastern Nigeria encompassing 130 towns and villages, has stepped up its attacks in recent days. The group has targeted the key city of Maiduguri, opening attacks on four fronts. Fierce fighting was reported Saturday between the Islamists and government troops backed by vigilantes.
Chad intervened Saturday in the overall conflict, bombing Gamboru in a bid to drive Boko Haram out of the area, continuing a series of bombing runs that began earlier in the week. Airstrikes Friday drove the militants from Malumfatori, a town Boko Haram seized three months ago.
The governments of Chad, Cameroon, Nigeria and Niger have all agreed to increase cooperation to stifle the terror threat in Nigeria, which already has displaced 1 million people and killed tens of thousands.
The African Union Saturday decided to send 7,500 troops to help fight the insurgency. The decision was made during a two-day AU summit in Addis Ababa, Ethiopia. The decision was backed by U.N. Secretary-General Ban Ki-moon, who said regional and international cooperation is needed to stop the terrorists' advance.
© Copyright IBTimes 2023. All rights reserved.
FOLLOW MORE IBT NEWS ON THE BELOW CHANNELS