Facebook's Internal Dislike Button: Protecting The Brand By Rejecting Unflattering Posts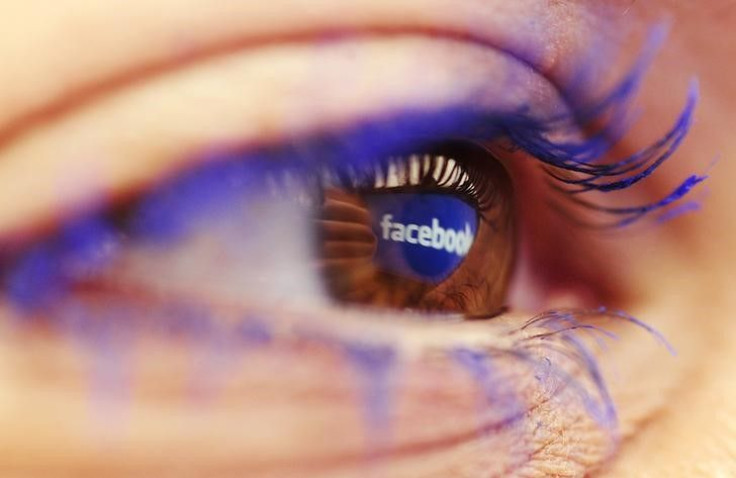 If you want to criticize Facebook on Facebook, good luck -- and don't be surprised if your grievances fail to go viral. Thanks to a little-known guideline that restricts references to its brand in boosted posts, Facebook Inc. may decline to give greater visibility to posts that reflect negatively on it.
Call it Facebook's own internal dislike button, a carefully crafted advertising guideline that reduces the chances of unflattering posts spreading throughout the huge, global social network.
That's what happened last week when Facebook refused to boost an International Business Times article in which sources criticized the company for throttling organic reach -- i.e., the number of people who see a post that hasn't been boosted by paid advertising. The article, published on Friday afternoon, focused on how the decline of organic reach has affected nonprofit organizations that use the site for community outreach. Over the last year or so, many nonprofits have become frustrated by their diminished ability to share information with the Facebook communities they'd worked so hard to build up.
When one such group, the Global Healthy Living Foundation, shared the IBTimes article on its Facebook page, "CreakyJoints," the story reached only a fraction of the foundation's more than 75,000 fans (because, as the article pointed out, organic reach is down to less than 2 percent in some cases). And when that same organization tried to pay money to boost the post, Facebook rejected it on the grounds that the post included an "improper reference to Facebook."
The group received an automated message stating that boosted posts may make only "limited references" to Facebook for the purposes of clarifying destination sites. As of Wednesday, the post remained published on the site but not boosted.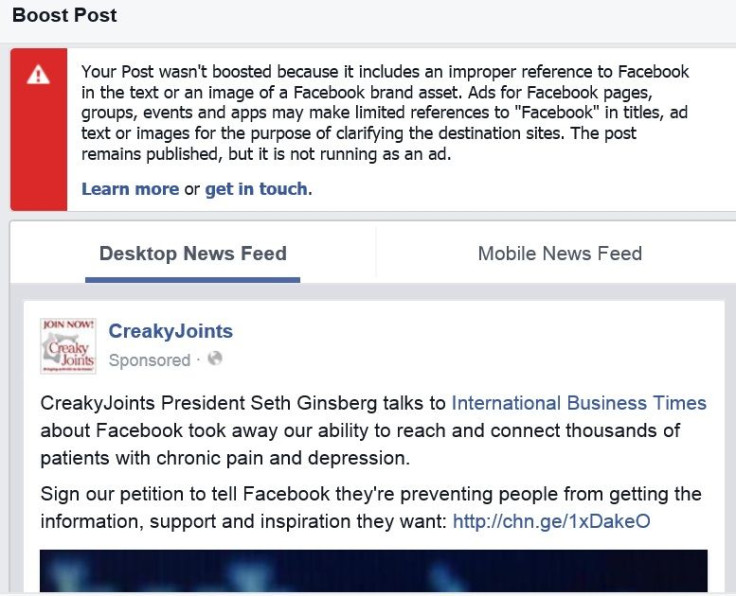 Reached for comment, a spokesman for Facebook denied that the boost was rejected because the article reflected poorly on Facebook. He said boosted posts -- which are paid -- must adhere to Facebook's advertising guidelines, including restrictions on references to Facebook brand assets.
"Ads that include Facebook's logo must follow our brand guidelines," he said. "The reason this ad was not approved had nothing to do with the content of the story included in the post, but because the ad violated our brand guidelines."
In other words, Facebook has no problem boosting posts that criticize it as long as they do so in a company-approved way. According to Facebook's Brand Resources page, such rules are "intended to promote consistent use of the Facebook brand." But by their very nature, dissenting voices -- whether they're coming from satire, news articles or everyday users -- would almost always violate this standard. The IBTimes article in question included a Reuters photo featuring the Facebook "F" logo reflected on an iPad, which is not an approved use of the logo. The photo was included in the organization's post.
A quick Google search of the issue reveals a number of Facebook users rejected for similar reasons. One marketing blogger wrote that she was unable to boost an article about Google Plus, a competing social network. Another said she was unable to boost an article called "The End of Facebook," which criticized Facebook's news feed algorithm. And one Facebook user posted that he was unable to boost a status update that contained a famous viral video from (Google subsidiary) YouTube that accused Facebook of ignoring a widespread problem with so-called like farms.
It's important to note that Facebook has not removed any of these posts, and critical Facebook posts do go viral all the time, at least organically.
You might ask yourself why Facebook -- or any company, for that matter -- would willingly run advertising that attacks its own brand. After all, it has the right to set advertising standards on its own site. But there is a nuance here that goes beyond the semantic argument Facebook is trying to make. With organic reach in decline, boosting a post is often the only way Facebook page administrators can reach the majority of their fans -- fans that, in many cases, they paid good money to accumulate. But because boosted posts are considered advertising, Facebook is able to exert even tighter control over what types of information spread on the site. This doesn't just mean limits on the use of its brand, but any types of speech it deems inappropriate.
As no shortage of commentators have pointed out, Facebook is slowly transitioning to a pay-to-play model as it seeks to further monetize its 1.2 billion active monthly users. Inevitably, it will grow to see more and more of those users not as users at all, but as advertisers. The massive social network has been called the digital-era equivalent to the old town hall, a place for the free exchange of ideas. But in more than one sense of the word, it feels less free every day.
Christopher Zara is a senior writer who covers media and culture. News tips? Email me here. Follow me on Twitter @christopherzara.
FOR FREE to continue reading
✔️ Unlock the full content of International Business Times UK for free
offer available for a limited time only
✔️ Easily manage your Newsletters subscriptions and save your favourite articles
✔️ No payment method required
Already have an account? Log in
© Copyright IBTimes 2023. All rights reserved.