Fair Play, Fair Pay Act: Marsha Blackburn On Why Music Artists Should Get Paid For Radio Play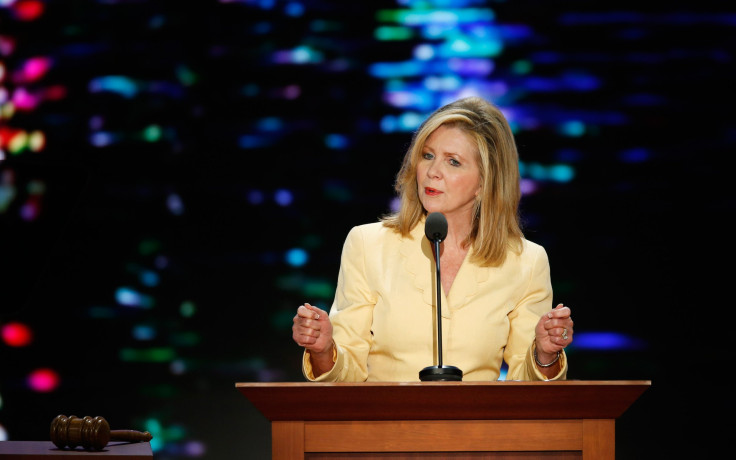 As rapid transformative changes sweep across the music industry, some lawmakers are trying to amend an aspect of it they say has been out of whack for decades. Rep. Marsha Blackburn, Republican from Tennessee, is part of a bipartisan bloc of four congressmen sponsoring the Fair Play, Fair Pay Act, a bill launched Monday that would institute a kind of compensation -- common in other countries -- called a performance royalty. Such a structure would pay artists every time their songs are broadcast on the radio. The bill's introduction coincides with news that global music revenues fell slightly in 2014, with digital revenues having reached the same levels as physical sales revenues for the first time.
Though Blackburn's sponsorship of Fair Play, Fair Pay is grounded in ideas of economic fairness, music has played a big part of her life. The businesswoman and six-term congressman, whose district includes the suburbs of Nashville, minored in piano in college, grew up playing organ in her church, and has spent decades thinking about the arts and their impact on the economy. She has served as chair of the Nashville Symphony League, and also as executive director of the Tennessee Film, Entertainment, and Music Commission, where she first began exploring how digital media might change those industries back in 1995.
International Business Times spoke with Blackburn while she was in New York. The conversation has been edited for clarity.
International Business Times: Colleagues have tried to get a performance royalty instituted before. What gives you hope for the bill's passage this time?
Marsha Blackburn: The reason it should see passage this year is the simple fact that more of my colleagues realize this is a fairness issue. As more delivery systems for entertainment producers come on board, you have all these different formats where people are compensated. Then when you talk about radio, [people ask], 'What do you mean they don't get paid when their music is played on the radio?' It comes as a surprise to them that you have a delivery system that does not pay for what it delivers.
IBTimes: A lot has happened in the music industry over the past 10 years, and you could argue that public understanding has not kept up. Do you think the average voter is informed enough to understand this bill and its impact?
Blackburn: Of course there's always a need for education. That process continues. I think what will be different this time is you're going to see more of the entertainers and musicians giving a faith and a story to why this legislation is necessary. That has not occurred in the past, and you're going to see people come forward and do it. Especially those performers who have traveled and retired, and they find it unseemly that those individuals are not making money on this. More people are working in jobs that are interactive technology based, or find a basis in intellectual property. They're working in factories and establishments where the schematics for a product they're manufacturing come over broadband and are programmed by a computer, or they have created some kind of software or work in some form of data processing. And they know they're paid to conduct that business. They understand the cost associated with it.
IBTimes: You've described the state of affairs as an artificial subsidy. What would it do to the broadcasters to remove it?
Blackburn: Business models change. As technology processes, business models change. And terrestrial radio certainly has seen the need to adapt, and they're evolving on many friends. Most have a website, most stream, most have revenue that comes from things besides terrestrial broadcast. They will adapt.
IBTimes: What are the stakes for this bill?
Blackburn: One of the reasons for doing this is because we definitely want to be able to keep the creative community here. Our creative communities in Nashville, in L.A. and New York, and in Austin, those are communities you want to see stay viable. Look at where most of the music is written and created. People enjoy the freedom we have to create this entertainment product that the world enjoys. We have to straighten out this carve-out so people can afford to stay in that. I have a lot of friends who have worked a couple jobs so they can make music on the side. This will enable more people to focus on what they came to Nashville for, and what they want to do.
FOR FREE to continue reading
✔️ Unlock the full content of International Business Times UK for free
offer available for a limited time only
✔️ Easily manage your Newsletters subscriptions and save your favourite articles
✔️ No payment method required
Already have an account? Log in
© Copyright IBTimes 2023. All rights reserved.