Family Of Russian Soldier Demanding Pay Has Looted Ukrainian Refrigerator At Home [Video]
KEY POINTS
The foster family of a dead Russian soldier had what was believed to be a looted Ukrainian refrigerator at their home
As they were foster parents of the soldier, they only received money for their deceased son's coffin and gravestone
Families of Russian National Guard members who died in Ukraine were entitled to 5 million rubles ($81,500) as compensation
The family of a dead Russian soldier who asked for compensation for their loss had what appeared to be a looted Ukrainian refrigerator in their home, according to reports.
In a documentary-style video made by Russian journalist Irina Shikhman as part of the "Should we talk?" project, the foster parents of Ilya Vasilenko complained about the lack of compensation from the state following the soldier's death, Pravda reported.
Vasilenko was a native of Chunsky, a village located in southeastern Siberia that is approximately 4,500 kilometers (2,796 miles) away from Ukraine.
He died on the second day of Russia's invasion of Ukraine, but he "never wanted to offend anyone," his relatives insisted in the video titled: "They only gave money for his coffin and gravestone. How does a Russian family get compensation for the death of a soldier?"
Russian President Vladimir Putin signed a decree in early June ordering that the families of Russian National Guard members who died in Ukraine and Syria be given 5 million rubles ($81,500 at the time) as compensation for their loss.
However, Russian authorities reportedly only provide compensation for a death to the parents, children or wife of the deceased.
The Military Commissariat allegedly only gave Vasilenko's foster parents money for his coffin and gravestone.
Despite their complaints, a refrigerator from the Turkish manufacturer Beko with a Ukrainian "two-year full warranty" sticker can be found in the kitchen of Vasilenko's foster parents, which could have been exported from Ukraine.
"Basically, they're trying to drum up sympathy for 'ordinary Russians.' But toward the end of the video, the camera focuses on the refrigerator in this family's house, and it's... Ukrainian. So the family of the 'honest' Russian soldier killed in Ukraine has a stolen Ukrainian refrigerator? Do stores in remote Siberia (Irkutsk) issue a '2-year warranty?'" Ukrainian journalist Vitalii Tysiachnyi was quoted as saying.
Journalist Viktoriia Kobyliatska said that instead of receiving compensation for Vasilenko's death, his foster parents have already received a refrigerator.
"They are interviewing the relatives of the dead Russian. Saying 'he never offended anyone in his life.' Of course, that's how it was. Perhaps that's why he was brought to Russia in a stolen refrigerator? Did this refrigerator arrive later as compensation for the family? For some reason, the journalists didn't ask about that, and that's a shame, because the full warranty sticker is intriguing, and it's the only thing that could make this failed interview truly informative," Kobyliatska said.
The pillaging of settlements is in violation of the Rome Statute of the International Criminal Court.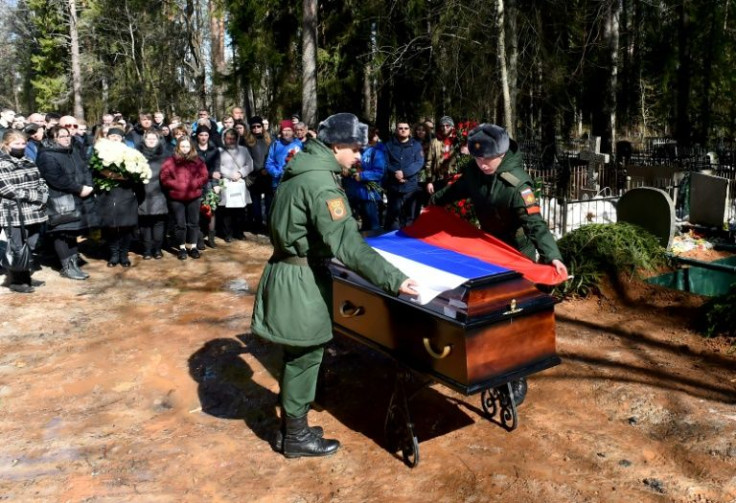 © Copyright IBTimes 2023. All rights reserved.