Far-Right-Wing National Front Party Gains Popularity, As Marine Le Pen Takes The Lead Amid Refugee Crisis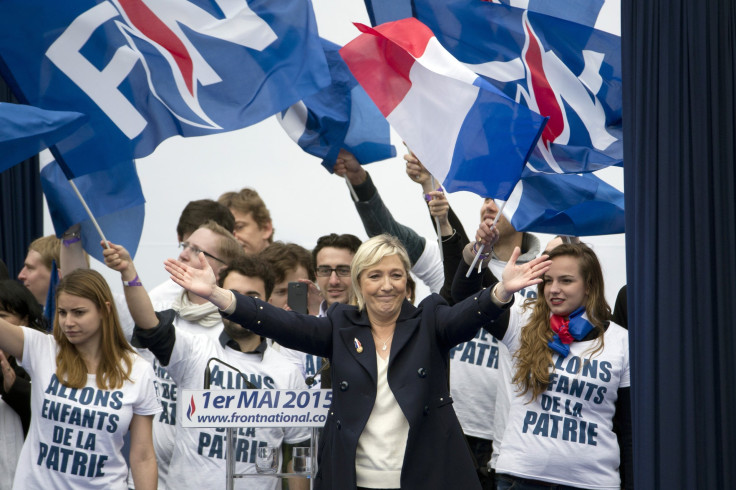 Marine Le Pen's far-right-wing National Front party would sweep local elections in France's northern region of Nord-Pas-de-Calais were they held today, Odoxa poll results indicated Sunday. The outspoken Euroskeptic enjoyed almost 40 percent support among voters in a region that has been hit hard by unemployment and has found itself at the center of a continuing refugee crisis.
Sampling nearly 1,000 people in the Nord-Pas-de-Calais region close to the English Channel, the survey showed growing popularity for the National Front in general and its leader Le Pen in particular. Unemployment in the region has remained higher than the French average for almost 40 years, and Le Pen has said lowering unemployment would be one of her top priorities.
A manufacturing region specializing in coal and steel mills, it suffered great losses with the decline of domestic industry in the 1970s and 1980s, pushing the unemployment rate as high as 14 percent. It has since recovered from this economic shift, although it has not become as productive or wealthy as other regions of France.
Dissatisfied with the two mainstream parties -- President Francois Hollande's center-left Socialist Party and former President Nicolas Sarkozy's center-right Union for a Popular Movement -- voters in the country's northern region are increasingly looking toward the National Front, a party promising employment security in uncertain times.
Le Pen's party enjoyed the support of 36-37 percent of voters in the region, 10 percentage points more than any other party, according to the Odoxa poll.
Le Pen has drawn heightened support in Nord-Pas-de-Calais amid the refugee crisis currently under way in the economically struggling region. Thousands of refugees, many coming from Syria and other war-torn countries, have been arriving on Europe's shores daily throughout the summer. Calais became a flashpoint in the crisis as it marks the border between France and the U.K., the latter a country that many refugees have cited as their final destination, making the situation in Calais increasingly crowded and tense.
"Without any action, this migratory influx will be like the barbarian invasion of the IV century, and the consequences will be the same," Le Pen said at a rally near Paris Tuesday. "We must immediately stop this madness to safeguard our social pact, freedom and identity," she said.
The Odoxa poll surveyed 991 people, and its margin of error was plus or minus 2.5 percent.
© Copyright IBTimes 2023. All rights reserved.