Fed Likely To Lower Rate-Hike-Inducing Unemployment Trigger To 6% From 6.5%, Says Goldman's Top Economist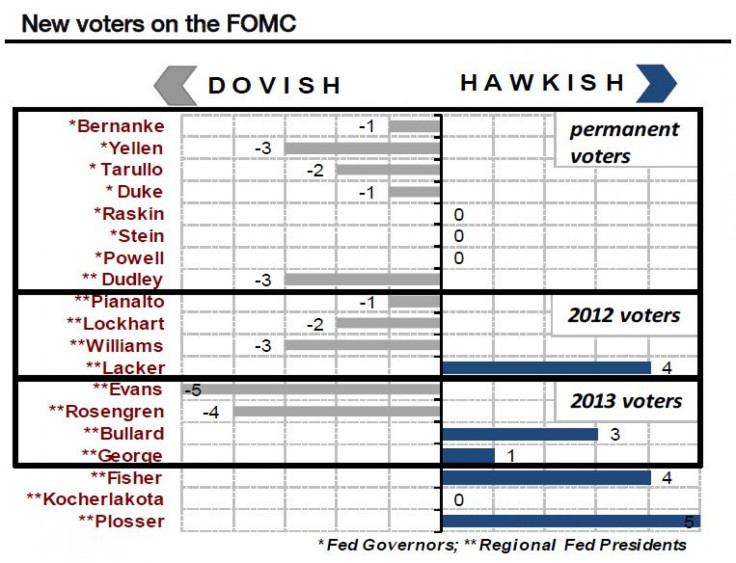 Goldman Sachs influential chief economist Jan Hatzius told clients on Thursday that the latest research from the senior Federal Reserve economists indicates convincingly that the central bank plans to lower the threshold unemployment rate trigger for its eventual rate hikes.
Hatzius pointed to two separate research papers by the Fed's two most-senior staff economists for monetary policy, William English and David Wilcox. Their papers to be presented later this week at the IMF's annual research conference both "imply a strong case for a reduction in the 6.5% unemployment threshold for the first funds rate hike. We have proposed such a move for some time but have been unsure whether it would in fact happen," Hatzius told clients.
"Given the structure of the Federal Reserve Board, we believe it is likely that the most-senior officials -- in particular, Ben Bernanke and Janet Yellen -- agree with the basic thrust of the analysis," Hatzius concluded, adding, "The optimal policy in the English et al. study is more aggressive than that shown in Vice Chair Yellen's earlier set of optimal control simulations, which points to the first hike in early 2016."
While Hatzius admits it will take some time for the economics and policymaking communities to digest the papers' data, his initial assessment of the research tells him that the Fed will move its current 6.5 percent unemployment rate target down to 6 percent.
"Our central case is now that the FOMC will reduce the threshold from 6.5% to 6% at the March 2014 FOMC meeting, alongside the first tapering of QE; however, a move as early as the December 2013 meeting is possible, and if so, this might also increase the probability of an earlier tapering of QE," Hatzius concluded.
© Copyright IBTimes 2023. All rights reserved.
FOLLOW MORE IBT NEWS ON THE BELOW CHANNELS