Federal Reserve Beige Book Reveals Strong US Dollar Is Restraining Manufacturing Activity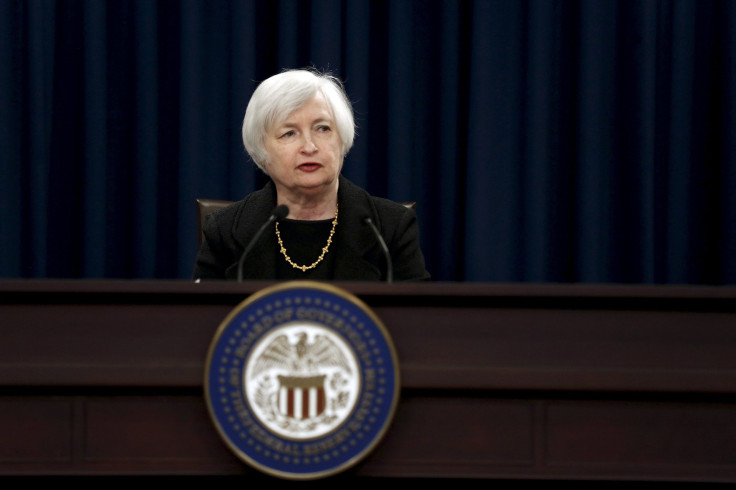 The U.S. Federal Reserve's latest Beige Book, released Wednesday, reveals that the strong dollar was hurting the manufacturing sector in mid-August through early October, according to anecdotal comments from contacts outside the Federal Reserve. Meanwhile, China, the world's second-largest economy, also continued to weigh on businesses during the same period, the Fed said in the report.
"A number of districts cite the strong dollar as restraining manufacturing activity as well as tourism spending," the Fed said Wednesday. "Manufacturing turned in a mixed but generally weaker performance during the latest reporting period, with a number of districts noting adverse effects from the energy sector."
There were 53 uses of the word "weak" or "weakness" in the report: 10 were related to oil, seven related to steel and China, four related to the strong dollar and 10 related to agriculture.
But experts say for now, it looks like the same story as before: more weakness in the dollar, oil, China and manufacturing. And there is a bright spot.
"There is strength in the housing and consumer sectors, offsetting the weakness in manufacturing," said John Canally, investment strategist and economist for LPL Financial.
Some Fed districts, including Cleveland, Chicago and San Francisco, reported that the demand for steel remained weak, with the strong dollar and competition from China cited as factors.
In the Fed's previous Beige Book issued in September, many of the Fed's contacts in the Boston district mentioned China as a "performance factor," but the effects were "modest."
The Beige Book, which the central bank publishes eight times a year, highlights the current condition of the U.S. economy in each of the Fed's 12 districts. It covers a range of economic activity, from manufacturing to construction to wage growth, and gives economists a glimpse of the economy's current status.
Fed officials delayed an interest rate increase in September because of growing risks to the central bank's economic growth outlook, driven mainly from China, minutes from the Federal Open Market Committee showed.
The report released Wednesday included information collected on or before Oct. 5. The report summarizes anecdotal comments from businesses and other contacts outside the Federal Reserve and is not a commentary on the views of Fed officials.
The Beige Book for August arrives ahead of the Federal Reserve's meeting on Oct. 27-28. Most economists had anticipated the central bank would announce raising interest rates last month for the first time in nearly a decade, but that did not happen, and experts have pushed out their expectations to a later date, following the recent stock market volatility.
Each of the Fed's Beige Books is published two weeks before the meeting of the FOMC, which is composed of the Fed's seven-member board of governors and five of the 12 Reserve Bank presidents.
© Copyright IBTimes 2023. All rights reserved.