Fed's Yellen Nods Toward December Rate Hike And Defends Central Bank Policy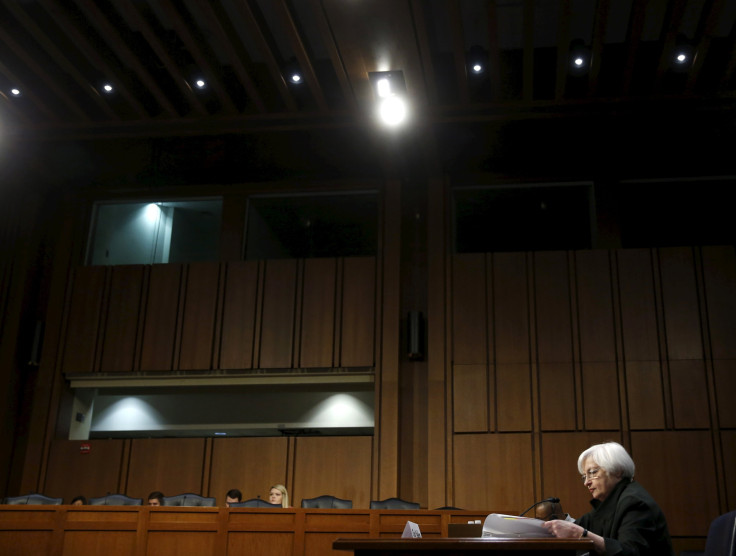 In testimony before Congress Thursday, Federal Reserve Chair Janet Yellen expressed confidence that the economy has healed sufficiently to raise benchmark interest rates at the Fed's next rate-setting meeting later this month. "The U.S. economy has recovered substantially since the Great Recession," she said, citing a decline in headline unemployment to 5 percent today from a 2010 peak of 10 percent.
Raising near-zero interest rates was "a live option," Yellen added.
Largely repeating recent comments that markets saw as friendly to a December liftoff, Yellen underlined that the decision will still rely on incoming data, including employment numbers due at the end of the week. "We will be looking of course carefully at tomorrow's jobs report," Yellen said. "Much of it is transitory, but we will be looking at data."
A rate hike this year would be the first since 2008, when the Fed dropped the benchmark federal funds rate to its lower bound amid a full-scale financial crisis. The rate-setting committee has held firm ever since as the U.S. economy has crawled back to decent health. The Fed is charged with maximizing employment while keeping a lid on inflation.
Yellen said the labor market had "improved appreciably" and predicted that transient factors that have dampened prices will dissipate in 2016, bringing inflation back to the Fed's desired 2 percent threshold -- a level that has proved elusive for more than 40 straight months.
Those drags include slow growth in Europe and Asia, along with a strengthening dollar, which weighs on U.S. exports. Yellen told lawmakers that the rate-setting committee had a close eye on the global economic situation. "It's highly relevant to our decisions," she said.
Asked about a recent estimate from Citigroup economists that said there's a 65 percent risk of the economy falling into recession in 2016, Yellen reiterated her optimism in the durability of U.S. growth: "I can't put a number on a risk of a recession, but I absolutely wouldn't see it as anything close to 65 percent," she said.
A few lawmakers used the occasion to challenge Federal Reserve's policy and economic outlooks. The most dramatic criticism came from Sen. Ted Cruz, R-Tex., a presidential hopeful, who mistakenly suggested the Fed tightened monetary policy in 2008. At the time, then-chair Ben Bernanke was fighting off criticism in his efforts to loosen policy.
Yellen had her own words for Congress, particularly members of the House of Representatives, which recently passed legislation challenging the independence of the Fed. Part of that bill would require the Fed to tether interest rates to a single formula, a proposal Yellen has said "deeply troubled" her.
Yellen also assailed measures in the recently agreed-upon highway bill, which would skim funds from the Fed's surplus accounts to pay for infrastructure spending. "Repurposing the Federal Reserve's capital surplus does not actually create any new money for the federal government," Yellen said. The maneuver will yield $19 billion.
© Copyright IBTimes 2023. All rights reserved.
FOLLOW MORE IBT NEWS ON THE BELOW CHANNELS