FIFA Corruption Scandal: 16 More Officials Charged By US Justice Department After Zurich Arrests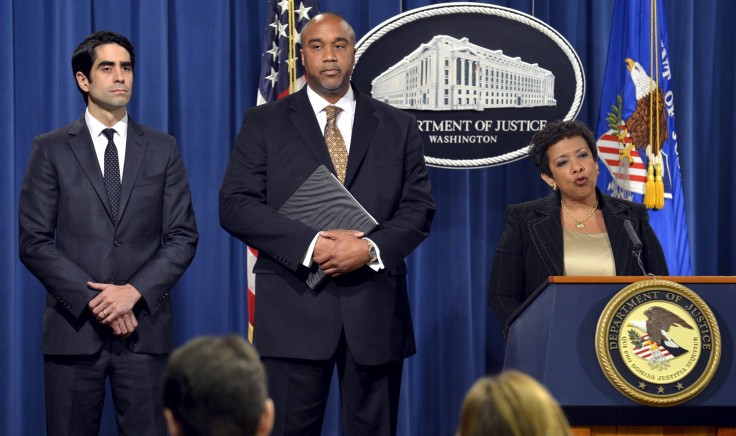 The U.S. Department of Justice released a 92-count indictment Thursday charging 16 additional FIFA officials amid an ongoing corruption investigation into the world soccer organization, according to a news release. The racketeering and money laundering charges come hours after two FIFA officials were arrested in Zurich at the request of the U.S., in the midst of a scandal that has embroiled the organization for months.
The new charges are against some high-ranking FIFA officials, including Alfredo Hawit, the president of the Confederation of North, Central American and Caribbean Association Football, and Juan Angel Napout, both of whom are FIFA vice presidents. Hawit and Napout were the officials arrested Thursday morning, but a total of 27 people have been charged in the case so far.
"The Department of Justice is committed to ending the rampant corruption we have alleged amidst the leadership of international soccer – not only because of the scale of the schemes, or the brazenness and breadth of the operation required to sustain such corruption, but also because of the affront to international principles that this behavior represents," U.S. Attorney General Loretta Lynch said in a statement. "The message from this announcement should be clear to every culpable individual who remains in the shadows, hoping to evade our investigation: You will not wait us out. You will not escape our focus."
Others charged Thursday include Ariel Alvarado, a former Panamanian soccer federation president, Rafael Callejas, former Honduran soccer federation president, Brayan Jimenez, the current Guatemalan soccer federation president, and Reynaldo Vasquez, a former Salvadoran soccer federation president. Charges were also filed against Manuel Burga, former Peruvian soccer federation president and Carlos Shavez, former Bolivian soccer federation president, according to the release.
FIFA officials are alleged to have received millions of dollars in kickbacks and bribes in exchange for selling broadcasting rights for soccer games, Reuters reported. The scandal broke in May when several soccer officials were arrested.
© Copyright IBTimes 2023. All rights reserved.
FOLLOW MORE IBT NEWS ON THE BELOW CHANNELS