Fifty Countries Sign Up To China-Led Asian Infrastructure Investment Bank, In Diplomatic Victory For Beijing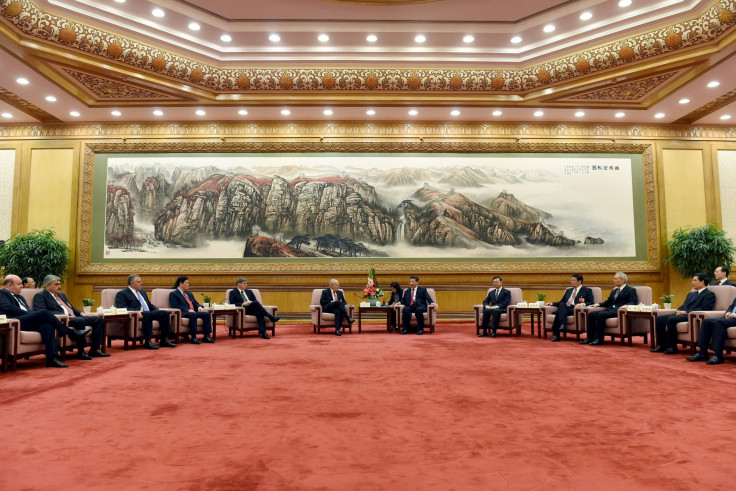 SHANGHAI -- Representatives from 57 countries have attended a signing ceremony in Beijing for the founding of the new Asian Infrastructure Investment Bank. The institution, designed to promote regional development, has been seen as a significant foreign policy success for China, which proposed the idea. It has also become something of an embarrassment for the U.S., which announced early on that it would not be joining, only to discover that many of its allies had no such qualms.
Australia was the first country to sign the agreement at a ceremony in Beijing's Great Hall of the People. The other 49 countries that signed up -- seven others are still waiting for approval from their domestic legislatures -- included Germany, the U.K. and South Korea.
China has said the bank, which will be based in Beijing and is expected to start work by the end of this year, will play a major role in speeding up development, in a region where some $8 trillion in investment is expected to be required in the next five years alone. It is seen as providing an alternative to U.S.-dominated institutions such as the World Bank and Asian Development Bank, which some in Asia consider slow to respond to the needs of the region -- and as imposing too many conditions on development.
AIIB, which is currently led by Jin Liqun, a former deputy finance minister and a former vice president of the Asian Development Bank, will have capital of $50 billion, due to rise to $100 billion. China will contribute almost $30 billion, making it the largest shareholder, Xinhua news agency reported.
China's voting share in the bank's decision-making process will be just over 26 percent -- more than the quarter of votes needed to veto projects -- followed by India and Russia, with 7.5 percent and just under 6 percent respectively. Reuters said Germany would be the fourth biggest shareholder, with a 4 percent stake.
Non-Asian countries will be allowed to hold a maximum 30 percent stake in the Beijing-based bank, Xinhua reported, and China's Finance Minister Lou Jiwei, who presided over the signing ceremony, said recently that developing countries in Asia would make up the majority of its members, and enjoy "a bigger voice at the table." However, China has been keen to reassure other nations that, in the longer term, it "does not seek a veto power in the bank," and expects to lose its current dominance in future as more countries join -- in contrast with the World Bank, in which the U.S. holds a limited veto power.
"The AIIB will adopt international good practices and embrace high standards, striving to build a professional, efficient and clean platform for infrastructure investment," Lou wrote last week.
One Western diplomat in Beijing said the U.S. "only has itself to blame" for the establishment of the new institution, after blocking reforms of the IMF and World Bank that were intended to "take into account China's role as the world's second-largest economy," Reuters reported.
And analysts say China's success in persuading so many major countries to join the bank represents a significant step forward in Beijing's attempts to present itself as a responsible and constructive member of the international community.
Countries which have not joined, including Japan as well as the U.S., have raised concerns about management of the institution: These range from its requirements on environmental standards -- the U.S. has previously differed with the Asian Development Bank over projects including coal-fired power plants and dam construction -- to ongoing concerns about corruption in China, a country whose National Audit Office announced on Sunday, for example, that 13 out of 14 major state-owned enterprises inspected recently had been found to have "violated rules of procurement and bidding."
Experts have also noted that governing a body with so many voting members is likely to be complex. And Lou acknowledged last week that "More hard work lies ahead in our quest to build the AIIB into an international financial institution embodying the highest standards."
Jin, AIIB's interim head, said at the weekend that the bank would be "lean, clean and green," emphasizing "adaptation of energy saving and environmentally-friendly technology in its projects." However, he added that the AIIB would "explore a new development model that will try to address the conflict between improving people's livelihood and environmental protection."
Nevertheless China's success in establishing the institution is a sign of its growing global influence -- and ability to project that influence. Chinese media have said that President Xi Jinping will reiterate that the offer for the U.S. to join remains open, during his state visit to the U.S. in September.
© Copyright IBTimes 2022. All rights reserved.
FOLLOW MORE IBT NEWS ON THE BELOW CHANNELS