For First Time, US Uses 'Terrorism' To Describe Latest Attack In Western China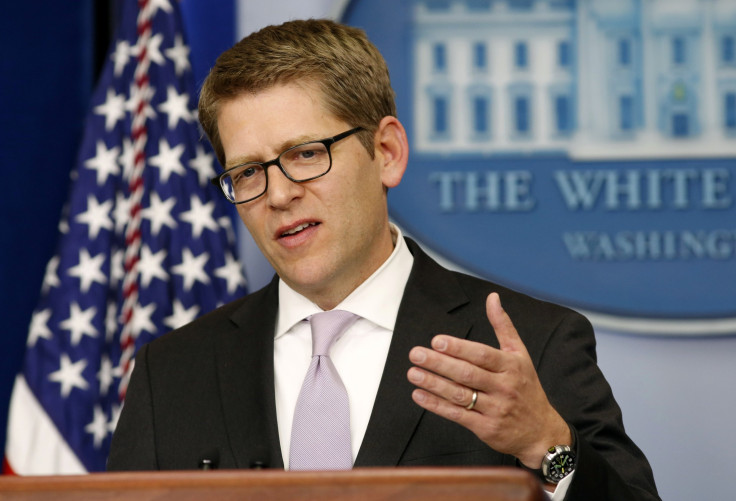 The deadly attack Thursday at an open air market in Urumqi, the capital of China's volatile northwestern region of Xinjiang, prompted the Obama administration to use a word it had previously avoided in condemning lethal explosions pinned on separatist Uighurs: terrorism.
"The United States resolutely opposes all forms of terrorism," White House spokesman Jay Carney said in a statement released to reporters midday Thursday in reaction to the attack, which killed 31 people while injuring 90, according to official reports.
The Obama administration's prior unwillingness to brand as terrorism a series of explosions and stabbings blamed on Muslim Uighur separatists in Xinjiang as well as in other provinces has been a substantial irritant in China, where many have taken to social media to accuse the American government of hypocrisy and equivocation.
In addressing the latest incident, the White House appeared to be seeking a means of mollifying such critics. An initial statement released by the U.S. Embassy in Beijing merely expressed condolences for the attack while stopping short of calling it terrorism. Later, the White House released Carney's statement, which called the attack a "despicable and outrageous" act while adding the word "terrorism".
The White House declined to discuss its decision to apply the terrorism label and did not confirm that this was the first time, merely directing a reporter to look at the administration's website. "The statement speaks for itself," a spokeswoman told International Business Times.
But academics who study terrorism pointed to the changing rhetoric emanating from the White House as a positive sign for U.S.-Chinese relations. While governments ought to take care in branding activities "terrorist" given the license for violent response that such a word implicitly conveys, in this case the term would appear to apply, some suggested, noting that ordinary people have been falling victim.
"The international community has been slow to treat Uighur violence as terrorism; they have shied away from using the term. Typically, what you will hear out of the White House is words like condolences or tragedy, but not terrorism," said Max Abrahams, a professor of political science at Northeastern University in Boston. "It is an important step for Washington to recognize the attack as terrorism."
But others, such as Tom Henriksen, senior fellow at the Hoover Institution at Stanford University, do not think that the rhetoric is all that important.
"I think it's too small an item to make a big deal out of unless something more comes and we offer to send them agents or help. That would be a bigger deal," he said.
Thursday's attack unfolded as a series of explosions at the market in Urumqi, a bustling city of more than 3 million people some 2,000 miles west of Beijing.
The attackers crashed two cars into shoppers and threw explosives, according to the official Xinhua news agency. The Ministry of Public Security promptly called the attack a "violent terrorist incident," echoing past language.
Russian President Vladimir Putin sent a telegram to Chinese President Xi Jinping expressing his condolences while also calling the event a terrorist attack.
The bombing on Thursday is the latest incident in a string of violent attacks that have escalated tensions between the Turkic Muslim Uighur minority and Han Chinese in the western part of the country.
"The Chinese government brought this on themselves, transporting and encouraging the Han to move to the region, which has threatened the Uighurs," Henriksen said.
Within the Uighur community, grievances center on claims that the advent of the People's Republic of China in 1949 and the incorporation of the short-lived Uighur state of the East Turkestan Republic has brought subjugation and scant economic opportunity. Beijing points to large-scale investments and infrastructure -- not least, the development of vast crude oil and natural gas fields-- in arguing that Chinese rule has lifted Xinjiang. Uighurs complain that most of the spoils have been captured by Han Chinese, migrants who have arrived from other parts of China to take jobs, and by state-owned companies that have secured the profits. Along the way, the predominantly Muslim Uighurs say their faith and culture have been repressed.
The Xinjiang region has seen several attacks in recent years, with the frequency and intensity growing. Riots broke out in Urumqi in 2009. Last October, five people were killed in an attack in Beijing's Tiananmen Square, in an incident the government blamed on Uighur separatists.
In March, a group of men and women slashed crowds at a railway station in the city of Kunming in Yunnan province, killing 29 people, in an episode some have likened to China's 9/11. Last month two suspected suicide bombers detonated explosives at Urumqi's train station, killing themselves and one other person. Eight attackers armed with knives at the station injured about 80 people.
"The attacks are surfacing outside Xinjiang," Henricksen said. "It is metastasizing. Whatever the government is doing isn't working."
As the Chinese government begins to deal with the aftermath of Thursday's attack, it will have to decide how to move forward in dealing with domestic terrorist threats that it seems unable to control.
Scot Tanner, senior research scientist for CNA Corporation, a non-profit research institute in Washington, said the Chinese government has been unable to control the attacks in the west because of its lack of capacity in its police forces.
"The police have had really slow response times, and I am not certain how fast they are going to be able to pick that up," Tanner said. "China doesn't have a huge number of police in ratio to the size of its population. Getting more police on the street is going to be a bit of a challenge."
More importantly, Tanner said that the Chinese police could have an intelligence problem, which could be preventing them from preparing for and stopping attacks like the one on Thursday.
"It could be a lack of local trust to collect that info or it could be that they don't have enough police officers that speak the local language and are plugged in," he said.
But President Xi Jinping has been more hands on in dealing with internal security affairs than his processors, according to Tanner, taking charge of a new national security committee which will handle both internal and external security measures.
FOR FREE to continue reading
✔️ Unlock the full content of International Business Times UK for free
offer available for a limited time only
✔️ Easily manage your Newsletters subscriptions and save your favourite articles
✔️ No payment method required
Already have an account? Log in
© Copyright IBTimes 2023. All rights reserved.