Flacco Wants $20 Million Per Season According To Reports, Ravens QB To Negotiate New Contract After Super Bowl 2013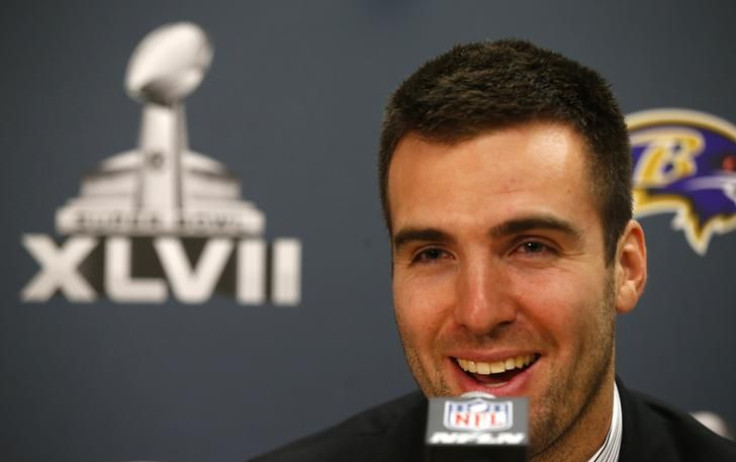 Baltimore Ravens Quarterback Joe Flacco will try to negotiate a new contract that will pay him $20 million per season, the SportsXchange reports.
According to Sportrac.com, Flacco, who is preparing to make his Super Bowl 2013 debut, is in the last year of a five-year, $29.8 million contract. If Baltimore chooses not to re-sign the 28-year-old QB, they could use the franchise tag to retain him. That would give Flacco a salary of approximately $14.6 million.
Flacco is the first quarterback in NFL history to win playoff games in each of his first five seasons and has played a key role in the team's current season in which they've secured themselves a spot in Super Bowl XLVII.
In related news, Flacco arrived in New Orleans for Sunday's big game where made headlines after controversial comments to reports at the Superdome.
Speaking on the topic of the NFL's championship game being held at New Jersey's MetLife Stadium -- the first outdoor Super Bowl at a cold-weather site – Flacco expressed strong disapproval of the Super Bowl site.
"I think it's retarded. I probably shouldn't say that. I think it's stupid," he told reporters after the Ravens arrived in New Orleans for Sunday's Super Bowl. "If you want a Super Bowl, put a retractable dome on your stadium. Then you can get one.
"Other than that I don't really like the idea. I don't think people would react very well to it, or be glad to play anybody in that kind of weather," he said.
According to ESPN.com, the record low for a Super Bowl kickoff is 39 degrees when Dallas beat Miami in January 1972 at Tulane Stadium in New Orleans.
Next year's Super Bowl will be held Feb. 2, 2014, at MetLife stadium – the home field shared by the Giants and Jets in East Rutherford, N.J.
The National Weather Service, as cited by ESPN, said the average high in nearby Newark, N.J., on Feb. 2 is 39.8 degrees and the low is 24.2. The average precipitation on that date going back to 1931 is about one-eighth of an inch.
Upon deciding the location of the Super Bowl 2014, the NFL released a statement commenting on the irregular weather conditions.
"Creating a plan for staging a Super Bowl in winter weather is not reinventing the wheel," NFL senior vice president for events Frank Supovitz said two years ago. "Super Bowls have often been played in cities that can experience winter storms, including Detroit, Minneapolis ..."
"Coordinated snow and ice removal plans for travel routes, major event facilities, the stadium campus, and parking have always been part of our planning protocol," he said then.
Remember, no city is immune to rugged weather. Even though Green Bay and Pittsburgh played inside Cowboys Stadium two years, snow and ice blanketed the lead-up events.
The only significant precipitation during a Super Bowl came in February 2007 at Miami. Playing in a rainstorm, Indianapolis and Chicago committed four turnovers in the first quarter.
Expect ticket sales to be brisk next year, StubHub spokesman Glenn Lehrman said last week. He predicted the 2014 Super Bowl would create the largest demand "we've ever had."
"I think people want to be part of a first-time experience. Whatever it is," he said.
© Copyright IBTimes 2023. All rights reserved.