Flood Waters Drive Northern New Jersey Residents To Evacuate Their Towns [PHOTO]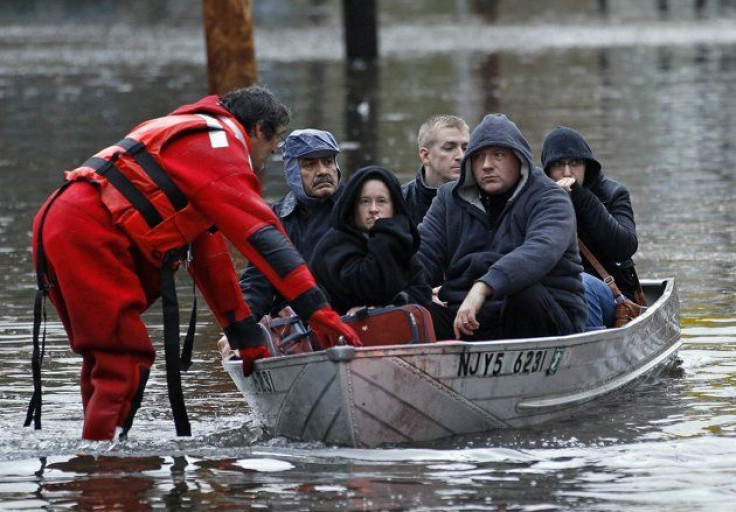 Hundreds of residents of four northern New Jersey towns, covered by as much as six feet of flood waters, evacuated their communities Tuesday, but the cause of the flooding turned out to be mistaken.
Moonachie, Little Ferry, South Hackensack and Hackensack residents were ordered to evacuate the towns as an initial National Weather Service (NWS) report indicated a levee breach was the cause of the flooding.
The NWS said early Tuesday morning that a levee break in Moonachie was reported by local authorities, but New Jersey Gov. Chris Christie later said the report was inaccurate.
The reported levee breach submerged the four northern New Jersey towns with five to six feet of water around 4:34 a.m. Tuesday.
"Please heed any evacuation orders from local emergency management officials and police," the NWS warned.
Jeanne Baratta, spokeswoman for Bergen County Executive Kathleen Donovan, disputed the NWS account, telling NBC News that the flooding was the result of water overflowing the banks of the Hackensack River.
"We are in rescue mode, she told the network. "
Of the evacuees, Baratta told Reuters, "They are wet and they are cold and they have lost their homes and their property. It is very sad."
In Moonachie and Little Ferry, hundreds of residents were evacuated in dramatic rescues involving boats and rafts, the Bergen Record reported.
A superintendent of an apartment building in one of the four towns described the rush of water overwhelming their town.
"All I know is the water came down here like a tsunami," the told the Record.
Hundreds of evacuees were taken to local high schools.
The scene in Moonachie resembled that of Hurricane Katrina in New Orleans, observers said. Baratta said residents of a trailer park in the town climbed onto their roofs to be rescued.
Little Ferry Police Chief Ralph Verdi said the flooding situation in his town is unprecedented.
© Copyright IBTimes 2023. All rights reserved.
FOLLOW MORE IBT NEWS ON THE BELOW CHANNELS