Ford's Hybrid Maverick Pickup Truck Revealed: Specs, Features, Price, And More
Ford (F) took the wraps off its new hybrid 2022 Maverick pickup truck early Tuesday morning.
The compact truck will sit alongside the Ford F-Series and Ranger pickups, offering what Ford said is a "truck for people who never knew they wanted a truck."
This is not the first use of the Maverick name in the Ford vehicle line, as the automaker has resurrected the brand from a sedan it sold in the 1970s.
With the Maverick, Ford looks to target a new breed of customers.
"Maverick challenges the status quo and the stereotypes of what a pickup truck can be," Todd Eckert, Ford truck group marketing manager, said in a statement. "We believe it will be compelling to a lot of people who never before considered a truck."
<iframe width="560" height="315" src="https://www.youtube.com/embed/S0mhqnechWI" title="YouTube video player" frameborder="0" allow="accelerometer; autoplay; clipboard-write; encrypted-media; gyroscope; picture-in-picture" allowfullscreen></iframe>
Featuring five passenger-seating and four doors, the Maverick has a full-hybrid powertrain that is expected to provide 500 miles of range on a single tank of gas. Projected EPA mileage is 40 mpg in the city, Ford said.
Price tag on the truck starts at $19,995.
Powering the Maverick is a 2.5 L Atkinson-cycle four-cylinder hybrid powertrain that develops 191 horsepower. The engine drives an electric motor to produce 155 pounds per feet of torque to a continuously variable transmission.
An optional 2.0 L EcoBoost gas engine rated 250 horsepower mated with an eight-speed transmission and front-wheel or all-wheel drive is also offered as an upgradable option on the truck.
Payload capacity of the pickup is 1,500 pounds, and towing capacity is 2,000 pounds. With the 4K Tow Package, capacity is increased to 4,000 pounds.
Ford designed the interior of the Maverick with tech features that include an 8-inch center touch screen with Apple CarPlay and Android Auto compatibility and Ford Pass Connect for Wi-Fi capabilities. Detailing also includes added head and legroom as well as more shoulder and hip-width.
"This customer wants simple, but not basic, and Maverick is all about thoughtful details executed well," Barb Whalen, who led the Ford team in choosing materials and colors, said. "We want this to have a straightforward, durable, honest, well-built feel. The interior was designed with function, purpose, and ease of cleaning in mind to help make our customers' lives better."
Other features of the Maverick include a Flexbed, which gives the cargo box more organization and storage space. There is also standard 12 V electrical power, a storage cubby, and tie-down clamps that also double as bottle openers.
The Maverick is available in three trim configurations – XL, XLT, and Lariat as well as an FX4 package for more off-road capability. The first model year is also offered as a Maverick First Edition package.
The 2020 Ford Maverick will go on sale this fall, the automaker said. Reservations for the hybrid truck are being taken now on the Ford website.
Shares of Ford were trading at $15.84 as of premarket hours on Tuesday, down 4 cents, or 0.25%.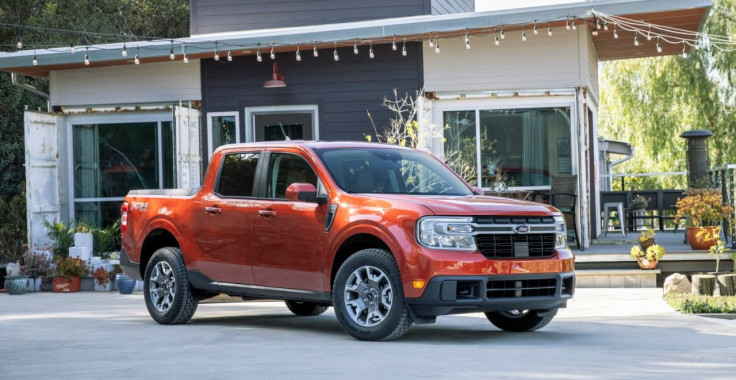 © Copyright IBTimes 2023. All rights reserved.