Former NSA Director Keith Alexander Invested Heavily In Tech Firms, Agency Denies Conflict Of Interest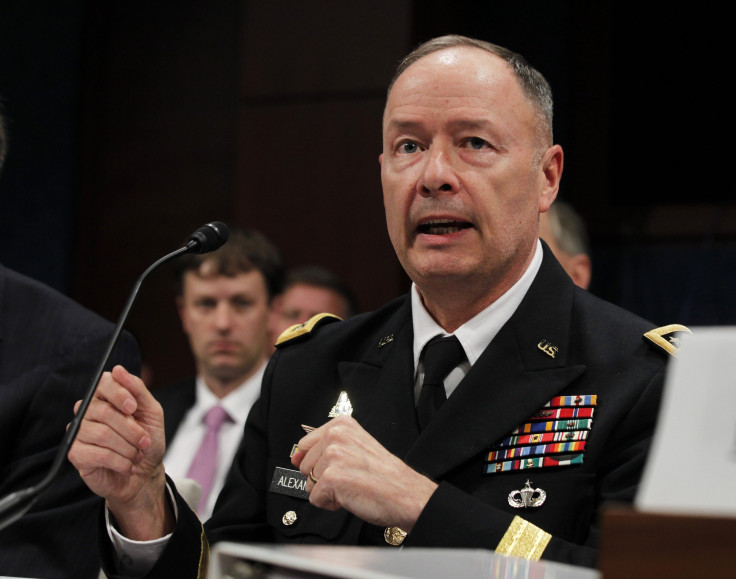 Former National Security Agency Director Keith Alexander held multiple personal investments in several technology companies, according to NSA documents obtained by Vice News Friday. Alexander's supervisors indicated his financial reports did not reflect any conflicts of interest during his tenure as NSA director, but, before they were released, the agency claimed they could "compromise the national interest of the United States."
Among Alexander's personal portfolio companies were Synchronoss Technologies Inc., a firm that provides mobile carriers such as AT&T Inc. and Verizon Communications Inc. with cloud storage, Ars Technica reported. They also included Datascension Inc., a data-gathering company and several outfits that specialize in different types of surveillance, such as air-traffic control, radar and video, Vice said.
The documents represented Alexander's financial reports from 2009 to 2014. Each report claimed Director of National Intelligence James R. Clapper concluded his investments were "unrelated to his prospective duties and no conflicts appear to exist," Vice said.
The NSA previously refused Vice journalist Jason Leopold's request for Alexander's financial reports under the Freedom of Information Act. After a lawsuit was filed, the agency released the documents.
Alexander was the head of the NSA during the year when NSA leaker Edward Snowden provided to the media many classified documents revealing embarrassing details about the agency's spying. Alexander resigned in March 2014 and has since opened a cybersecurity company that sells protection to financial institutions, Ars Technica noted.
Alexander charges between $600,000 and $1 million a month for his services, Bloomberg News reported.
U.S. Rep. Alan Grayson, D-Fla., criticized Alexander's company in a letter to the Securities Industry and Financial Markets Association, or Sifma, in June. Grayson claimed there is no way Alexander could offer his services without disclosing classified information made available to him through his former position at the NSA.
In his letter, Grayson requested Sifma hand over all information regarding its negotiations with Alexander so that "Congress can verify whether or not he is selling military and cybersecurity secrets to the financial services industry for personal gain." He wrote, "Without the classified information that he acquired in his former position, he literally would have nothing to offer you."
Alexander denied the implication to the Associated Press in August. "I've been in government for 40 years," he said. "I fully understand the importance and sanctity of classified material."
© Copyright IBTimes 2023. All rights reserved.
FOLLOW MORE IBT NEWS ON THE BELOW CHANNELS