Four 'Highly Qualified' Candidates In Contention For US Federal Reserve Chair To Be Filled In The Fall, President Barack Obama Says At White House Press Conference [VIDEO]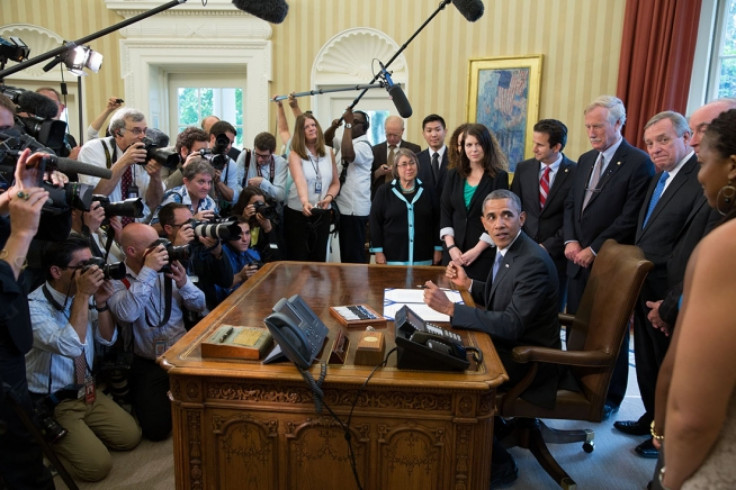 Domestic electronic-surveillance programs run by U.S. spymasters constituted the No. 1 item on the agenda of President Barack Obama's press conference at the White House in Washington Friday, but the choice of a new Federal Reserve chairman -- or chairwoman -- also was discussed by the country's economic commander in chief during the question-and-answer session.
Everybody and his brother and his sister believe Lawrence Summers, 58, the former U.S. secretary of the treasury, and Janet L. Yellen, 66, the current vice chair of the Federal Reserve, are the front-runners in the race to replace Ben S. Bernanke, 59, whose second four-year term as Fed chairman will come to a close next Jan. 31. And, indeed, Obama said, "I think both Larry Summers and Janet Yellen are highly qualified candidates." However, the president added, "There are a couple of other candidates who are highly qualified as well. I'll make the decision in the fall."
One of those candidates may be Donald L. Kohn, 70, the former vice chair of the Federal Reserve, at least according to the New York Times, which identified him, Summers and Yellen as being on Obama's short list Aug. 1. The other of those candidates is kind of a mystery. According to media reports, Timothy Geithner, 51, the former U.S. secretary of the treasury, has privately told either the president or his surrogates he does not want the gig.
And who can blame him? The next Fed head most likely will be caught between a rock, aka quantitative easing, and a hard place, aka a zero-interest-rate policy, in a position that will become not less but more crushing over time.
Obama acknowledged the challenge during the Q-and-A session Friday, saying of the choice to be made: "It is definitely one of the most important economic decisions that I'll make in the remainder of my presidency. The Federal Reserve chairman is not just one of the most important economic policymakers in America -- he or she is one of the most important policymakers in the world. And that person presumably will stay on after I'm president. So this, along with Supreme Court appointments, is probably as important a decision as I make as president."
In making this decision, the president said: "My main criteria -- I've stated this before, but I want to repeat it -- my main criteria for the Fed Reserve chairman is somebody who understands they've got a dual mandate. A critical part of the job is making sure that we keep inflation in check, that our monetary policy is sound, that the dollar is sound. ... But the other mandate is full employment. And right now, if you look at the biggest challenges we have, the challenge is not inflation -- the challenge is we've still got too many people out of work, too many long-term unemployed, too much slack in the economy, and we're not growing as fast as we should."
As a result, Obama said: "I want a Fed chairman who's able to look at those issues and have a perspective that keeps an eye on inflation, makes sure that we're not seeing artificial bubbles in place, but also recognizing, 'You know what, a big part of my job right now is to make sure the economy is growing quickly and robustly, and is sustained and durable, so that people who work hard in this country are able to find a job.'"
Below is complete video of the White House press conference Friday:
© Copyright IBTimes 2022. All rights reserved.
FOLLOW MORE IBT NEWS ON THE BELOW CHANNELS