Foursquare Reboot: Revamped App An All-In-One Version Of Yelp, Facebook, Pinterest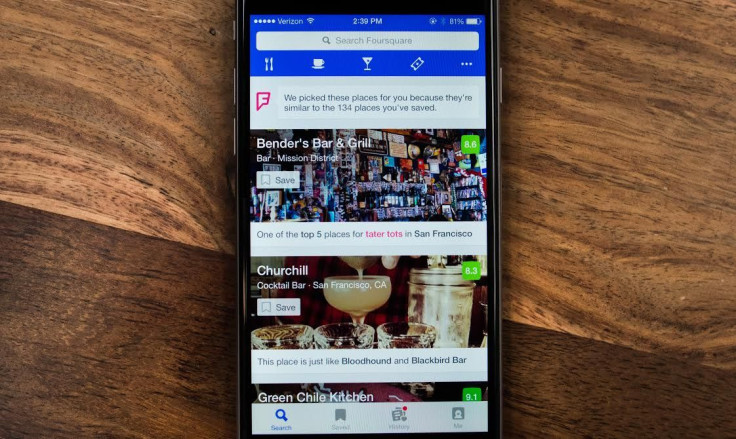 Facebook has a check-in feature. Twitter messages and Instagram posts can be geo-tagged. Yelp and Google provide search discovery for local businesses and attractions. So why bother with Foursquare?
A simple reason: The app may still be your best bet at planning vacations or outings, keeping track of visits and finding new attractions. "You think that you're checking in to get points and badges --  and meanwhile, we just made an awesome, personalized local search engine for you," Foursquare CEO Dennis Crowley told Medium.
Foursquare made its debut as a check-in and location-sharing app in 2009, quickly becoming the darling of the tech community as well as attracting the attention of businesses who integrated the app into their social media strategies. But over the last six years, the company has been criticized for losing traction and once-loyal users. Foursquare's split into two apps -- Foursquare and Swarm -- led to confusion and frustration.
One reason for the unbundling, a Foursquare representative told International Business Times, was to add more features while preventing crashes. Indeed, Foursquare looks and functions very differently than its debut in 2009, as a user guide published by Business Insider in 2010 reveals. IBTimes visited Foursquare's New York headquarters to learn how to best use the company's apps.
Below is a step-by-step guide of how to use the standalone Foursquare app's features. We will publish a separate guide on Swarm.
Make A Foursquare Account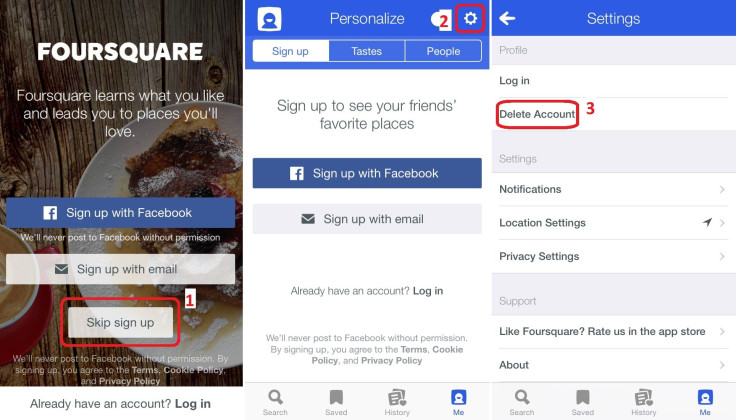 Download the Foursquare app for iOS, Android or Windows. If you previously had a Foursquare account, the new app can recall based on your email address or Facebook info. You can sign up for a new account with Facebook or just through Foursquare.
The stand-alone Foursquare app can be used without an associated account. And even if you delete the app and download it again, previous searches and discovery features can be brought back since the app is connected to your phone number. You can delete that information by going to Settings > Profile > Delete Account. Creating a Foursquare account ensures no data is lost, allows you to access the same information on desktop and other devices and also lets you follow other Foursquare users.
Personalize By Adding "Tastes" and Following People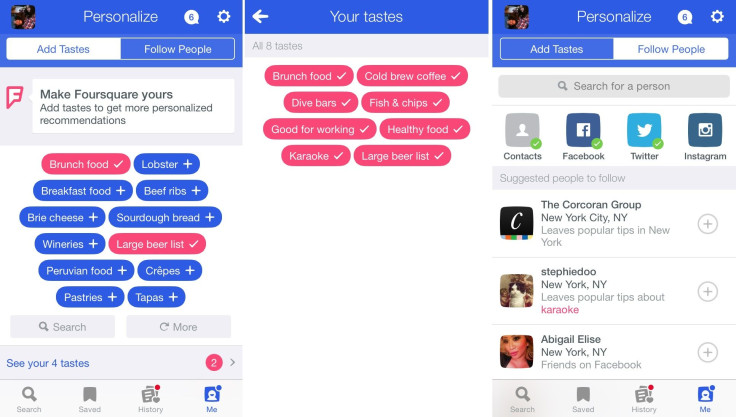 Foursquare has expanded from a simple check-in app to a larger search discovery tool, similar to Yelp. The app lets you search for attractions in a particular area. If you choose not to create an account and set personalized features, Foursquare will show whichever ones are the most visited or highest-rated in all of the network, but Foursquare also allows for more personalized options.
Go to Me (bottom right tab). In the "Add Tastes" section, users can select particular "tastes" that include specific food options, general atmosphere of a place or allergies. For example, there is a tag for "kale," "karaoke" and "gluten-free food." Tap a selection to add it as a taste.
Within the "Follow People" section, you can search for other Foursquare users, and the app will also show people you follow from your contact book, Facebook, Twitter and Instagram. Recommendations and tips will then appear based on those accounts.
Explore the Home Screen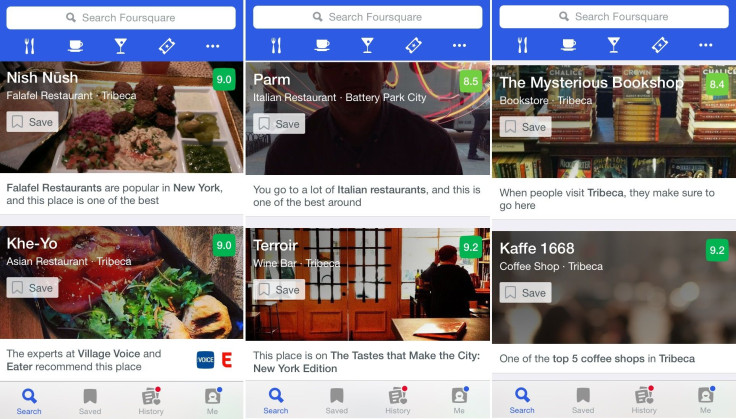 On mobile, the home screen will bring up suggestions of where to go nearby. The selections are based off of popular areas based on other users' tips or check-ins, recommended by Foursquare's publishing partners like Eater or The New Yorker or alignments with interests you've identified in previous searches.
Below each search, the app will show the reason why it appears. Ratings are always listed in a green square in the upper right corner.
Find A New Place To Eat: Select Filters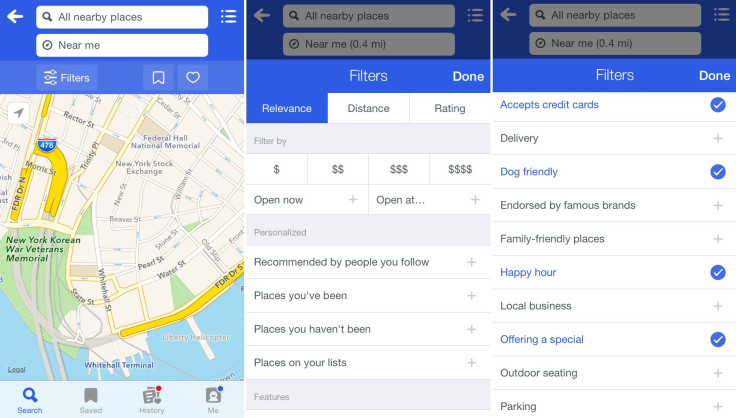 If you're looking for a restaurant with specific options, the search tab will let you type in keywords that appear either in the business' description or in tips listed by other Foursquare users. But you can also limit your search with filters. To access these filters, tap on the search tab, click on the map symbol in the upper right corner and then press filters.
These features include "accepts credit cards," "open late" and "trending this month." At the bottom, there is one for "has Wi-Fi." Foursquare will save your filters for all future searches, but you can easily deselect the options later.
Save Searches And Build Lists For Trip Planning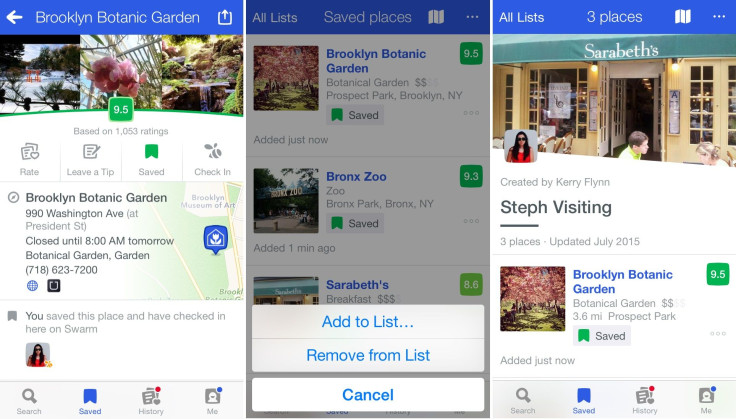 Beyond search discovery, the Foursquare app also helps you create lists of experiences and can be a handy tool for trip planning. For each attraction listed -- on both the home screen and on a business's page -- there will be a "Saved" option. Clicking on that icon will turn the banner green and add it to a "Saved" list -- second tab on the bottom bar.
Go to the "Saved" bar, tap on the three buttons in the corner and you can choose to "Add to List." These lists can be shared with other Foursquare users and non-Foursquare users via Facebook, Twitter and email. Foursquare users can choose to follow others' public lists. For example, Foursquare CEO Dennis Crowley and the company's media partners have created lists of visited places in New York. Foursquare and CBS New York created a list for NYC Cocktail Week 2015.
A Foursquare representative told IBTimes that the team is working to improve the experience of building and sharing lists on mobile. For instance, it is currently difficult to find lists to follow or add collaborators.
What Appears On A Business's Page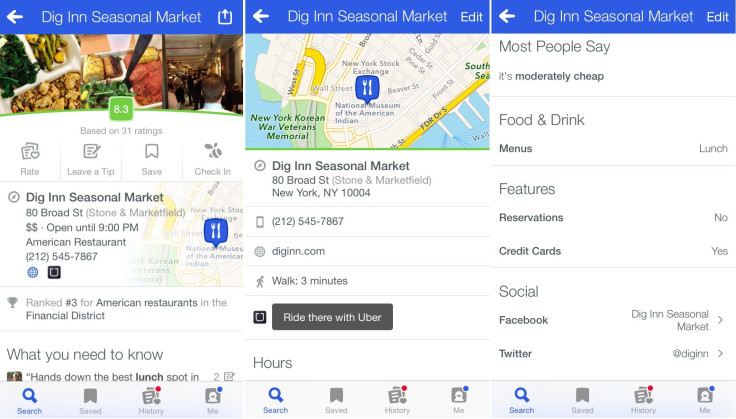 Foursquare listings for businesses include much more than just a user-submitted rating. The first page for a listing will show hours of operation, an address and a phone number. If a business has not claimed its listing and Foursquare does not know the official hours, the app's algorithm will generate one based on check-ins at the location. That is why some listings will read "likely open."
Scroll down, and you will see a select number of tips. These will be catered to you if your Foursquare account is personalized. The page will also list other recommendations of nearby or similar places.
Click on the map view, and you will then see more information on the business. For example, you can hail an Uber car directly from the app. Scroll down on that page, and you can also read specific features of the restaurant, such as "accepts credit cards." The bottom of the listing will show the total number of visitors who have checked in at the location via the Swarm app.
Rate A Place and Leave Tips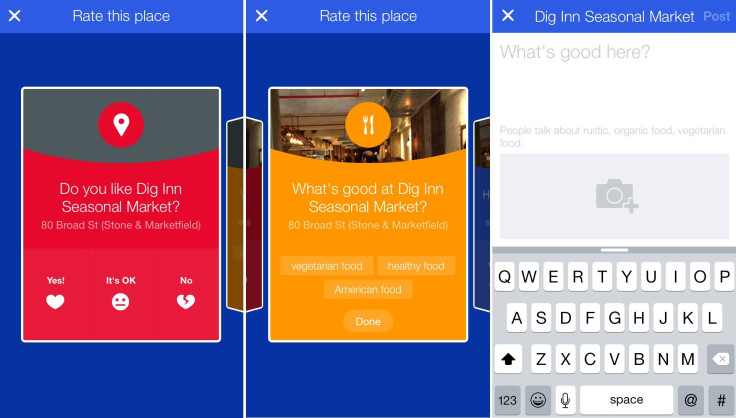 Submitting ratings to places on Foursquare helps build the company's database of information, which extends to creating a numerical rating for each listing and a list of tips and recommendations. By reviewing a place, a Facebook user also affects what places you'll be recommended and tips you will see.
Selecting "Rate" will first bring up a card that reads, "Do you like [the business]?" A user can choose "Yes," "It's OK," or "No." Foursquare then converts this feedback into a numerical rating. Users can swipe through other tabs to provide more information, such as what they serve or if it's a good place for families.
For providing further recommendations, Foursquare suggests submitting a tip. These tips can include a photo and up to 200 characters. By leaving tips, you can become an expert in a neighborhood, city or within a certain category -- such as "tacos" or "dive bars." Your expertise is determined based on how often users like or save your tips. This status will make the tips you leave more visible to other users.
Recall Places You Went To: History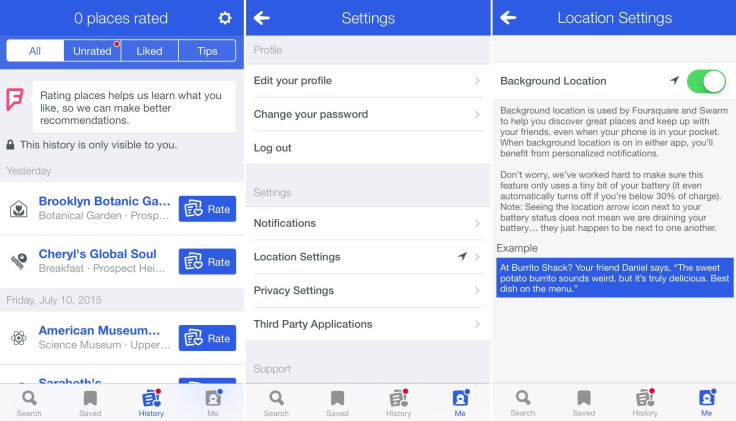 Didn't check into a place or don't want to bother with the Swarm app? If you have background location on, your phone will continuously track you and predict where you are. Under the "History" tab, you can see places that you may have visited, even as specific as certain restaurants. This system is possible from Foursquare's patented "snap-to-place" technology, a Foursquare representative said.
The feature allows users quick access to rate places after the fact or remember where they went. This history section is only visible to you. Too creepy? You can disable it by going to Settings > Location Settings > Turn off Background Location.
Receive Push Notifications
If you choose to have the Foursquare app track where you are, you can also be sent push notifications. These short messages will appear on your phone screen if you're near a place you've saved or if you're in a new neighborhood.
"With all these messages we want to give you value. We're very aware that if we ever send someone a ping that they don't find helpful, we're disrupting someone's day," a Foursquare representative said.
There's no set number of push notification sent per day. It depends on what devices you're using and where you are. You can turn this feature off by going to Settings > Notifications and choosing to deselect "You're near something great" and "We have a suggestion for something great" under the Recommendations section.
Why Use The iPad App or Desktop Version?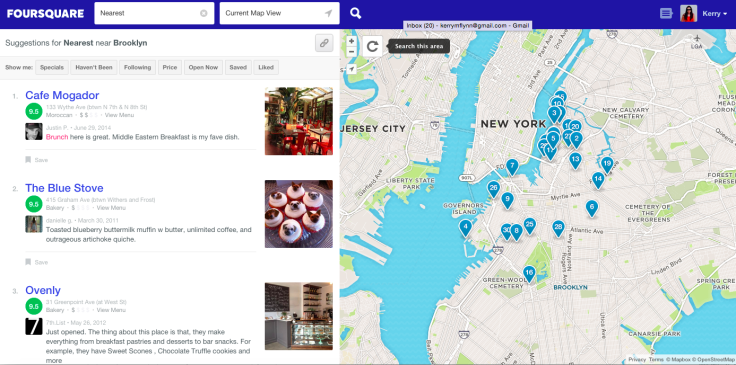 While the mobile app has been designed to provide the best hands-on experience for tracking where you are and making it easy to leave tips, the iPad app and desktop version of Foursquare also provide additional benefits. The iPad is a more photo-driven version of the mobile app, having a Pinterest-like feel in the way listings are organized.
The Foursquare team suggested that it would be more helpful for trip planning as it focuses on the search tab and better highlights images. Both the iPad and the desktop versions also have a much larger map view. It is also much easier to create and access lists on desktop as well as discover other lists to follow.
© Copyright IBTimes 2023. All rights reserved.