Foxconn In India: Company To Ramp Up Manufacturing In Country, Seeking Joint Venture With Adani Group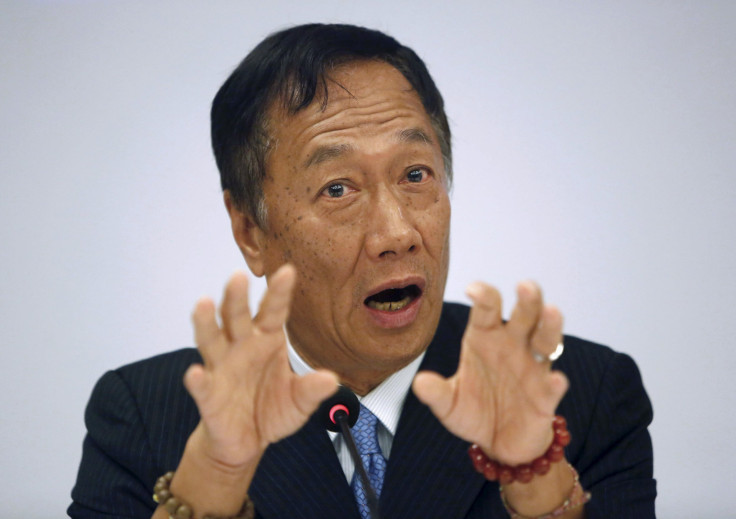 Foxconn Technology Co. Ltd., the contract manufacturer of iPhones, is seeking to ramp up its manufacturing presence in India, Chairman Terry Gau told reporters in New Delhi, The Economic Times newspaper reported.
Gau is on a three-day visit to India, with a delegation of some of the company's top officials, and met India's Prime Minister Narendra Modi and other ministers, and made presentations on the company's proposed investment plans, the newspaper reported. Modi has made building India's manufacturing base -- dubbed "Make in India" -- one of the major goals of his term in office, exhorting overseas investors to set up plants in the country.
Gau joins a growing list of chief executives who have publicly committed to large investments in India, including SoftBank Corp.'s Masayoshi Son, Alibaba Group Holding Ltd.'s Jack Ma and Amazon.com Inc.'s Jeff Bezos. Taiwan's Foxconn didn't elaborate on its investments, according to the report, but may invest $2 billion over the next five years to build manufacturing plants in India, the newspaper reported, citing an official it didn't name.
One in three phones sold in India is a smartphone and the country's smartphone market is projected to outstrip that of the U.S. by 2017 to become the second largest in the world, behind only China's.
Foxconn is also in talks with India's Adani Group to form a joint venture, the purpose of which has not been disclosed yet. Adani Enterprises Ltd., one of the Indian group's businesses, confirmed in a filing with the Bombay Stock Exchange on Tuesday evening that its talks with Foxconn were in "discussion stage only," on the possibility of setting up a joint venture in the country.
Adani was responding to a query from the stock exchange seeking clarification on a report by ET Now, a local news network, that the company was setting up a manufacturing joint venture worth $5 billion with Foxconn.
Gau did, however, confirm that Foxconn is now an investor in India's e-commerce company Snapdeal, Mint newspaper said, in a separate report on Wednesday. Foxconn's investment in Snapdeal has been repeatedly reported in local media in India.
Foxconn is also close to concluding a deal with electronics recycling company Greendust, Gau told reporters in Delhi, according to the Mint report. Foxconn had offered to share its technology and supply chain expertise with Greendust, Mint cited Gau as saying.
© Copyright IBTimes 2023. All rights reserved.