France Could Deliver Mistral Warship To Russia By March After Ukraine Ceasefire Agreement, Report Says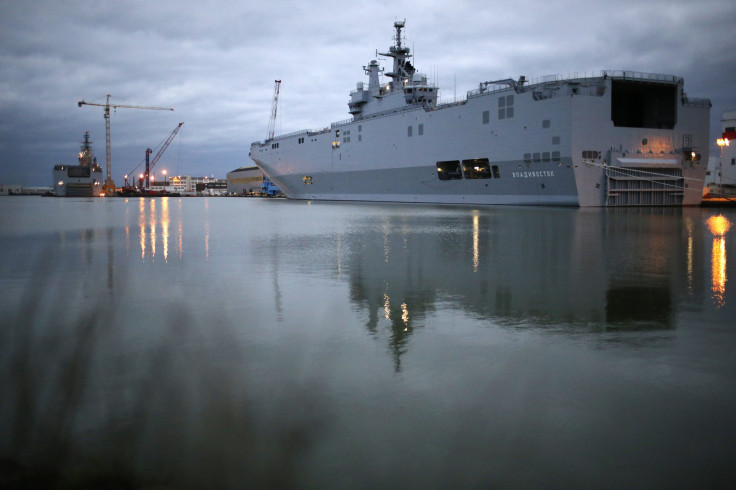 A Russian "military diplomatic source" expressed optimism Thursday that France could complete its long-delayed delivery of a Mistral-class helicopter carrier to Russia by March, according to the independent Russian news agency Interfax. The ceasefire agreement reached Thursday during a peace summit bringing together leaders of Ukraine, Russia, France and Germany resulted in a deal to pull heavy weapons out of eastern Ukraine, which could provide France with an opportunity to deliver the warship without upsetting its allies, the source said.
"The Elysee Palace could issue a command on the Mistral's delivery as early as the beginning of next week so that the ship be fully ready for the delivery to the Russian side in the first half of March," the Russian military diplomatic source told Interfax.
French leaders have long cited Russia's alleged support of pro-Russian rebels in Ukraine as the catalyst behind their country's decision not to follow through on a $1.7 billion agreement negotiated in 2011 to build two Mistral-class warships for the Russian navy. France declared in November and reiterated in December that it would not deliver the warships by the end of 2014 as scheduled. French Defense Minister Jean-Yves Le Drian even indicated in December that the deal might never be completed. "I have said many times ... there has not been sufficient progress to carry out the delivery," French President Francois Hollande said at a European Union conference in December.
A top Kremlin aide said in December that Russia would accept either the warships or their value in cash to close the deal. Russia threatened legal action against France for failing to complete the transaction, but delayed possible litigation in January.
Peace talks between the four nations in Minsk, Belarus, extended overnight, lasting more than 16 hours, Reuters reported. A ceasefire between Ukraine's government forces and pro-Russian separatists is set to begin Sunday. Once the ceasefire officially starts, heavy weapons will be withdrawn from the front in eastern Ukraine. The region will also receive greater autonomy from the Ukrainian government. It's unclear whether France's potential delivery of the Mistral-class helicopter carriers was ever discussed.
"The main thing which has been achieved is that from Saturday into Sunday there should be declared without any conditions at all a general ceasefire," Ukrainian President Petro Poroshenko told reporters. But obstacles to peace remain after a Ukrainian military official accused Russia of sending additional military firepower, including tanks and missile systems, across the border into eastern Ukraine while the peace talks were taking place. Russia has denied the charge.
© Copyright IBTimes 2023. All rights reserved.