Russian Nuclear Missile Forces Conduct Large-Scale Exercises Across Country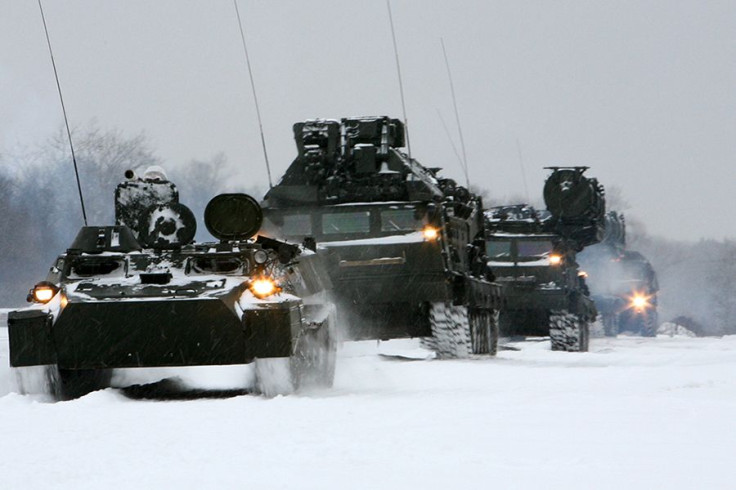 Russia's nuclear missile force staged large-scale exercises across the vast country Thursday consisting of drills to combat sabotage and chemical weapons attacks. More than 30 regiments of the Strategic Missile Forces were involved in 12 regions, according to Itar-Tass, a Russian news agency close to the government.
"According to the drill scenario, simulated enemy's sabotage groups planted mines on the combat patrolling route sections and used toxic agents in the field. Engineer troops, radiological, chemical and biological defense forces, as well as anti-sabotage units have been engaged in the exercises," said Defense Ministry spokesman Col. Igor Yegorov. Russia's Strategic Missile Forces plan to test-fire their new Sarmat intercontinental ballistic missile in 2017. The Sarmat would replace the Cold War-era R-36 missile, nicknamed "Satan" by NATO, which is the largest ICBM ever made.
Russia's stockpile of 8,400 nuclear warheads is the largest in the world, surpassing the U.S.'s 7,500. Both nuclear superpowers have taken steps over the last 25 years to reduce their stockpiles under landmark accords agreed upon following the end of the Cold War.
Meanwhile, the Russian navy launched nuclear combat exercises in international waters in the Arctic last week, which was rumored to be in response to NATO's plans to bolster defenses in the ex-Soviet Baltic states on Russia's western border. Russia's nuclear submarine fleet was involved in the exercises and engaged in simulated ballistic missile launches and Arctic navigation, according to Newsweek.
The Russian government announced late last year that it would upgrade its nuclear weapons capabilities as a part of a wider military modernization over the next decade. That includes building a "guaranteed nuclear deterrent," according to President Vladimir Putin.
Putin emerged Thursday morning from a marathon, 17-hour negotiation with his Ukrainian, French and German counterparts to hammer out a peace deal in Ukraine, where the Ukrainian government and pro-Russian rebels have fought a nearly yearlong conflict that's claimed the lives of more than 5,400 people. The West accuses Putin of directly intervening militarily on behalf of the rebels, but he denies that allegation.
High tensions over the Ukraine conflict have brought East-West relations to their lowest since the end of the Cold War. Defense officials in NATO member states expressed concern over Russia's nuclear modernization plans at last week's Munich Security Conference and discussed upgrading and modernizing their own nuclear deterrent forces in response, according to Reuters.
© Copyright IBTimes 2023. All rights reserved.