Russia Delays Mistral Legal Action Against France Until February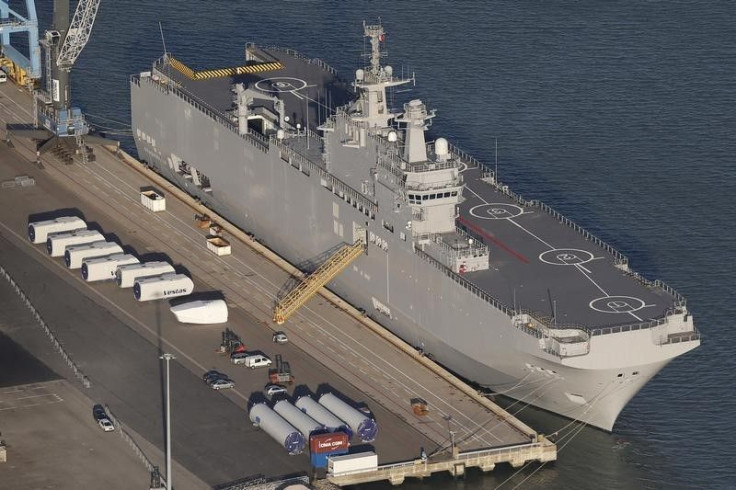 Russia has delayed legal action against France for its failure to deliver the Vladivostok helicopter-landing ship until February, according to a Wednesday report from the RIA Novosti news agency. The ship, which is the first of two contracted to be built by French defense company DCNS for the Russian navy, was delayed amid escalating international discontent with Russia's actions in Crimea and eastern Ukraine. The second ship, the Sevastopol, named after a port in Crimea, will also be delayed when completed.
While not originally part of the sanctions against Russia, the $1.4 billion deal between Russia's navy and DCNS was suspended by French President François Hollande in late November. He said that Russia had not managed to meet the specific criteria for delivery of either ship -- namely, observing the September ceasefire in east Ukraine and coming to a political agreement with Kiev.
The news comes as fighting in eastern Ukraine has intensified and after talks aimed at bringing lasting peace to the region were suspended, with all sides (Russia, Ukraine, France and Germany) citing lack of progress.
Russia's delay in taking legal action is likely because of the three-month postponement clause that's written into the contract, which expires toward the end of February. Once expired, Russia will be able to take legal action aimed at reclaiming the money it had paid for the two ships and a penalty fee, which is not currently known but thought to be worth billions, experts say.
In preparation for any legal proceedings, Russia has reportedly requested the French procurement office to write a formal letter indicating whether France would be delivering the ships to Moscow at all, reported RIA Novosti Tuesday, according to Agence France-Presse.
Until last month, Russian sailors had been conducting training drills aboard the Sevastopol, with the expectation that Paris would give the go-ahead to sail it back to Russia. But as fighting in east Ukraine continued through December, it became clear that the ship would not be released, and the crew returned to Russia on Dec. 17.
© Copyright IBTimes 2022. All rights reserved.
FOLLOW MORE IBT NEWS ON THE BELOW CHANNELS