France May Refund Russia For Mistral Helicopter Ships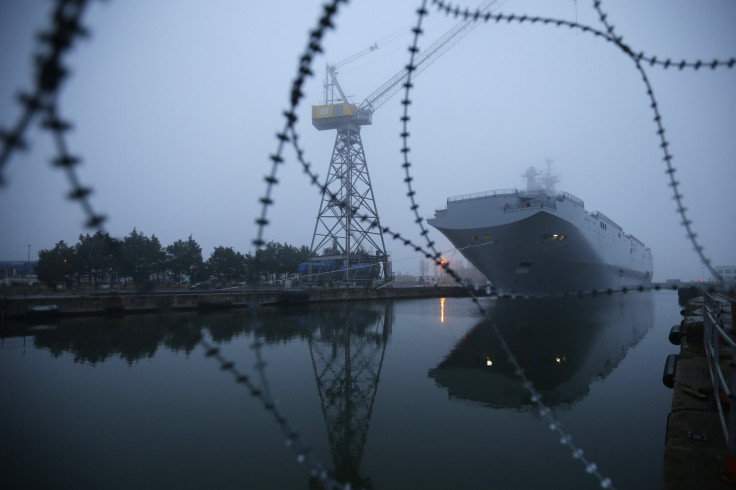 French President François Hollande said that France may refund Russia for the nondelivery of two Mistral-class helicopter-carrier ships, which have been the center of a controversy between Paris and Moscow for six months now. The announcement, made after a meeting with Ukrainian President Petro Poroshenko in Paris on Wednesday, comes amid increased fighting in East Ukraine between the government and pro-Russian rebels, and raises questions about where the two fully built ships could end up.
Hollande said that "the Mistral delivery is not possible in the current context." Six months ago the French government halted the $1.3 billion contract it signed with Russia in 2011, under pressure from European and U.S. leaders following the Russian annexation of Crimea in March and the continued war in East Ukraine.
The ships, which are not formally part of the sanctions against Russia, become symbolic of Europe's stand against Russia's hostility across Eastern Europe.
It was rumored that Russia would sue DCNS, the French company that built the vessels, for delaying the delivery, but chose to wait until February this year. Since then, however, there has been no indication that Russia has gone through with the threat.
While Hollande's admission would appear to bring an end to this long-running saga, France will still have to refund the money and decide what to do with both ships. Some had suggested that the European Union could use them, sharing both among member states, but questions of operational continuity and training across different navies would make it difficult to maintain. And most EU countries are cutting back on defense spending.
It was thought at one point that Canada, which is aggressively expanding its navy, might buy them. François Hollande visited the country in November 2014, but no deal was struck.
One country that could come to the aid of France is India, which has recently bought the most advanced French-made warplane, the Rafale. The country has also been growing its navy in an attempt to project more influence in South Asia, and earlier this year gave the greenlight to a $16 billion plan to build advanced warships and submarines. The Mistrals, at a combined price of $1.3 billion, could fall within India's budget. But it's not known whether Indian Prime Minister Narendra Modi discussed any deal regarding the ships with Hollande during his recent visit to Paris, when he announced the Rafale purchase.
Hollande also told Poroshenko during the meeting that France will not supply lethal aid to Ukrainian forces, because Kiev had not requested it yet. He also said that an EU peacekeeping mission in the contested Donbas region was not necessary, suggesting that the OSCE, the international organization charged with overseeing the ceasefire, was currently enough.
© Copyright IBTimes 2023. All rights reserved.