France Has World's Highest Nuclear Energy Generation Share - IBT Graphics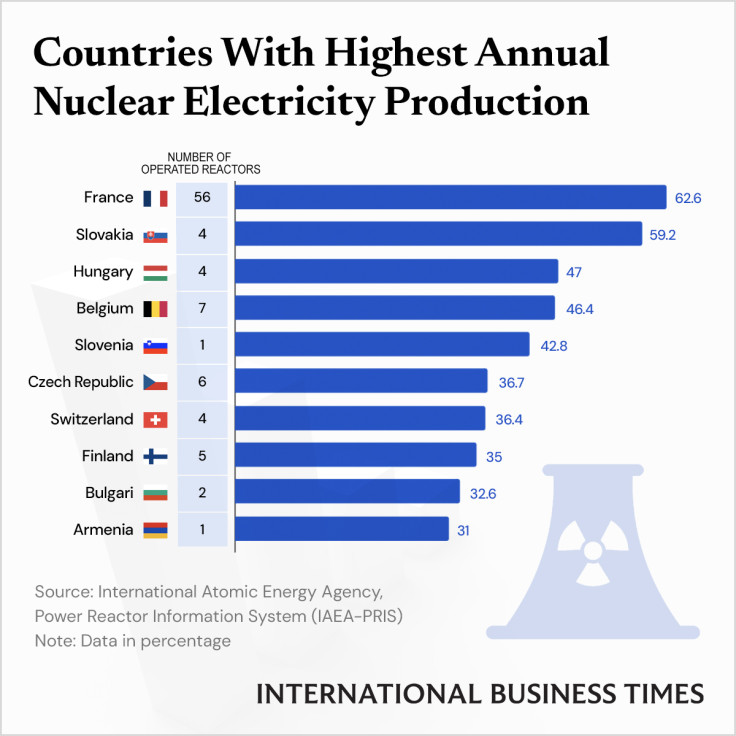 Nuclear power is a great low-emission source of carbon-free electricity, providing a potential for power sector decarbonization.
It is the second largest source of low-emissions power after hydropower, and accounts for about 10% of global electricity generation. Operating across 32 countries at a global capacity of 413 gigawatts (GW), nuclear energy helps in limiting global emissions (by 1.5 gigatonnes (Gt)).
France holds the greatest share of nuclear power in total electricity generation globally. Last year, nuclear energy contributed to 62.6% of total electricity production in France, according to data from the Power Reactor Information System, developed and maintained by the International Atomic Energy Agency. In comparison, the share of nuclear electricity generation in the U.S. was less than 20%.
European countries led the rankings by filling the top 10 spots, including France and Slovakia, where 59.2% of its electricity mix is powered by nuclear energy.
The U.S. ranks 17th on the list in terms of share of nuclear power in the electricity mix, even as it produced more than 30% of the global nuclear electricity last year. This inconsistency in production and share is caused by the size and population of a country.
© Copyright IBTimes 2023. All rights reserved.