France Jewish Teacher Attack: Top Marseille Jew Leader Urges Men To Avoid Wearing Skullcap, Chief Rabbi Disagrees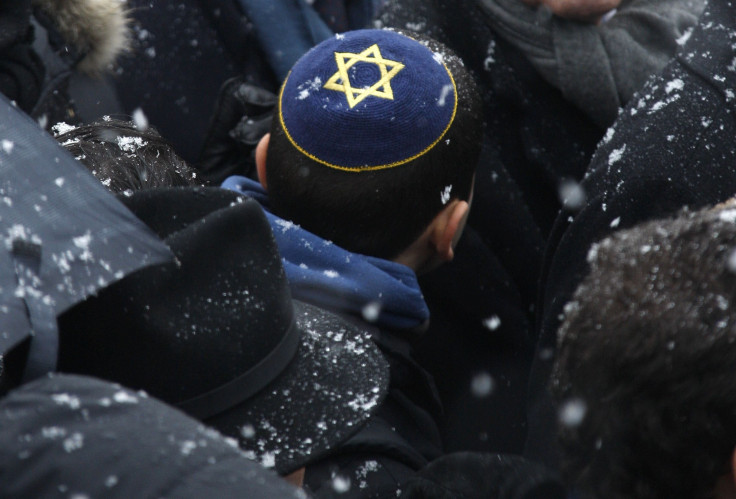 A top Jewish leader in French port city of Marseille urged Jews Tuesday to avoid wearing traditional skullcap, known as kippa, a day after a teen attacked a Jewish teacher wearing the brimless cap and carrying a Torah. But, France's chief rabbi told Jewish men not to follow the advice and continue wearing kippa.
Zvi Ammar, head of Marseille's Israelite Consistory, said that refraining from kippa could save Jews from further attacks, BBC reported citing local La Provence newspaper. Ammar added that an "exceptional situation" forced him to take "exceptional measures," and asked Jewish men to follow the advice "until better days."
"It is sad to find ourselves in this position in 2016, in a great democratic country like France … It causes me such pain to come to this conclusion but I do not want anyone to die in Marseille because they had a kippah on their head," Ammar told the newspaper.
On Monday, the 15-year-old attacker, a Turkish citizen of Kurdish origin, armed with a machete and a knife, said he attacked the 35-year-old Benjamin Amsellem in Marseille in the name of the Islamic State group, Marseille prosecutor Brice Robin said, according to France 24. The teen stabbed Amsellem in shoulder from behind and chased him few meters, Robin added.
"As soon as we are identified as Jewish we can be assaulted and even risk death … We have to hide ourselves a little bit," Ammar told Agence France-Presse (AFP), adding that such an appeal made him "sick to the stomach." Ansellem's wife Mazal said he had decided to avoid skullcap "and encourages the community to do the same, not because he is afraid or ashamed to be Jewish, quite the contrary, but for security," AFP reported.
However, France's chief rabbi, Haim Korsia, said in Marseille that Jews and kippa were not responsible for the attack. "We should not give in to anything, we will continue to wear the kippa," he said, according to BBC. On a similar note, Roger Cukierman, the head of France's umbrella grouping of Jewish organizations, said the call to refrain wearing kippa reflected "a defeatist attitude," AFP reported.
Muslim and Jewish populations in France are the largest in Europe, and the country has been under a state of emergency after November 2015 Paris attacks carried out by Islamist militants, who killed 130 people. In January 2015, a gunman targeted a Jewish supermarket in Paris killing four people.
© Copyright IBTimes 2023. All rights reserved.