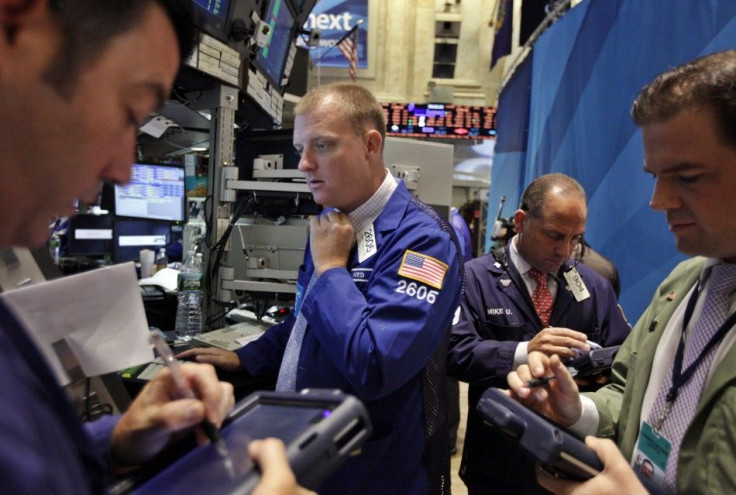 Stock index futures fell on Tuesday after equities rose nearly 8 percent in the past five sessions as investors cautiously awaited a batch of data for a better assessment on the state of the economy.
The Conference Board releases its August consumer confidence report at 10:00 a.m. EDT. Economists expected a reading of 52.0, compared with 59.5 in July.
The Federal Open Market Committee releases its minutes of its August 9 at 2 p.m. EDT. Investors will look for clues on how the policy-setting panel views the economic outlook.
Standard & Poor's releases its S&P/Case-Shiller Home Price Index for June at 9:00 a.m. EDT. Economists expected a repeat of the May flat reading.
Today, you've got a bunch of thing coming at you. While yesterday was a rally based on no volume, today is going to be more interesting. But it seems like the momentum is that market wants to take stocks higher, said Joe Saluzzi, co-manager of Themis Trading in Chatham, New Jersey.
We have three big problems -- the deficit, unemployment and housing. Deficits are going higher, unemployment is not doing any better, so if you see good numbers on housing, the market could see a strong rally.
Amid concerns about the debt crisis in Europe, Italy's return to bond markets met relatively weak demand despite the European Central Bank buying Italian debt in recent weeks.
Signs of lower-than-expected demand at the auction -- seen as a crucial test of emergency steps taken to stem the spread of the crisis -- pushed Italian bond yields higher and sparked a rally in safe-haven German debt.
In company news, Peabody Energy Corp (BTU.N) and ArcelorMittal SA (ISPA.AS) won over Macarthur Coal Ltd (MCC.AX) with a sweetened A$4.9 billion (US$5.2 billion) offer after a rival bidder failed to emerge for the Australian coal miner.
S&P 500 futures fell 6.9 points and were below fair value, a formula that evaluates pricing by taking into account interest rates, dividends and time to expiration on the contract. Dow Jones industrial average futures lost 61 points, and Nasdaq 100 futures dropped 11.5 points.
U.S. stocks soared more than 2 percent in a broad rally on Monday as a big Greek bank merger provided a rare bit of encouraging news out of debt-stricken Europe.
India's Future Group is in talks with several potential buyers including JPMorgan Chase & Co (JPM.N) and Kohlberg Kravis Roberts and Co (KKR.N) to sell its financial services arm, Future Capital Holdings (FCHL.NS), sources told Reuters.
President Barack Obama, under pressure to spur job growth, has chosen Princeton labor economist Alan Krueger to become the top White House economist and will offer a jobs plan next week.
The FTSEurofirst 300 .FTEU3 index of top European shares was up 0.6 percent, extended the previous session's strong gains on rising expectation that U.S. data due will ease fears over the prospect of another global economic downturn.
© Copyright Thomson Reuters 2023. All rights reserved.