G-20 Meeting In China Highlights Challenges Of Finding Coordinated Response To Global Economic Woes
SHANGHAI — The opening day of a meeting of Group of 20 finance ministers and central bank governors in Shanghai Friday highlighted differences over approaches to tackling the global economic slowdown and the challenges of finding a coordinated solution to the problem.
Host China, the focus of much global concern in recent months, sought to reassure markets its economic fundamentals are sound and there is no need for further devaluation of its currency — but central bank Gov. Zhou Xiaochuan said the country had room for more fiscal stimulus and an eased monetary policy, and insisted China's rising debt-to-GDP ratio was not a problem.
Yet while bodies including the International Monetary Fund have backed the idea of a coordinated stimulus program, to tackle what British Chancellor of the Exchequer George Osborne said Friday were the "most heightened" risks to the global economy since the 2008 financial crisis, German Finance Minister Wolfgang Schäuble made it clear this would not be on the agenda. Schäuble said the debt-financed stimulus approach had "reached its limits," adding his government would not agree to more coordinated spending. "Talking about further stimulus just distracts from the real tasks at hand," he said, and emphasized instead the need for structural reforms, saying there were "no shortcuts."
Mark Carney, head of the Bank of England, also said while banks could still use interest rate cuts to help stimulate their economies, governments also need to take "structural measures" if they want global growth to pick up. Carney said most advanced economies had "deferred … difficult structural reforms." He also criticized the negative interest rates introduced by countries like Japan, saying these would damage consumer demand.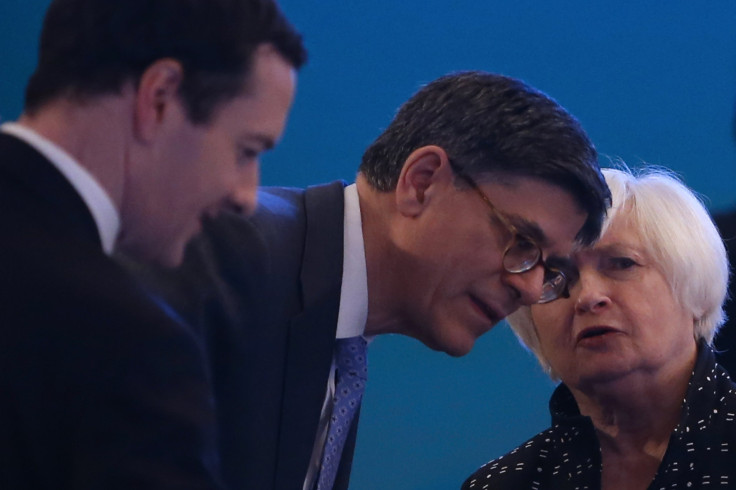 But in a sign of the obstacles to speeding up implementation of structural reforms, the Organization for Economic Cooperation and Development said in a report Friday the pace of such reforms had declined steadily in the past four to five years.
OECD Secretary-General Angel Gurria said though "accelerated reform, leadership and political guts" are needed, "the reform actually slowed. It is deeply disturbing," Chinese media reported. Gurria also called for a greater sense of "urgency."
French Finance Minister Michel Sapin, however, called for calm. Sapin emphasized a global stimulus package was not possible, since countries like France did not "have the means" to take such action, though he encouraged countries that could afford it to do so. Speaking on a stopover in Hong Kong on his way to Shanghai, Sapin said the G-20 meeting would not "create new things," but rather "continue to implement the decisions taken before. … We must not overreact to the real situation of the world today or the real situation of certain countries," the South China Morning Post reported.
And calls for a coordinated strategy to target the value of China's yuan — which has fallen 5 percent since last summer, leading to constant market speculation of a further devaluation — which some have dubbed a "new Plaza Accord," akin to that reached in 1985 aimed at reducing the value of the U.S. dollar — have been explicitly rebuffed by Chinese Finance Minister Lou Jiwei, who said this was "media hype" and "just fantasy," Chinese media reported.
China's central bank Gov. Zhou Xiaochuan also said there was "no basis for persistent renminbi [yuan] depreciation from the perspective of fundamentals."
Whether that will calm markets, which have predicted further devaluations as China's trade has slumped in recent months, remains to be seen. U.S. Treasury Secretary Jacob Lew has said China needs to communicate better about its exchange rate policy — and also called for a pledge from all G-20 governments not to engage in devaluation to boost exports.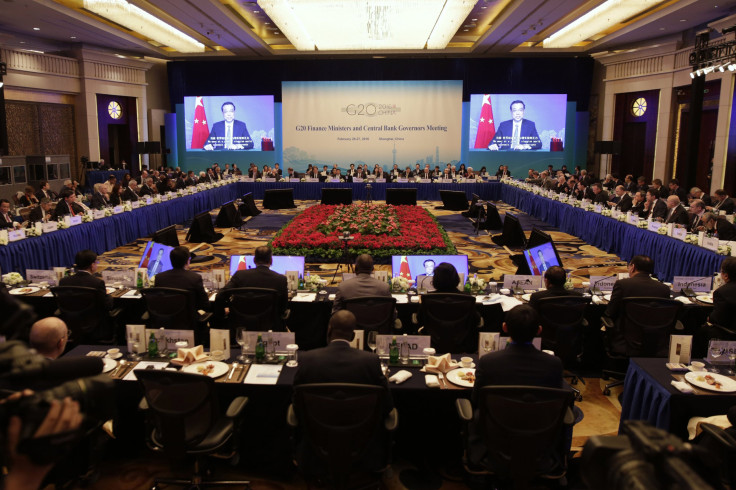 Lou, seen as one of China's more reform minded officials, sought to reassure markets that China would adopt a balanced approach to tackle its economic challenges. While echoing Zhou's comments, saying Beijing had more "room for fiscal policy" than many other countries, he added China should not be complacent as such space was not "infinite" and "could run its course if reform agendas are delayed."
Lou also stressed the pace of structural reform was key to "whether the world could deliver strong, exclusive and sustainable growth."
Yet the pace of China's own reforms remains a concern for many economists, with fears the country's top leadership under President Xi Jinping may be more focused on political challenges and ideological campaigns than on economic reform. Some analysts say this has led to delays in implementing financial reforms and other market opening measures the leaderhsip pledged in 2013.
Yet Beijing also has been keen to show it is taking decisive action to deal with its economic challenges. It announced Thursday a 100 billion yuan ($15.3 billion) fund to tackle the problems of overcapacity in its bloated state industry sector. And last week it replaced the head of the country's stock market regulator, following criticisms of the body's intervention during a plunge on the stock markets last year, and a botched attempt to introduce a circuit-breaker mechanism last month, which led to a further fall in share prices.
But analysts both inside and outside China have said Beijing will need to take clear action in the coming months to convince markets and investors it remains sensitive to what International Monetary Fund Managing Director Christine Lagarde said could be painful reforms to tackle key issues such as overcapacity in key industries and a bloated state enterprise sector.
© Copyright IBTimes 2023. All rights reserved.