'Game Change' Review: Critics Divided But Praise Julianne Moore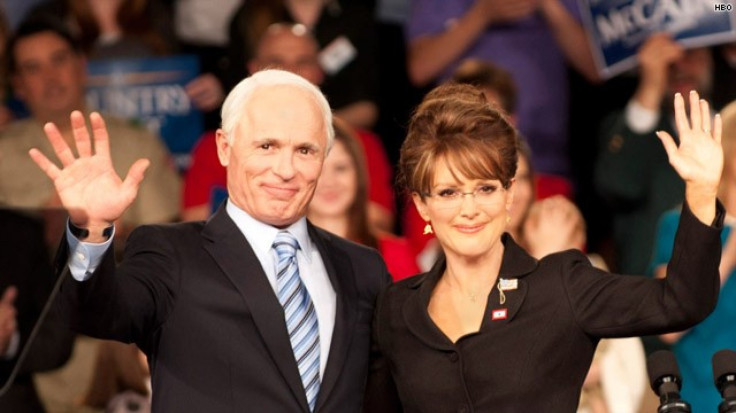 Game Change is coming to television, and the critics' reviews are as divisive as a Congress session.
Julianne Moore stars as Sarah Palin and Ed Harris stars as John McCain in the political HBO drama based on Mark Halperin and John Heilleman's best-selling book. Although Game Change the book also analyzes the 2008 campaigns of President Barack Obama, Hillary Clinton, John Edwards and other candidates, Jay Roach's film centers around McCain and his campaign manager Steve Schmidt's selection of Sarah Palin as vice president.
Well before the movie came out, Game Change invited controversy -- so much, that HBO included a letter defending Danny Strong's script in its media kit, according to TV Newser's Gail Shister.
Sarah Palin's Super Pac called the movie at best 'historical fiction' and demanded HBO add a fiction disclaimer. Cindy McCain, the senator's wife, claimed the film doesn't even resemble what took place and that Ed Harris is not nearly as cute as her husband. I can go to Disneyland for fiction, she said.
If anything, that just raised the anticipation for Game Change, which is hitting theaters this Saturday. Critics and reporters got a preview of the movie and their thoughts are making its way across the internet.
What did they have to say? Overall, it's pretty mixed. Julianne Moore received raves over her flawless performance as Palin, but a few reviewers thought the film was cliché and poorly constructed:
Hank Stuever for The Washington Post: Like its star character [Sarah Palin], the movie can be interpreted a number of ways, depending on your vantage point. If you are eternally baffled by Palin's rise, then please enjoy the horror flick. If you harbor sympathy for someone who was plucked from near-obscurity and thrust into an impossible 11-week frenzy far beyond her skills or education, then it's a psychological thriller. If you're just a politics wonk, then it's basically porn.
Gail Shister for TV Newser: Cliché with compassion ... Moore, a four-time Oscar nominee, perfectly mimics Palin's speech in its distinctive rhythm, pitch, and scrappin' of consonants. She doesn't go too far, however, allowing her to avoid the level of parody by Tina Fey on 'Saturday Night Live.' ... Harris is equally impressive in his McCain incarnation. The actors' eyes alone speak volumes ... This is one roller-coaster that is definitely worth the ride.
James Poniewozik for TIME Magazine: If you think America dodged a bullet when Sarah Palin (Julianne Moore) lost the vice presidency, this movie is happy to agree. If you love the former Alaska governor, you will hate the film with the fire of a midnight sun. But even to this non-Palin supporter, it all feels like piling on - the campaign movie as blooper reel.
Troy Patterson for Slate: Elsewhere, hugging Down syndrome kids on a rope line and dandling her own on her lap, Palin is downright inspirational. And Moore amplifies the governor's sexual charisma in a way that I shall need to discuss with my shrink. She wins you over.
Alyssa Rosenberg for The Atlantic: ...Game Change opts to paint a familiar and unattractive portrait of Palin instead of asking hard questions of the people on both sides of the line she drew through American politics.
Verne Gay for Newsday: A luminous and fully alive portrait by a first-rate actress.
--
© Copyright IBTimes 2023. All rights reserved.