Gas Price Rise Spurs Highest-Ever Fuel Economy Average Of Sold Vehicles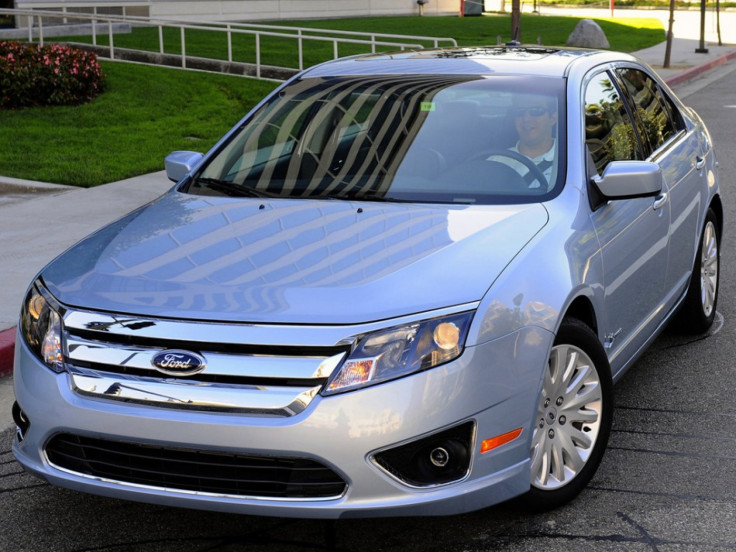 In an auto industry placing increased emphasis on fuel economy in its vehicles, Ford Motor Co. serves as the poster child.
The average fuel economy of Ford's sold passenger vehicles and trucks jumped by an average of 4.9 miles per gallon in February from the year-ago period. Unsurprising in those results is the credit due to the Ford Fusion and Focus, on which the company has placed an emphasis on greater fuel economy.
Surprising in those results, though, is the Ford F-150. Models like the F-150 truck have additional options like the V6 EcoBoost engine, helping sold Ford trucks average 19.6 miles per gallon, an increase of 3.4 miles per gallon from last February. Forty percent of customers purchasing the F-150 now opt for the EcoBoost option.
Ford's a case where not only are they selling more fuel-efficient cars now, but they also give people an option, said Kristen Andersson, a senior analyst at TrueCar.com, in a phone interview Monday. If you need to have a truck, you can also have improved fuel efficiency.
Ford's sales reflect the rising fuel economy of vehicles sold. They also reflect the trend reverberating throughout the auto industry, as consumers purchasing new cars increasingly turn to more fuel-efficient vehicles in the wake of rising gas prices in the early months of 2012.
Overall, according to data from TrueCar.com, customers purchased cars and trucks in February that averaged 23.2 miles per gallon. That compares with 21.4 miles per gallon last February, and it also marks an increase from 22.9 miles per gallon in January 2012.
The American consumer shopping for a new car is seeing the most fuel-efficient lineup of vehicles ever while manufacturers are keeping the product just as exciting, said Jesse Toprak, vice president of industry analysis and insight at TrueCar.
Ford led the way, with a year-over-year increase of 4.9 miles per gallon for cars and trucks sold. Consumers now purchase Ford vehicles that average 22.2 miles per gallon, compared to just 17.3 miles per gallon last year. That was by far the worst number of the seven major automakers studied in the analysis.
According to TrueCar, buyers made Hyundai sales the most fuel-efficient vehicles in February. The company's sold vehicles averaged 28 miles per gallon, up an even two miles per gallon from the year-ago period.
U.S. automakers averaged 21.2 miles per gallon in February, up from 19 miles per gallon last year. And Japanese automakers upped average miles per gallon in vehicles sold from 23.8 miles per gallon to 24.9.
In February, we saw gas prices spike. We saw consumers change their preferences, Andersson said. They bought more fuel-efficient vehicles. But at the same time, even if buyers are choosing large trucks or large vehicles, those vehicles' fuel economy has improved. It's really across the board there.
Gas prices rose 8 percent in February and reached their highest-ever levels this early into the year, when prices usually lull before the summer months.
Prices at the pump continue to climb, as concerns prevail over the European debt crisis and tensions in Iran and the Middle East. According to the U.S. Energy Information Administration, the national average currently stands at $3.83 per gallon of regular-grade gasoline. That's nearly a $0.30 increase from the same week last year.
February gave the first real sense of response from consumers. Andersson said consumers are gravitating more toward fuel-efficient cars. That means smaller in size, from trucks to SUV, SUV to midsize, or midsize to compact.
The shock of what people see when they go to the pumps is kind of sticker shock, Andersson said. They see what's happening, and perhaps they've owned their particular vehicle for a few years. No matter what vehicle they move into now, it will be more fuel-efficient.
Analysts agree that rising gas prices will not threaten an even better than expected year for new car sales, which are on pace for about 14 million in the U.S. auto industry. They say it will likely shift buyers toward more fuel-efficient, hybrid and even electric vehicles.
All three U.S. automakers posted gains in February sales, as more forecasts see the yearly auto sales approaching the 14 million benchmark.
Lacey Plache, the chief economist at Edmunds.com, said studies of past consumer reactions to similar recent gasoline price spikes render it unlikely that new car sales will be affected by the record-high prices. She said it will instead make consumers buy a less expensive and more fuel-efficient vehicle. According to TrueCar, sales of hybrids jumped 46.8 percent in the year-over-year period. And though they make up a tiny sliver of the market, automakers sold almost five times more electric vehicles in February.
This is not 2008 or even 2011, Plache said of gasoline price spikes in those years. We are in a different economic environment, and the auto industry itself is in a different environment.
© Copyright IBTimes 2023. All rights reserved.
FOLLOW MORE IBT NEWS ON THE BELOW CHANNELS