Gay Couple Kicked And Pepper Sprayed In Kiev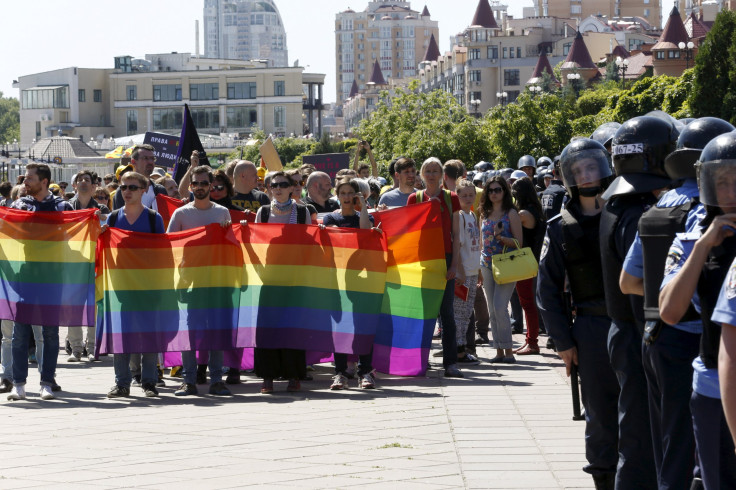 A gay couple in Kiev was attacked and pepper sprayed by far-right activists as they tried to imitate a video filmed in Moscow to assess Ukrainians' reactions toward men holding hands. The Kiev video was filmed by Zoryan Kis and Tymur Levchuk for Bird in Flight Magazine and posted on YouTube Thursday.
In the Russian video, two men from the comedy channel CherbuRussiaTV filmed themselves walking around downtown Moscow holding hands. That video went viral with almost 9 million views.
While the couple had an overall more positive experience than the Moscow video, with most people simply leaving them alone or staring at them, one group of girls took pictures of them and asked them to kiss.
However, when the duo decided to film themselves with Levchuk sitting on Kis' lap, they were soon surrounded by a group of 10 people, who Kis described as "far-right extremists." The men told the couple that they had mistaken Ukraine for the U.S.
After waiting for a nearby police patrol to move past, the men pepper sprayed the couple and began to kick them before bystanders chased them off.
Kis concludes the video by saying that "in our society, there are very few aggressive, homophobic radicals who are ready to physically attack. Other people just do not care, as long as it doesn't affect them personally, but this minority tries to force everyone to play by their rules," according to the Kyiv Post.
"Ukraine has definitely made some progress, and the fact that there isn't state homophobia in Ukraine is probably the reason why ordinary people weren't aggressive towards us. But if Ukraine wants to move on and get closer to Europe, the government must act to protect us from people like those attackers," he told the Guardian.
Ukrainian right-wing groups, including Right Sector, have been accused of staging attacks against lesbian, gay, bisexual, and transgender (LGBT) people. Last month, a gay pride parade in the capital was attacked by assailants hurling stones and smoke bombs. Activists also claim that LGBT Ukrainians are often abused or extorted.
© Copyright IBTimes 2023. All rights reserved.
FOLLOW MORE IBT NEWS ON THE BELOW CHANNELS