Ukraine Gay Pride Parade Attacked With Stones, Smoke Bombs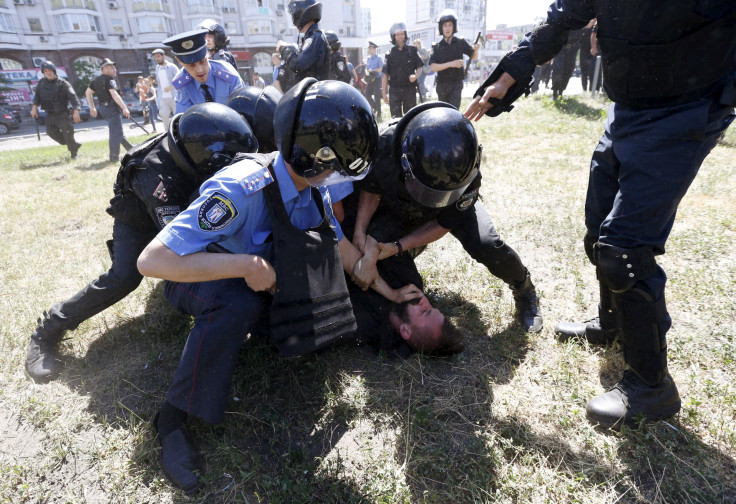 A Ukrainian gay pride parade in the capital of Kiev was attacked on Saturday, wounding five policemen. The radical Right Sector group had threatened the pride marchers ahead of the event.
"There will be thousands of us," Right Sector spokesman Artem Skoropadskyi had warned the protesters on Friday, Kyiv Post reported. "Gay propaganda is destructive and doing harm to our Christian nation, we can't allow that."
Kiev Mayor Vitaly Klitschko had also called for the marchers to stand down, saying: "In Kiev there is no harassment on any grounds and each person is guaranteed freedom of expression and belief. However, the 'March of Equality' and in peacetime the increased degree of tension in society has caused much controversy and fights and confrontation have taken place," the Daily Beast reported, citing his statement released this week.
Hundreds of police officers were deployed to the event to protect the marchers, but the rally was attacked by unidentified people who threw stones and smoke bombs, with several people being arrested and at least one attacker injured, the BBC reported.
Ukrainian lawmaker and journalist Serhiy Leshchenko reportedly said after the event that about 30 people had been arrested and praised the police for preventing "direct clashes" between the marchers and the radicals.
Ukraine's first planned gay pride parade was canceled in 2012 amid threats of violence and condemnation. The country's first-ever successful gay pride parade was held in 2013 under the protection of 1,500 police officers but lasted for only one hour.
Ukrainian President Petro Poroshenko, however, came out in support of the event. In a Friday press conference, he became the first Ukrainian leader to support LGBT rights when he voiced his approval of "the march of equality as a Christian and as a president-European. This aligns things. I will not participate in it, but I see no reason that someone should prevent it for it is the constitutional right of every Ukrainian citizen," the Daily Beast reported.
Although Ukraine was the first former Soviet country to decriminalize homosexuality in 1991, a spate of violence has targeted LGBT residents and activists, many of whom were attacked simply for "appearing gay," Gay Alliance Ukraine's Vice President Stas Mischenko told the Global Post.
LGBT activist organization Our World representative Oleksandr Zinchenko told the Kyiv Post that 40 hate crimes were committed against LGBT people in 2014, and that 10 such crimes had already been reported in 2015.
© Copyright IBTimes 2023. All rights reserved.
FOLLOW MORE IBT NEWS ON THE BELOW CHANNELS