Obama Kenya Visit 2015: Africa Gay Rights Debate Heats Up Ahead Of President's Trip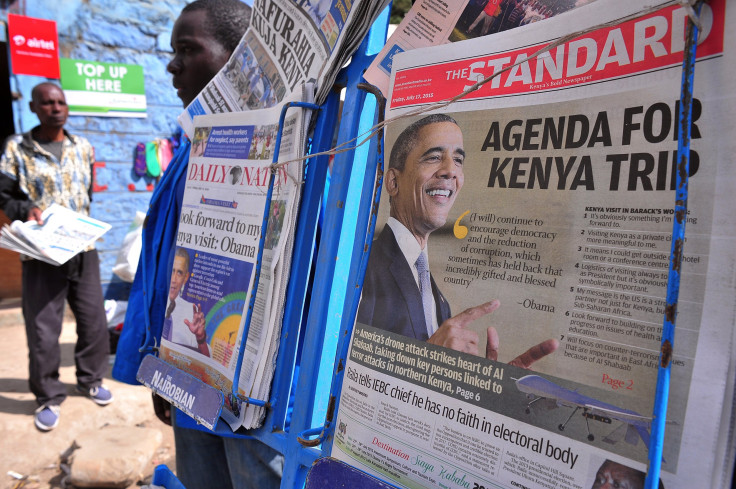 Kenyan and American flags adorned the roadway leading out from Nairobi's main airport this week where U.S. President Barack Obama will arrive Friday. It's Obama's first trip during his presidency to Kenya, where his father was born, and the visit has been hailed as a joyous and long-overdue homecoming by many Kenyans, who have taken to wearing Obama-themed merchandise and downloading his speeches as their mobile phone ring tone.
But Obama's return to his father's homeland has also stirred a contentious debate over gay rights, with many calling his visit an unwelcome opportunity for the liberal American president to promote gay marriage in an African country where homosexuality is criminal. In the wake of a watershed U.S. Supreme Court ruling that legalized same-sex marriage nationwide last month, Kenyan leaders have warned Obama not to force his views on gay marriage on the Christian-majority nation. Gay rights activists, meanwhile, said Kenya must accept its LGBT community, which is growing in size and visibility, but remains vulnerable to threats, harassment and discrimination.
Kenyan gay rights activist Denis Nzioka said the country has also seen a rise in homophobia leading up to Obama's visit. In recent weeks, gay couples have been outed and evicted from their homes, students have been thrown out of school and demonstrators have gathered in the streets of Nairobi to protest against same-sex marriage. But the spotlight on gay marriage has also provided a forum for activists to speak out in support of LGBT rights, he said.
"You find the more anti-gay rhetoric, the more people are coming out and challenging it. There is now a dialogue," Nzioka said during a telephone interview.
Many LGBT individuals living in Kenya hide their sexuality, even from their friends and family, in fear of backlash and rejection. As an openly gay man in Kenya, Nzioka said he has suffered death threats, hate mail, evictions, public humiliation, depression and suicidal thoughts. Nzioka said he always knew he was different, but he didn't come out to his family, whom he said are supportive, until he was 20 years old. "We are a minority community. We don't have horns or tails," said Nzioka, now 28.
Nzioka said his decade of work as a gay rights advocate in Kenya is not centered on legalizing same-sex marriage, but rather ensuring that no one else experiences the challenges he faced. "We want food, shelter, clothing, a good job, good education. We want love, to be accepted for who we are," he said. "That is what we want. Nothing else."
Ahead of Obama's trip to Kenya, protesters have gathered in Nairobi in recent days to reassert their views against homosexuality. The leader of an anti-gay political party in Kenya said the U.S. president would be insulting African values by mentioning LGBT rights during his visit.
"Obama should know that gay rights is Western. When in Africa he should value our rights," Republican Liberty Party leader Vincent Kidala told Kenyan newspaper the Star on Tuesday.
Kenyan President Uhuru Kenyatta has insisted gay rights is a "non-issue" in the country and will not be a topic for discussion during his bilateral meetings with Obama this weekend. Instead, he said the focus will be on security and economic growth. Kenya has seen an increase in deadly, cross-border attacks this year by the Somalia-based terror group Al Shabab and Obama is traveling to Kenya for the annual Global Entrepreneurship Summit.
"That is a non-issue to the people of this country, and it is definitely not on our agenda at all," Kenyatta told reporters Tuesday in response to a question about LGBT rights. "We as a country, as a continent, are faced with much more serious issues which we would want to engage the U.S. and all our partners with."
The Obama administration, however, has made clear that the president won't back off LGBT rights during his visit to Kenya. "When the president travels around the world, he does not hesitate to raise concerns about human rights," White House Press Secretary Josh Earnest told the press. "I am confident that the president will not hesitate to make clear that the protection of basic fundamental human rights in Kenya is also a priority and consistent [with what] we hold dear here in the United States of America."
Although homosexuality is illegal in most of sub-Saharan Africa, a push for LGBT rights has slowly gained ground in Kenya and a few other countries in recent years. Earlier this month, Mozambique decriminalized homosexuality. The African Commission on Human and Peoples' Rights, a quasi-judicial body charged with promoting human rights across the continent, adopted a landmark resolution in May condemning violence and discrimination against LGBT individuals. In April, a Kenyan court ordered a government agency to formally register a gay rights group. Uganda's Supreme Court recently overturned a law to enforce long prison sentences for same-sex relationships, albeit due to a technicality issue rather than human rights.
"Twenty-five years ago, there was not an LGBT movement in sub-Saharan Africa to speak of. Over the last two decades, the African movement has become much more vocal, much more organized and much more visible," said Graeme Reid, director of the Lesbian, Gay, Bisexual and Transgender Rights Program at Human Rights Watch.
Reid also said the Kenyan government has a long list of alleged human rights violations that extends beyond the LGBT community and includes ethnic groups and refugees. "There are many other issues that are very pressing in Kenya," he said during a telephone interview.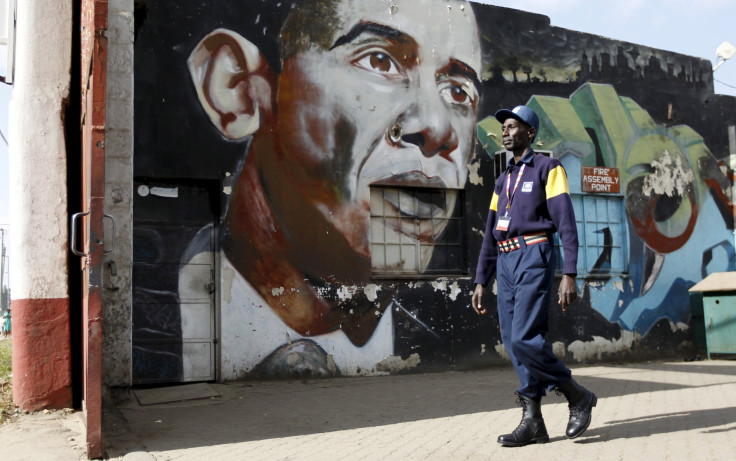 In Kenya, Nzioka said the East African country is far from legalizing same-sex marriage. Decriminalizing homosexuality and neutralizing homophobia are still the top priorities.
"We will seek same-sex marriage when the time comes. Not now. We have a lot of work to do and it's the last thing on our minds," said Nzioka, a former spokesman for Gay Kenya Trust who last year launched the website Watetezi, which tracks human rights injustices against Kenya's LGBT community.
American lawyer and gay rights activist Nate Freeman met with LGBT organizations in several African countries this year and said he witnessed a strong movement in Kenya compared with countries like Ethiopia and Sudan, where such groups must operate underground.
"I was left with a sense of optimism," Freeman, 32, said during a telephone interview. "There are a lot of people on the ground working on this issue in Kenya. Not many are talking about marriage, but the things they are talking about are exciting."
Last year, Freeman lived in South Africa where he worked with South African constitutional judge Edwin Cameron, who is openly gay, HIV-positive and well-known for his LGBT rights activism. And while gay marriage has been legal in South Africa since 2006, Freeman said public opinion remains largely unaccepting of same-sex relationships. In a 2013 Pew Research Center poll, 61 percent of South Africans said homosexuality should not be accepted by society, while just 32 percent said it should be accepted.
Freeman said LGBT activists in Kenya must fight for decriminalization before tackling same-sex marriage. Homosexuality has been illegal in Kenya since British colonial rule.
Still, Freeman said he hopes Obama will make a statement on gay marriage and meet with LGBT organizations during his visit to Kenya, despite the risk of backlash and anti-gay protests.
"You don't want to forget to be brave," Freeman said.
© Copyright IBTimes 2022. All rights reserved.
FOLLOW MORE IBT NEWS ON THE BELOW CHANNELS