Gaza: 2 Killed, 20 Injured In Pre-Dawn Israeli Air Strikes; No Cease-Fire In Sight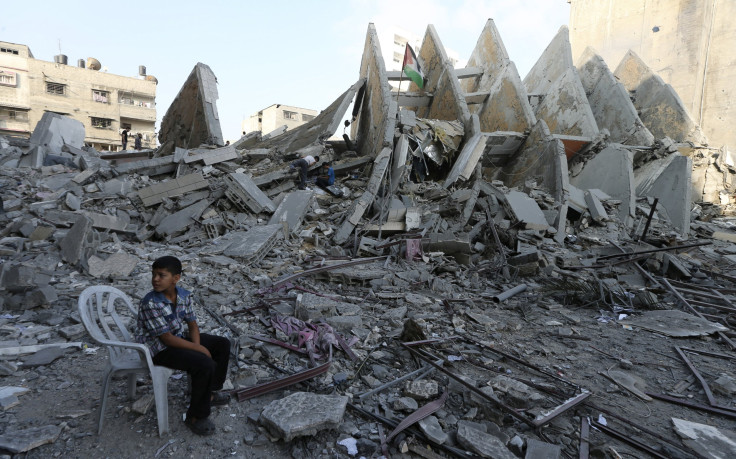 Update as of 6:50 a.m. EDT: The Israeli military struck another high-rise building in Gaza, after alerting its residents and asking them to evacuate, Associated Press, or AP, reported.
While no injuries or fatalities have been reported in the second attack, hundreds of Palestinian civilians residing in the 15-storey Basha tower have been rendered homeless. Speaking to AP reporters, the Israeli military acknowledged that it had targeted sites linked to Hamas on Tuesday but made no specific reference to the two buildings.
Pre-dawn Israeli air strikes in the Gaza Strip killed two people and destroyed one of the tallest residential and office buildings in the Palestinian enclave, Al Jazeera reported, citing Palestinian health officials.
Twenty people were also injured in the air strike on the 13-storey building, which reportedly had offices belonging to the political wing of Hamas and housed 70 families. Since a temporary truce between Israel and Hamas collapsed last Tuesday, the death toll in Gaza has steadily risen, with 13 more Palestinians having been killed in Israeli air strikes since Sunday night.
A 17-year-old boy was killed and 25 others were injured Monday in an air strike on a mosque in Gaza City, according to media reports. Four other mosques were reportedly targeted by the Israeli military on Monday. Israel had earlier claimed that mosques were being used for military activities by armed factions in Gaza.
The Israeli military said that more than 120 rockets and mortars were fired into Israeli territories on Monday, targeting communities living near the border with Gaza, Haaretz reported.
Meanwhile, efforts at brokering a cease-fire between Israel and Hamas are still under way. Reuters reported Tuesday, citing unnamed United Nations diplomats, that the United States has prepared a draft outline for a U.N. resolution demanding an indefinite cease-fire in the Gaza Strip.
"We'll work on coming up with a single draft," another U.N. diplomat told Reuters. "What's important is that the Americans are engaging and there's a new momentum in pushing for a ceasefire resolution in the Security Council that would be better than previous ones."
On Monday, the Palestinian leadership in the West Bank had said that they would seek the intervention of the U.N. to "enforce an end to the Israeli occupation," Al Jazeera reported.
Hamas, on Saturday, had said that it would support any Palestinian bid to join the International Criminal Court. Being part of the ICC will allow Palestinians to petition the court to launch an inquiry into alleged war crimes by Israel. However, it could also mean an investigation into attacks on Israel by Hamas, which has repeatedly stated that it will not stop fighting until the Israeli-Egyptian blockade on the enclave of 1.8 million people is lifted.
More than 2,100 people have been killed and nearly 11,000 have been injured in Gaza since the Israeli campaign began on July 8. On the Israeli side, 68 people, including 64 soldiers, have been killed.
© Copyright IBTimes 2023. All rights reserved.