GE Names Linda Boff CMO: Why Snapchat, Instagram, Facebook And Even 'Yo' Are As Important As TV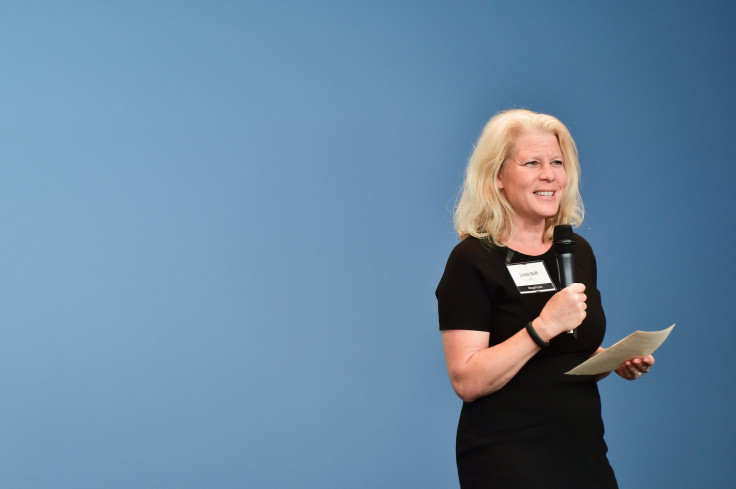 The first TV broadcast originated at a General Electric TV station in Connecticut in 1928. And for many decades, the 137-year-old tech company GE has used TV to spread its "We bring good things to life" message. But it's far from old-school in its broader marketing efforts.
Today, GE is just as likely to be bantering with millennials on Instagram or Snapchat as it is to be running TV spots. Indeed, the heritage brand built on invention has become very innovative in its marketing, and much of that maps back to Linda Boff, who was tapped Tuesday as chief marketing officer. Formerly head of global brand marketing, Boff, 53, was the de facto innovator-in-chief and the force behind GE's early adoption of social media. GE, yes, GE, is often the first -- or among the first -- to experiment online.
To wit: It has 1.44 million likes on Facebook, 300,000 followers on Twitter and 194,000 on Instagram. The brand was an early advertiser on the new mobile darling Snapchat and the first to sponsor an ad on Instagram back in 2013. GE launched on Vine one day after the app's public release. The company even created an account with Yo -- the little app that caught on big-time in 2014 with its one-word theme.
The GE brand's been recognized for its digital savvy, winning a coveted Webby award for "Best Brand on Vine" in 2013:
But GE (NYSE: GE) has to balance its desire to be seen as cool with the realities of being a $250 billion conglomerate with over 300,000 employees. Boff spoke with International Business Times about her company's obsession with the future of media, where she sees the value for brand success and longevity, why she sees Facebook as such an important tool for marketers, and what's next on GE's app-adoption list.
International Business Times: You started at GE in 2003. What has changed?
For GE and for the marketplace, to some degree, marketing was a new-er skill. Our chairman, Jeff [Immelt], comes from a marketing and sales background, so that was a big boost back then for the function. What I think has been the evolution has in part been the evolution of media. There's a plethora of opportunities to reach people. There's a plethora of technologies. Our audience has so many options of where to spend their time. Finding ways for a brand, even tremendously well-known brands like GE, to be easily discovered and understood and accessible remains an interesting challenge and maybe one that has gotten increasingly interesting with the number of opportunities for marketing.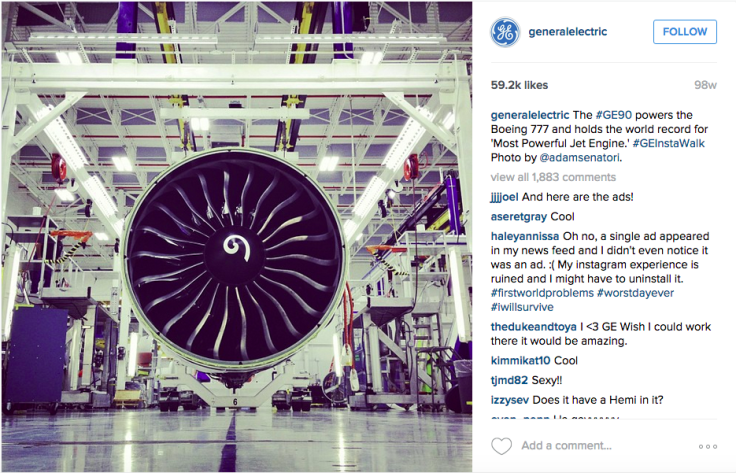 IBT: The word "digital" was added to your title in 2011. Bring me back to that point in GE's history. Did that signal a new mission?
In 2011, we were quite deliberate about using the word "digital." I think there was a need to call out digital because even though we all know now that digital is just part of how we access everything. To sort of call it out and say it's very important that we as a brand are on the channels where people are increasingly spending their time.
A big part of our future as a company is about being a digital industrial company: the marriage of analytics and data with big change. That's a journey we've been on now for several years. We sort of coined the term industrial Internet four years ago. It's still one that we believe is bigger than GE. It's a whole category. As we think about our path forward as a company, it is a digital industrial company. We're using that as a way to signal, both internally and externally, that this is a very important part for how a company like GE is going forward.
IBTimes: You're known for your work on the Internet. Does that mean GE won't do TV anymore?
We believe in television for the very simple reason that people are watching it. We believe in the platforms where people are spending their time, and television remains one of them. If people stop watching television, that may not be a platform we want to be with anymore.
We have shifted over the last several years to more live programming. We do most of our advertising on sports and on news and to some degree on late-night.
IBTimes: Where do you see television fitting in with GE's strategy?
In five weeks, GE in partnership with NatGeo and wonderful folks in entertainment Imagine Entertainment will do a six-hour series that will air on NatGeo on Sunday evenings. Each of the hours we'll take a topic that's important to the world and important to GE, topics like energy, water, longevity, robotics, and we'll do fantastic story-telling on television. It's obviously long-form. I think it's a wonderful medium for this. Could we have done it online? We could have. We chose to do it on television.
IBTimes: Do you think that television dollars will be increasingly moving to different networks -- Facebook, YouTube, Twitter, Snapchat?
Any marketer will tell you that if you want to be where people are spending your time, people are spending increased amounts of time online. Mobile has now exceeded televsion and the amount of time that people are devoting to it. Platforms like Snapchat, Instagram, even platforms where we have yet to go like Whisper are drawing tremendous amounts of people.
Facebook, which for us has been a platform where we have been organically as a brand for quite awhile is a wonderful performance platform. It is a fantastic platform to target audiences. With the billion-and-a-half people on Facebook, we've been able to target and re-target people. People with interest in software and IT. I give great cudos to Facebook for not just being a social platform but for increasingly, at least for marketers, being a performance platform. Our percentage of digital has only gone up, but as I say, we still think there's a place for television when it makes sense.
IBTimes: GE has often been the first to be adopt any new social media company or app. Why?
We have been deliberate on wanting to be early, on wanting to be first in many instances for two reasons. For one, we believe it completely aligns with our brand DNA as company that's about invention, as a company that was founded by an inventor. We also feel that there's very little that makes up for being early and first. You get the first blush of interest and enthusiasm and you get learnings before anyone else does. We'll continue to do that.
IBTimes: Is there a particular social network or app that has snuck up on you?
There will be a platform that I cannot tell you the name of right now that we will be on early. We're really excited about WhatsApp. TimeHop was a platform that wasn't really on my radar, but, you know, I could see us doing something there. There were a few Betaworks companies at the AppFront, Giphy. We were one of the first brands on Dots doing something on Gravity Day. We are deliberate at looking at new platform, and we try really hard to figure out what is the way to talk about an important story and initiative that is well aligned with that particular platform and understand how people are using it.
General Electric Company (GE) | FindTheCompany
© Copyright IBTimes 2023. All rights reserved.