Georgia Closer To Gaining NATO Membership, According To Alliance Chief Jens Stoltenberg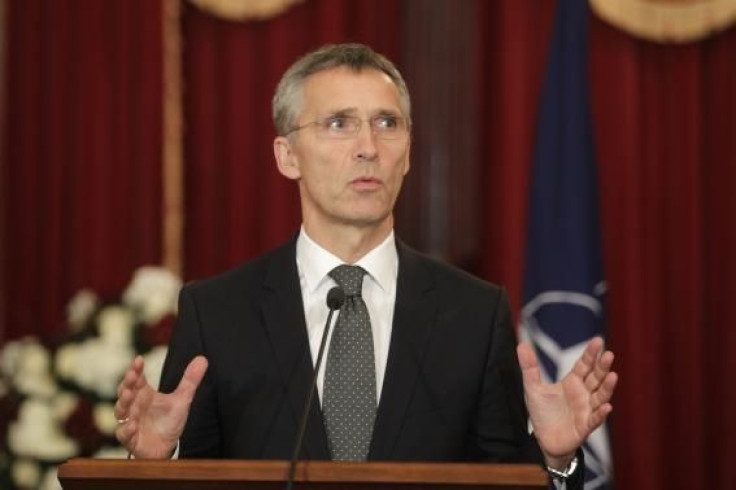 NATO Secretary-General Jens Stoltenberg has renewed Georgia's hopes for membership by praising its contributions and closer ties to the alliance in recent years. Stoltenberg, a former prime minister of Norway, made the comments during a visit by Georgian President Giorgi Margvelashvili to NATO headquarters in Brussels on Monday.
The former Soviet republic is still locked in a dispute with Russia over the breakaway republics of South Ossetia and Abkhazia, which seceded from Georgia with Moscow's support. South Ossetia was the site of a brief war with Russia in 2008, and the Western alliance is wary of inducting a new member that is actively engaged in a confrontation with Russia and has lost control over much of its territory.
"Georgia is moving closer to NATO," Stoltenberg told Margvelashvili. "We are looking forward to continue working with you on this path."
The five-day war between Georgia and Russia in 2008 pushed Georgia even closer to Europe, and while not a member of the alliance, it has been a significant part of NATO operations. Georgia is currently the second-biggest contributor to the mission in Afghanistan, which NATO now calls Resolute Support.
NATO designated the Eurasian country an "enhanced opportunity" partner at last year's summit in Wales, and also established a "Georgia-NATO package" to strengthen the small country's military. And later this year, NATO will open the NATO-Georgia training and Evaluation Center, which "will improve our troops' ability to work together," said Stoltenberg.
The strengthening of the relationship between NATO and Georgia may carry significance for another post-Soviet state: Ukraine, which is involved in a yearlong war with Russian-supported separatists in the eastern regions of Luhansk and Donetsk. Like Georgia, Ukraine also has close relations with NATO and may push for a formal entrance in the future, in what would be a long-shot bid for membership because of strong Russian opposition.
The former Soviet republics of Lithuania, Latvia and Estonia, along with the former Soviet satellites states of Eastern Europe, are already in the alliance.
© Copyright IBTimes 2023. All rights reserved.