German Lawmakers Call Massacre Of Armenians 'Genocide,' Defying Turkey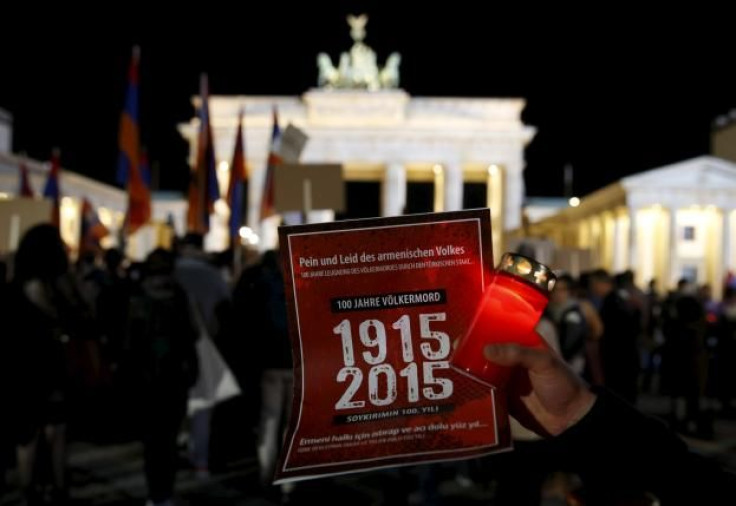 (Reuters) - The German parliament overwhelmingly approved on Friday a resolution branding the mass killings of up to 1.5 million Armenians by Ottoman Turkish forces a century ago as "genocide", risking a diplomatic rupture with Ankara.
The vote marks a significant change of stance for Germany, Turkey's biggest trade partner in the European Union and home to a large ethnic Turkish diaspora. Unlike France and some two dozen other countries, Berlin has long resisted using the word.
The term 'genocide' also has special resonance in Germany, which has worked hard to come to terms with its responsibility for the murder of six million Jews in the Holocaust.
In a parliamentary session to commemorate the 100th anniversary of the start of the killings, all parliamentary groups in the Bundestag lower house backed the resolution in a vote likely to infuriate Turkish President Tayyip Erdogan.
Earlier this week Turkey said a similar resolution adopted by Austria's parliament would have "permanent negative effects" on its relations with Vienna.
"What happened in the middle of the First World War in the Ottoman Empire under the eyes of the world was a genocide," Bundestag president Norbert Lammert said at the start of German lawmakers' debate on the resolution.
Muslim Turkey denies that the massacres, at a time when Ottoman troops were battling Russian forces in the east of the empire, constituted genocide. It says there was no organized campaign to wipe out the Armenians, who are Christians, and no evidence of any such orders from the Ottoman authorities.
German President Joachim Gauck also used the word 'genocide' in a speech on Thursday.
Gauck, a former East German pastor with a penchant for defying convention, also suggested Germany itself might bear some of the blame because of its actions during World War One.
The Ottoman Empire, whose large ethnic Armenian population had flourished for centuries, was an ally of Kaiser Wilhelm's Germany during World War One when the massacres occurred.
DETERMINATION
Gauck's determination to use the controversial word prompted members of parliament to overcome long-held resistance from Chancellor Angela Merkel's government, which until Monday had steadfastly refused to use the term.
Political analysts have attributed Berlin's previous reluctance to use the term 'genocide' to its fear of upsetting Turkey and the 3.5 million people living in Germany who are Turkish nationals or of Turkish origin.
There are also concerns in Germany that massacres committed in 1904 and 1905 by German troops in what is now Namibia could also be designated genocide, leading to reparation demands.
Most Western scholars refer to the mass killings of the Ottoman Armenians as 'genocide'. Pope Francis also used the term this month, prompting Turkey to accuse him of inciting hatred.
© Copyright IBTimes 2023. All rights reserved.