Germany Approves Third Greek Bailout Despite Opposition From Conservatives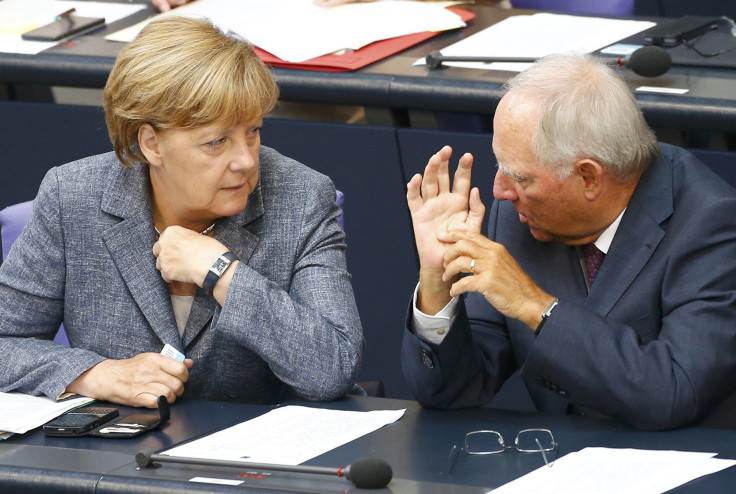 German lawmakers on Wednesday approved a third bailout package for Greece, despite substantial opposition within its parliament.
Interrupting their holiday session for the second time this summer in order to decide their response to the Greek debt crisis, lawmakers in Germany's lower Bundestag house voted 454 to 113 in favor of the rescue plan, with 18 abstentions, the Guardian reported.
Finance Minister Wolfgang Schäuble had called on lawmakers to back the bailout measure, saying that it would be "irresponsible" to deny the $94 billion bailout agreement to Athens. Ahead of the vote, he added, however, that "there is no guarantee that all of this will work."
Germany's assent clears the way for Greece to receive $14.3 billion in funds Thursday, when Athens must pay back the European Central Bank for redemptions on government bonds.
The move, however, was strongly opposed by conservative lawmakers.
"Greece won't make it in the euro zone and we won't succeed at keeping the euro zone together by force against the will of the people," Klaus-Peter Willsch, a lawmaker in Merkel's Christian Democratic Union and staunch bailout opponent, told Bloomberg.
Meanwhile, the debate in the Dutch parliament, which is set to vote on the issue later Wednesday, turned acrimonious, when populist right-wing lawmaker Geert Wilders spoke out against "the European junkie called Greece," Reuters reported. Dutch Prime Minister Mark Rutte is facing a no-confidence motion over a broken campaign promise to refuse further bailout agreements to Greece.
Greece too has struggled to contain those who oppose the deal, after several lawmakers from Syriza -- which leads the ruling coalition -- voted against new bailout measures last Friday. Syriza originally came to power in January promising to stand against austerity measures, but Prime Minister Alexis Tsipras subsequently agreed to a new bailout agreement after months of increasingly bitter talks between Greece and its creditors threatened to break down and potentially lead to a Greek default and its exit from the eurozone.
© Copyright IBTimes 2023. All rights reserved.