Ghana Elections 2016: Polls, Candidates, Issues And Explainer Ahead Of Vote For President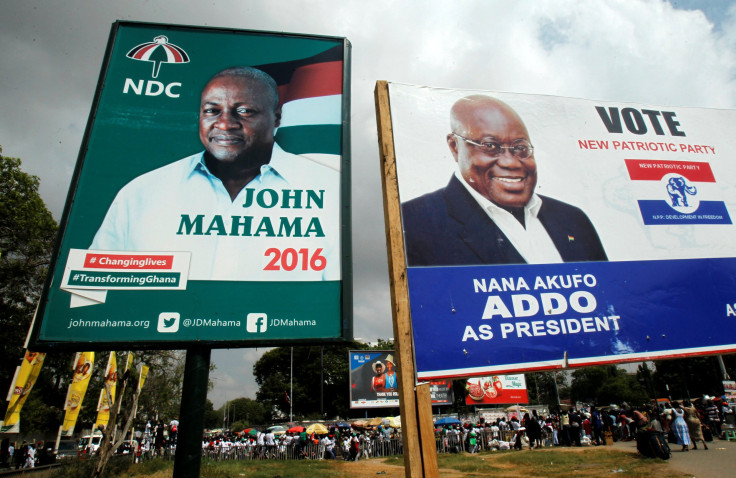 Eschewing a recent election trend across much of the globe, when Ghanaians go to the polls to vote in the country's presidential election Wednesday there will be no upstart candidate in the running, but rather two leading candidates that are nothing if not familiar.
The only serious threat to President John Dramani Mahama's hopes of a second term is Nana Akufo-Addo, who will be making his third bid for the West African country's top office. Akufo-Addo, of the New Patriotic Party (NPP), ran unsuccessfully in 2008, when losing to John Atta Mills by an agonizingly small margin. When Mills died and was replaced by fellow National Democratic Congress (NDC) representative Mahama in 2012, Akufo-Addo again came out on the losing end in that year's election after also failing in an effort to challenge the results in the Supreme Court.
In a region of the world where the rule of a country has often been settled with violence rather than voting, such stability in Ghana is not to be sniffed at 24 years after it held its first election since the end of military rule. However, while the country's politics have increasingly become a two-party system, a far less stable economy of late could open the door for Akufo-Addo to finally claim power.
The 72-year-old's manifesto, entitled "Change: An Agenda for Jobs," states his objective as "creating prosperity and opportunity for all."
A fall in global commodity prices has hit Ghana's exports of gold, cocoa and oil hard. The country's economic growth slowed to a predicted 3.3 percent this year, its slowest since 1990, according to the International Monetary Fund (IMF). Last year, Ghana took a bailout of close to $1 billion, which required public spending to be cut. There have since been regular blackouts, including 159 days without electricity last year. Meanwhile, unemployment, particularly among the young, has soared and Mahama's government has been accused of corruption.
"I won't disappoint you but will use the wisdom God has given me, my knowledge and experience to work in your interest and put Ghana on the path of progress and prosperity," Akufo-Addo said at a large rally in the capital Accra on Sunday. "I am not seeking political power to steal your money or to loot the national coffers. The NPP has got the men and women who will implement our sound policies and programs to end the current hardship the nation is going through due to President Mahama's poor handling of the economy. The time to change the hardship is now."
In one of his final rallies before campaigning official ends at midnight on Monday, Mahama painted a very different picture of Ghana's economy. Questioning the raft of negative data that has emerged, the 58-year-old insisted that the country was on the right track under his leadership.
"Even in this world crisis, with sound economic management, Ghana's economy continues to grow," he said Sunday. "I don't know what statistics some economists are looking at. I don't know the voodoo statistics and voodoo economics they are looking at. If you look at the official figures, this economy is growing. The deficit is coming down and the currency has stabilized, inflation is coming down, interest rates are voting down."
Long viewed as one of the most stable democracies in West Africa, as the campaign has entered its final stretch there have been growing clashes between supporters of the two leading parties. Last month, the United States Embassy in Ghana warned all parties against encouraging violence or voter intimidation.
Ghana's two-round system has helped further entrench two-party dominance in the country. If no candidate gets more than 50 percent of the vote Wednesday, then the two leading candidates will go forward to a runoff election on Dec. 28. Opinion polls in Ghana tend to be unreliable but have shown Mahama with a lead of a few percentage points in recent months.
There will be five other candidates running for president in the election, but they combined are not expected to tally more than a couple of percent of the vote. Paa Kwesi Ndoum, a businessman and one of Ghana's richest people, will be running for a third time as the candidate for the Progressive People's Party, having tallied the third highest support four years ago, albeit with just 0.59 percent. Medical doctor Edward Mahama of the People's National Convention, meanwhile, will be back for a sixth try after missing out on being his party's nominee four years ago.
Continuing the theme of familiarity, Independent Jacob Osei Yeboah is running for a second straight election. The ballot will also include former first lady Nana Konadu Agyeman Rawlings as the candidate for the National Democratic Party. Ivor Greenstreet of the Convention People's Party represents the only true newcomer in the running order.
Ghanaians will also be casting their vote to decide who will take up the parliament's 275 seats.
© Copyright IBTimes 2023. All rights reserved.