Gian Marco Moratti, Italian Oil Magnate Who Does Business With Putin's Top Ally Igor Sechin, Says U.S. Sanctions "Just A Front"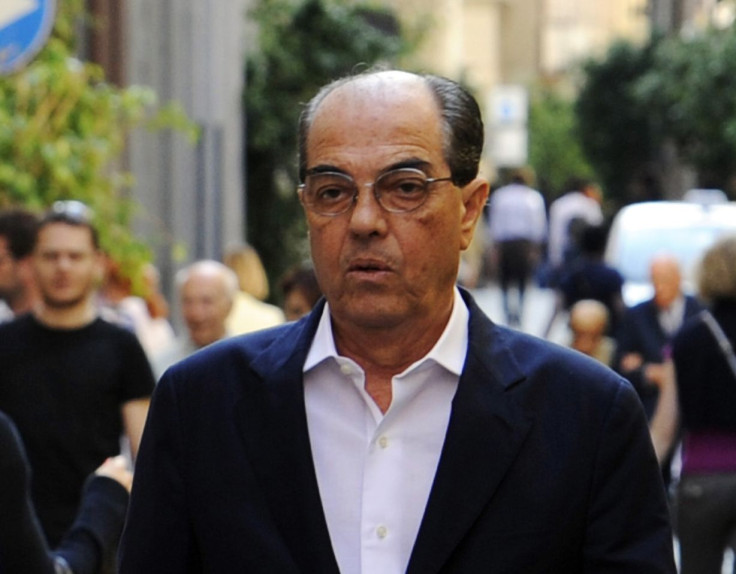 ROME -- Gian Marco Moratti, one of the wealthiest oilmen in Europe, was leaving a conference here on Monday when reporters swarmed him with the question of the day. Was he concerned that U.S. sanctions on Russia would make it hard for him to do business with Rosneft, the Kremlin-owned oil giant whose chairman has been blacklisted by the U.S. but still sits on the board of the Moratti family's oil company, Saras?
His response was shocking. "Sanctions are just a front," Moratti said, and would pose no problem for Saras, "at least for now." As he was speaking, energy ministers from the Group of Seven nations were gathered, just a few blocks away, to discuss how to reduce their reliance on Russian energy amid the escalating Ukraine crisis.
Moratti, the chairman of Milan-based Saras SpA (BIT:SRS) and a man worth $1.5 billion according to Forbes, didn't appear embarrassed by having Igor Sechin, the direct target of U.S. sanctions, on the board of the firm his father Angelo founded in the 1960s.
Sechin, who is sometimes called "Russia's Darth Vader" because of his suspected past in Soviet espionage, was President Vladimir Putin's deputy chief of staff before being appointed to head OAO Rosneft (MCX:ROSN) in 2012. According to Stratfor, Sechin was in the 1980s "the Soviet Union's point man for weapons smuggling to much of Latin America and the Middle East."
While avoiding sanctions on Rosneft itself, the Treasury list includes Sechin, considered a "government official" who "has shown utter loyalty to Vladimir Putin -- a key component to his current standing."
This is the man who now controls a big chunk of Italy's second-largest oil refiner, with a 21 percent stake that Rosneft recently said it wants to raise. The two companies also have a joint venture that trades and processes crude oil, and sells refined products.
Dario Scaffardi, Saras general manager and executive vice president, was even more explicit than his boss: "Europe is shooting itself in the foot just when Russian companies are approaching," he said last week, in response to sanctions imposed on Russia by the EU.
For a company that has been posting losses and piling on debt since 2009, it's no wonder the Russian investment was welcome. Saras posted a net loss of 124 million euros ($173 million) last year, and 271 million in 2012.
And Saras isn't alone in doing business with Rosneft. British oil company BP (LON:BP) owns almost 20 percent of Rosneft, and said it would not sever ties with the Russian firm after sanctions were imposed. Last year, Exxon Mobil (NYSE:XOM) broadened a 2011 agreement with Rosneft to explore for oil in the Russian Arctic and Siberia.
Saras may not operate on the same scale as multinational oil majors like BP and Exxon Mobil, but it still handed Sechin a ticket into Europe's corporate circles. When he got a seat on the Saras board last year, Sechin became the first person from Putin's inner circle to gain such a prominent position in a large Western European company.
After buying the Saras stake, Rosneft spent 500 million euros for 13 percent of Milan-based Pirelli, becoming the biggest single shareholder in the worlds' fifth-largest tire maker. The deal, signed in March, got political backing in Italy even as tensions were growing with Russia over Ukraine.
In its recent Italian deals, Rosneft was capitalizing on strong political ties forged during Silvio Berlusconi's long tenure as prime minister, when Putin was a frequent guest in Berlusconi's seaside villas and a close personal friend. Energy is behind those ties, as well: Italy relies on Russia for 30 percent of its gas supply. Unnamed government sources told the Ansa news agency in March that Italy considered the relationship with Russia to be "strategic."
State-controlled Eni (BIT:ENI) and Enel (BIT:ENEL), respectively Italy's largest oil and power companies, also profited from a cozy relationship with the Kremlin. They bought gas fields in the far north of Russia in 2007 at a bankruptcy auction for the assets of Yukos, the Russian oil group that was liquidated following the controversial imprisonment in 2005 of its chief, Putin opponent Mikhail Khodorkovsky, for an alleged $27 billion tax fraud.
Khodorkovsky was released last December. But by then the Yukos assets bought by the Italians had reverted to Russia's energy giants, closely controlled by the Kremlin.
Enel resold its share in the venture, called SeverEnergia, to Rosneft last year. It said it made a $1 billion profit. Eni followed suit, selling its stake, which cost it $600 million, for about $2.9 billion to Gazprom (MCX:GAZP), Russia's state-owned gas giant, and Novatek, an independent natural gas producer partly owned by a longtime acquaintance of Putin, Gennady Timchenko.
The Yukos deal won Eni access to Russia's lucrative energy business, including an alliance with Rosneft to develop Arctic offshore fields, ahead of other Western companies eager to get in on the action. Eni subsidiary Saipem (BIT:SPM) also won a contract to build the South Stream offshore pipeline that would bring gas from Russia to Europe across the Black Sea, bypassing Ukraine. Enel also owns 56.43 percent of a company that manages four power plants in Russia and 49.5 percent of RusEnergoSbyt, a retail energy dealer.
In exchange, Gazprom consolidated its grip as the biggest gas exporter to Italy and won an agreement to buy power stations and other assets owned by Enel. Last June, Enel signed a preliminary agreement to sell Gazprom a 12 percent stake in Medgaz, a pipeline carrying gas from Algeria to Spain, for 83 million euros. It later bought from Enel a power plant in Marcinelle, Belgium, for 330 million euros. "We are interested in power stations in Italy as well as those owned by Enel outside Italy," Anatoly Yanovsky, Russia's vice energy minister, told Il Sole 24 Ore daily in September.
Lukoil, another Russian oil firm, entered a refining joint venture with Erg (BIT:ERG), an Italian oil refining and distribution group.
"Italy has a lot at stake in Russia. It hopes tension in Ukraine eases after the Ukrainian presidential elections slated for May 25, which might lead to a compromise with Russia," said Carlo Altomonte, an economics professor at Milan's Bocconi University and a visiting fellow at the Bruegel think tank in Brussels.
European dependence on Russian energy helps explains the stance Italy, and other European countries such as Germany, took on sanctions on Russia. The U.S. Treasury sanctioned last month seven Russian executives and officials, and 17 companies controlled by four of Putin's closest allies.
The European sanctions imposed later lacked the same punch. They targeted 15 Russian officials connected to the separatist movement in Ukraine and second-tier political figures, but spared Sechin and Kremlin-connected oligarchs.
"The European stance clearly reflects unwillingness to jeopardize its economic ties with Russia at this juncture, and I think this situation will likely prevail in the coming weeks," Jacob Funk Kirkegaard, senior fellow at the Peterson Institute For International Economics in Washington, D.C., said in a phone interview.
At a news conference with German Chancellor Angela Merkel last week, U.S. President Barack Obama said, "we will not have a choice but to move forward with additional more severe sanctions," if Russia disrupts the presidential election in Ukraine.
But Russia's state-owned energy complex can fight back, hard. Both U.S. and European sanctions stopped short of targeting Gazprom, which provides 30 percent of Europe's natural gas, and its CEO, Alexei Miller.
"Gazprom could become a target, but the escalation in Ukraine would have to be dramatic. It would be very easy for Gazprom to retaliate," Kirkegaard said.
That's a possibility very much on the minds of European business people, not just those, like Moratti, who have a direct partnership with Russian entities. "Raising sanctions to the next level would complicate everything, contributing to a possible escalation of the conflict in Ukraine," said Altomonte, the economics professor.
The next round of sanctions could instead focus on more individuals and the financial services sector, analyst Kierkegaard said: "It would be a very potent threat. The U.S. can isolate Russian banks more or less unilaterally, and that option would be quite convenient for Europe as well."
© Copyright IBTimes 2023. All rights reserved.
FOLLOW MORE IBT NEWS ON THE BELOW CHANNELS