Giants Super Bowl 2012 Parade in New York City: Exclusive Photo Slideshow
The Giants Super Bowl 2012 swept through New York City Tuesday morning, and the International Business Times was on the scene, camera in hand at Broadway and Wall Street, to catch all the fun.
As with previous New York ticker-tape parades, Tuesday's parade route started at Battery Place and Washington Street in Lower Manhattan's Financial District, then made its way along the Canyon of Heroes to City Hall Plaza, where Mayor Michael Bloomberg planned to give the New York Giants the keys to the city.
Big Blue gave us a game to remember, and on Tuesday we're going to give them a parade to remember, Bloomberg said in a statement.
And at 3:00 p.m. the Giants will appear at MetLife Stadium in East Rutherford, N.J,. for a second celebration, to be attended by Gov. Chris Christie.
The Canyon of Heroes has been the site of numerous parades since the 1940s. Though most of the fetes were in the honor of sports teams, the Canyon of Heroes also hosted a major event on Aug. 14 and Aug. 15, 1945, marking the end of World War II on V-J Day.
The most recent parade through the Canyon of Heroes was on Nov. 6, 2009, for the New York Yankeeswho had just won their 27th World Series title.
The Giants beat the New England Patriots during Sunday's Super Bowl by a score of 21-17. The Giants previously beat the Patriots in the 2008 Super Bowl.
Here's a slideshow of exclusive IBTimes photos of the New York Giants Super Bowl 2012 parade in New York City.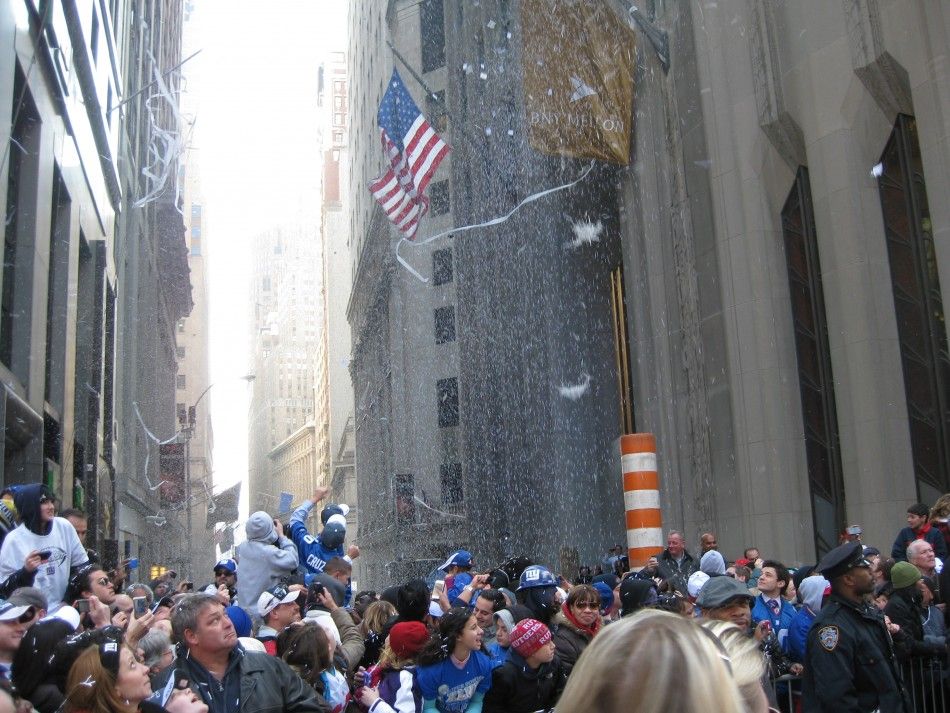 © Copyright IBTimes 2023. All rights reserved.