India Plans to Upgrade Its Military; Eyes Dassault Aviation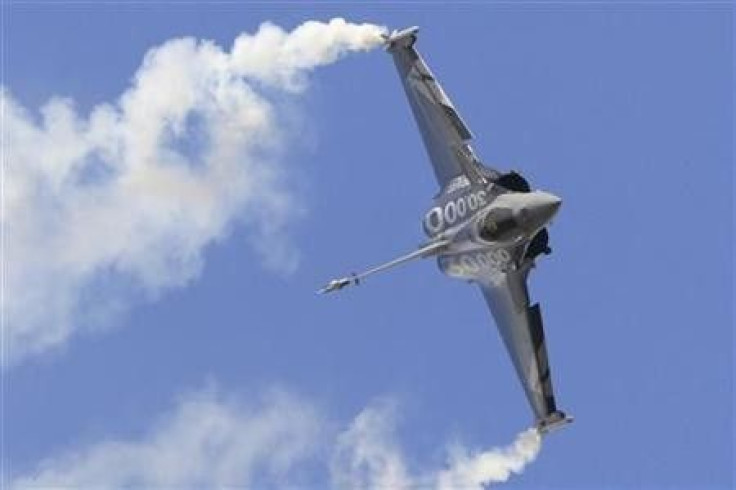 India's multi-billion-dollar potential combat jet deal with preferred bidder Dassault Aviation is one of the many the country wants to implement.
A Dassault Rafale fighter jet takes part in a flying display during the 49th Paris Air Show at the Le Bourget airport near Paris June 23, 2011.
It plans to spend about $50 billion over the next five years to upgrade its military, which is largely made-up of Soviet-era equipment, to counter the rising might of China and threats from Pakistan, in deals that make Asia's third largest economy a lucrative market for firms such as Boeing and Dassault.
The following are some of the major modernization programmes that have been announced or are planned by India's government, taken from various Indian and international media sources.
INDIAN AIR FORCE:
Combat Planes: India is jointly developing a stealth fighter with Russia, to be based on United Aircraft Corp's (UNAC.MM) Sukhoi T-50 platform. According to media reports, it will start taking delivery of about 250 such planes by 2015.
In addition state-owned Hindustan Aeronautics Ltd is developing its own stealth aircraft, called the Advanced Medium Combat Aircraft, planned to be in service by 2025. Meanwhile, its Light Combat Aircraft (LCA) is undergoing final testing and is expected to be inducted in the Air Force soon.
Helicopters: In 2009 India invited bids for 22 combat helicopters and 15 heavy lift helicopters. Russia's Mil Moscow Helicopter plant and U.S. Boeing submitted bids for the combat helicopters.
In was reported in Indian media late last year that Boeing's AH-64 Apache was the front runner to win the deal for about $1.4 billion.
The country also ordered 12 AW101 helicopters, made by a unit of Finmeccanica (SIFI.MI), to be used for VIP transportation.
Cargo Aircraft: In early 2008, India ordered six Lockheed Martin (LMT.N) C-130s to be used for special operations. It also selected Boeing's C-17 as its heavy lift transport aircraft to replace the Russian IL-76.
INDIAN NAVY
Ships: The Indian Navy is currently undergoing a 15 year modernization plan. While the erstwhile Russian aircraft carrier, Gorshkov, is slated for induction later this year. India is also building another aircraft carrier with plans to complete it in 2013 and has plans to build another by 2017.
Up to eleven new destroyers, and ten frigates are to be inducted, starting 2012, to replace its ageing fleet. It has also started construction on six scorpene class diesel-electric submarines and plans to have six nuclear powered submarines in service within the next few decades.
Aircraft: The navy plans to induct about 40 Russian Mikoyan MiG 29 combat jets for its carriers, and is also developing a naval version of the LCA. It also has 12 Boeing P-8 anti submarine and reconnaissance aircraft on order.
It also plans to induct 60 anti submarine warfare and about 50 light helicopters, apart from 120 indigenous light combat helicopters.
INDIAN ARMY:
The Army plans to induct about 250 indigenously built main battle tanks and about 1,650 Russian T-90 tanks by 2020. It also plans to develop and induct 155 mm artillery guns within the next three years.
A modernization program for its soldiers, dubbed Future Infantry Soldier As a System is supposed to be completed by 2020. The army is also expanding along India's eastern border with China, with plans to raise 15,000 additional troops and a new artillery division.
In addition, India is developing Agni V and VI intercontinental ballistic missiles, capable of carrying nuclear warheads for distances over 6,000 kilometers.
The army chose Eurocopter's (EAD.PA) AS 500 for a $550 million 197 helicopter contract in 2007. This was later scrapped due to allegations of unfair field trails from an American competitor.
The army plans to obtain 114 combat helicopters from Hindustan Aeronautics and has a joint requirement for about 400 light helicopters along with the air force.
© Copyright Thomson Reuters 2023. All rights reserved.