Gingrich Says He's Still In, Will Take Fight to 'Timid' Romney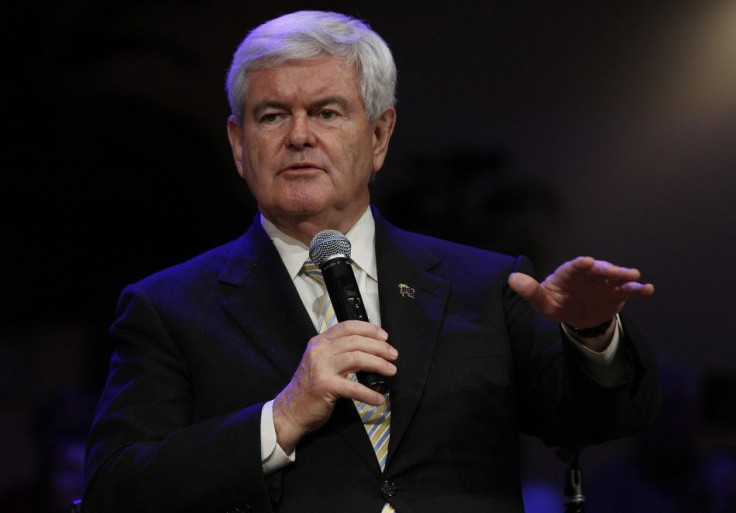 (Reuters) - Newt Gingrich vowed Sunday to press ahead with his struggling presidential bid after a big loss in Nevada, saying he will focus on drawing a contrast with timid rival Mitt Romney.
Romney, the Republican front-runner, easily thumped Gingrich in Nevada on Saturday for his second consecutive win and third in the first five contests in the state-by-state battle to pick a challenger to face Democratic President Barack Obama in the November election.
The victory gave Romney growing momentum as the race turns to the next round contests on Tuesday - in Minnesota, Colorado and Missouri - and Maine's weeklong caucuses that conclude next Saturday.
It also raised questions about Gingrich's future, but the former House of Representatives speaker appeared on two national morning talk shows to repeat his vow to stay in the race despite big losses in Nevada and last week in Florida.
Gingrich, a former Georgia congressman, hopes his campaign can last until 10 Super Tuesday contests on March 6 and several later contests in March, when votes will be taken in Southern states where he expects to do well.
My goal over the next few weeks is to draw a very sharp distinction between Romney's positions, which are very - the Wall Street Journal described them as timid - and in terms of tax policies, being like Obama, he said on NBC's Meet the Press.
I hope by the time we get to Super Tuesday that I will have made the case that a genuine conservative is a dramatically better choice to defeat Barack Obama, he said on CBS's Face the Nation.
Gingrich said he hoped to pull close to even with Romney in delegates for the nomination after the Texas primary in early April.
First he will have to survive February. New polls on Sunday showed Gingrich could face a challenge from Rick Santorum, who has been vying with Gingrich to be the conservative alternative to the more moderate Romney.
A Public Policy Polling survey showed Romney with a comfortable 14-point lead in Colorado over Santorum, a former U.S. senator from Pennsylvania, with Gingrich in third. In Minnesota, Santorum had a slight 2-point edge on Romney with Gingrich in third.
In Missouri, which is a non-binding primary that does not award delegates, Gingrich is not even on the ballot.
'BIG DAY FOR SANTORUM'
Tuesday has the potential to be a big day for Rick Santorum, the Public Policy Polling memo said.
Santorum said he believed he would pick up steam in the race as it moves beyond the first five contests and broadened to states where Romney, the former Massachusetts governor, has not spent as much time organizing and campaigning.
I think we're going to show improvement. This race is a long, long way from being over, he said on Fox News Sunday. We believe that if you look at the national polls, our numbers are moving up.
The Romney campaign went on the attack against Santorum on Sunday, issuing a statement to reporters renewing criticism of his record in the Senate backing spending bills and local spending projects known as earmarks.
Rick Santorum is part of the big-spending Washington establishment that ran up the national debt by trillions and stuck our grandchildren with the bill, Romney spokeswoman Andrea Saul said.
Santorum finished a distant fourth in Nevada, behind Romney, Gingrich and U.S. Representative Ron Paul, whose third-place showing was a disappointment after spending time and building a campaign organization in the state.
Paul said on ABC's This Week he was not sure where he might score a victory in the race. Santorum and Gingrich have each won one state, Iowa and South Carolina respectively, while Romney has won New Hampshire, Florida and Nevada.
It's hard to say exactly when, but we have three or four caucus states that we believe our numbers are doing pretty good, so we have to just wait and see and continue to do exactly what we're doing, Paul said.
Romney took command of the Republican race with his victory in Nevada, where he won a broad cross-section of Republican voters including conservatives, moderates and Tea Party movement supporters.
But while vote totals were not complete on Sunday afternoon, Romney's 48 percent showing was slightly short of the 51 percent he received when he won Nevada during his failed 2008 presidential campaign.
Gingrich and Santorum said Romney had failed to seal the deal with Republican voters and there was still room for another candidate to confront him.
The challenge is to say, do you really want to go into a fall election with a moderate candidate? Gingrich said. The difference between timidly trying to manage at the margins a system that has to be profoundly changed and boldly taking it on, is a very, very big difference.
Gingrich and Romney both took the day off the campaign trail on Sunday, when most Americans were more focused on the Super Bowl than on politics.
© Copyright Thomson Reuters 2023. All rights reserved.