Global Auto Industry Outlook: Auto Sales To Grow 6% In 2012
Global automobile demand will continue to rise despite marked disparities between regions, according to Nomura analysts. Auto sales volumes will likely climb 6 percent year-over-year in both 2012 and 2013, after rising 4 percent in 2011.
The disparities in demand, which will likely materialize in the major global markets, could result in variability in the near-term earnings of automakers, depending on their regional sales weightings.
Amongst the industrialized economies, analysts expect the U.S. to continue to provide automakers with solid earnings growth. Unit sales are rebounding off exceptional weakness to regain the 16 million level. With production capacity expanding only gradually after cuts of around 3 million vehicles led by the Detroit Three - Ford Motor Company (NYSE: F), General Motors Company (NYSE: GM) and Chrysler Group LLC -- in the wake of the financial crisis, incentives are also being held down.
In stark contrast, Europe is seeing a simultaneous contraction in volumes and intensifying price competition amid a lack of progress in cutting capacity despite demand falling for five straight years through 2012. The market is expected to remain difficult for most global automakers given uncertainties over whether they will be able to push through plant closures and layoffs in the face of political and social resistance.
In Japan, the government's eco-car subsidies have supported a favorable environment but the allotted subsidies look likely to run out at the end of September. Analysts expect a sharp reactive decline in demand and deteriorating market conditions over the October-December period, followed by gradual improvement thereafter.
In Korea, sales recorded a temporary decline owing to the strike at Hyundai Motor Co (KRX: 005380) and Kia Motors Corporation (KRX: 000270), but analyst expect steady improvement from here on as supply returns back to normal and tailwinds from the launch of new models including the Kia K3 (Forte).
Among the emerging markets, conditions in Thailand and Indonesia are particularly good -- both countries have entered a phase of full-fledged motorization as their middle classes have grown amid ongoing economic development. With Japanese automakers having around 90 percent of both the markets, competition is milder than in other emerging markets crowded with makers from Japan, Korea, the U.S., and Europe.
In Thailand, analysts expect growth to slow following the December 2012 end to tax rebates for first-time buyers, but still anticipate favorable market conditions to continue in 2013.
In Indonesia, there has been almost no sign of any impact on autos following the introduction of new rules for loan down payments in June, and analysts expect market growth to be boosted by the upcoming launch of the government's Low Cost Green Car project.
In China, demand growth has lagged capacity expansion, which has led to some excess capacity. Dealer inventories have recently reached 80-85 days, well above the 45-60 day level which Nomura analysts regard as a sound level. Amid expanded discounting by dealers, automakers are incentivizing dealers to maintain sales while also stepping-up their own sales promotions. Automakers will likely leave cutting back sales volumes as their last tactic to reduce excess inventories and margins are likely to deteriorate somewhat industry-wide. From a longer-term perspective, analysts expect a low vehicle penetration rate, exports growth, and emergence of the second-hand market to further fuel demand growth. As a result, they are more optimistic about 2013 market conditions.
In India, as in China, automakers' margins are under pressure. While analysts expect ongoing firmness in some segments such as utility vehicles and light commercial vehicles, supported by new model launches, in the passenger car segment - which accounts for two-thirds of the auto market (excluding large commercial vehicles) - they expect weak demand amid deterioration in the macro environment and rising fuel prices.
In Brazil, demand has recently received a temporary boost from a reduction in the tax on Industrial Products for auto purchases, but if the tax break ends by end-October, market conditions could deteriorate.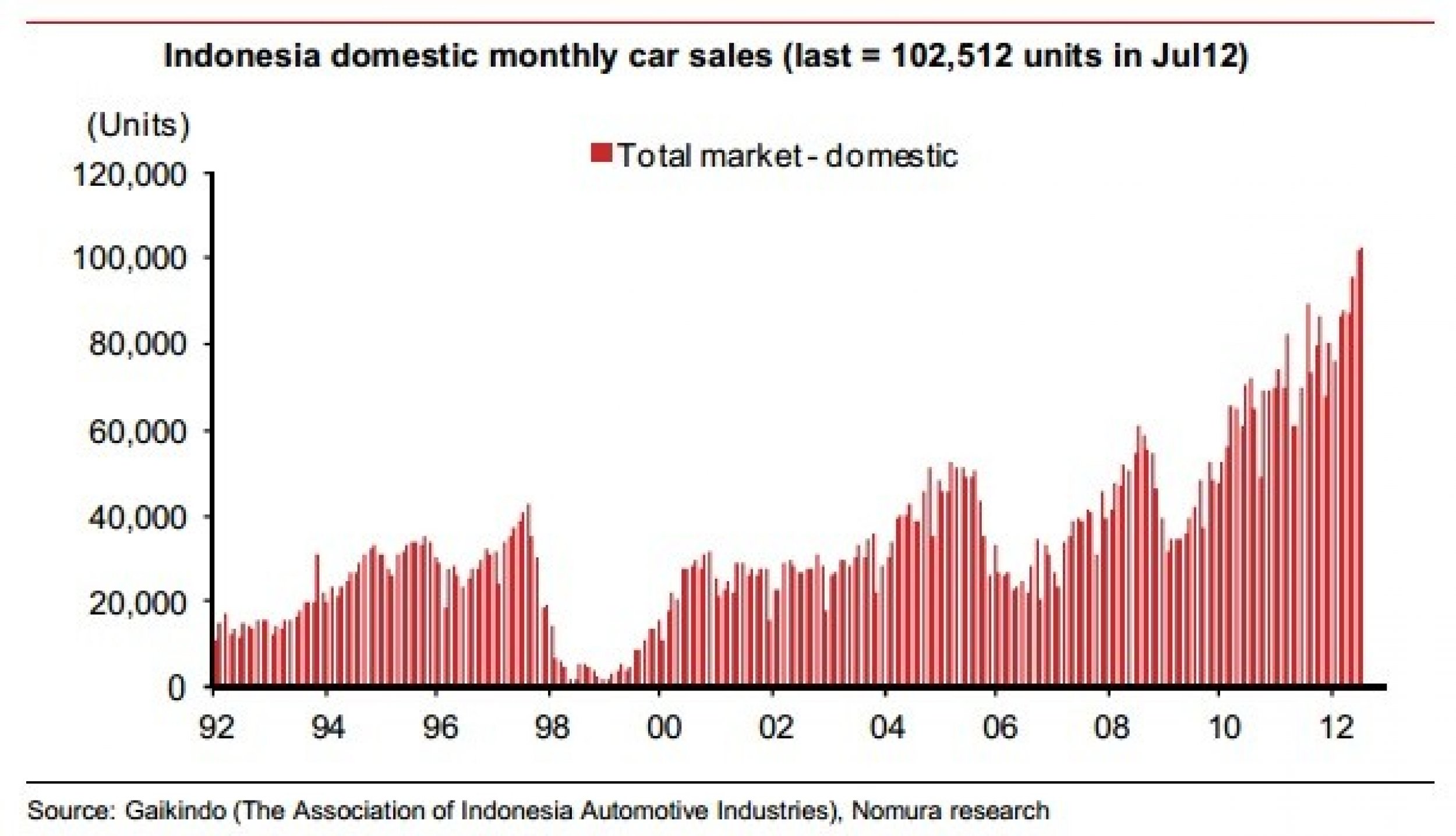 © Copyright IBTimes 2023. All rights reserved.