Global Crude Oil Prices Highest Of The Year Amid Iraq Tensions; US Retail Gasoline Prices Jump As ISIS Moves Across Iraq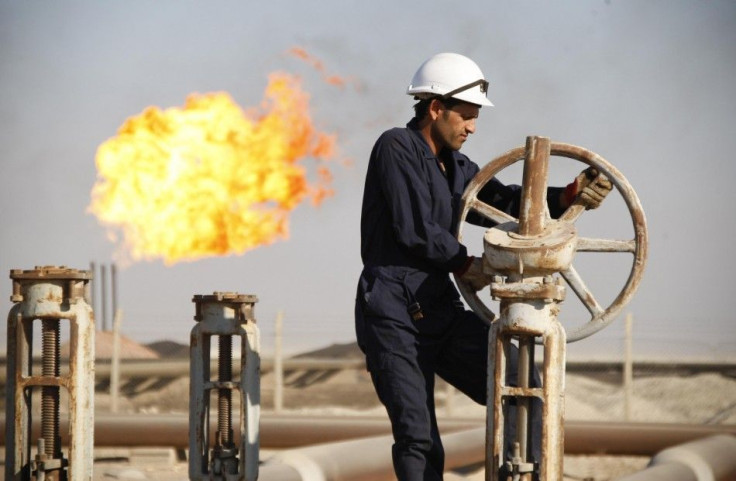 Oil prices hit a nine-month high, near $115 a barrel, on Friday amid growing concern about a violent uprising in Iraq.
Brent crude, the international benchmark, rose about 1.2 percent to $114.20 per barrel Friday morning and then fell to $113.35. West Texas Intermediate, the U.S. standard, rose 0.5 percent, to $107.11 per barrel.
The turmoil will likely drive up regular unleaded gasoline prices by 5 to 10 cents this week and could keep summer prices elevated, gasbuddy.com analyst Tom Kloza told USA Today. The timing of the political unrest is particularly bad for consumers, as summer driving season typically means a surge in gas demand and higher prices.
Iraq produces about 3.3 million barrels of oil a day, nearly 4 percent of the world's total oil supply, and has been planning to expand production further to meet growing global demand. The Middle Eastern nation has been the largest source of growth in OPEC oil production in recent years. Traders are likely worried that Sunni-led terror group Islamic State of Syria and Iraq (ISIS) will continue wresting control of the region, including oil fields and refineries crucial to maintaining production levels.
"Iraq was expected to ramp up production as quickly as possible not only from pre-war discoveries but also massive new oilfields," Kyle Davis, partner at international law firm Goltsblat BLP, said.
About three-quarters of Iraq's oil fields are in the south, where the capital Baghdad has so far maintained control.
In March, Iraq's oil production fell by 300,000 barrels a day, leading OPEC's decline of more than half a million barrels a day, according to the group's recent oil market reports. Fighting in OPEC member states Libya and Syria and international sanctions against Iran has reduced their production. Venezuela and Nigeria, also OPEC members, have also struggled to maintain production.
Saudi Arabia, OPEC's largest producer, and the United Arab Emirates and Kuwait are expected to ramp up production to fill in any gaps left by Iraq and Libya, but that means meeting any further shortages will be increasingly tough as their buffer between capacity and production shrinks. Saudi Arabia may be the only country in the world capable of quickly increasing output of the type of sweet oil that Iraq produces because the country has invested in the necessary equipment, which allows them to ensure more stability in OPEC output.
U.S. production will increase as oil prices rise, but the shift takes time and will not likely be anywhere near the total output of Iraq.
"It takes a while," Tom Gellrich, oil and gas analyst with Topline Analytics, said. "The U.S. won't be the immediate buffer to the world."
The International Energy Agency (IEA), a Paris-based independent industry watchdog, has said for years that North America's rising oil production may not be enough to meet global demand in the long term, and that growth in production of crude oil and natural gas will be needed from the OPEC countries.
"I agree completely," Gellrich said. "Increase in U.S. capacity as well as Canada is displacing oil that the U.S. would buy. But we still have countries like China growing at significant rates, and the middle class is expanding, causing more and more demand for crude oil."
IEA forecasts global oil demand to rise this year by 1.3 million barrels a day to 92.8 million barrels a day, compared to last year. Global oil supplies rose in May to 92.6 million barrels a day this year, mostly on a 440,000-barrels-a-day increase in non-OPEC production.
"If this unrest can be contained and Iraqi production continues to rise, the bigger news in oil markets might be if Iran can successfully negotiate the lifting of Western sanctions," Davis said.
Iran wants to shed sanctions due to its nuclear program and increase oil production to reclaim its rank from Iraq in OPEC as the No. 2 producer.
President Obama said Friday that the White House would continue to "look at the situation carefully... we have an enormous interest." He also said he would not send ground troops to Iraq, but would make a decision about using U.S. military power to help the Iraqi government "in the days ahead."
© Copyright IBTimes 2023. All rights reserved.